Jeanene's Rehabilitate & Hope Fund
$2,300
of $6,500 goal
Raised by
38
people in 35 months
My name is Jeanene; I am 41, a formerly successful journalist, and have battled unemployment, social isolation, and prejudice following more than ten years of mistreatment and stigmatizing psychiatric diagnoses at the hands of our nation's flawed mental health system. 
Two months ago, overwhelmed by the force of my powerlessness and lack of agency in this world - and weary of my continually fruitless attempts to secure work  -  I jumped off the roof of my apartment building in an attempt to end my life. I survived, although I often feel ambiguous about  the merits of this. I broke bones and joints in every part of my body. I shattered my jaw and incurred fractures throughout my skull. I may never have full use of certain limbs again; the bones throughout my body are now tied together with metal rods and screws. Where once I was average looking, my face is now deformed. I'm missing too many teeth to count, or chew, and have lost significant weight. 
I spent a month in the hospital undergoing a series of painful surgeries, and the past month sitting in a nursing home - a 41-year-old among elderly people, waiting desperately for my bones to heal enough to allow me to return home. My road to full recovery will still take several more months.
Lacking people to talk to at the current nursing facility, and desperately desiring to return home - to be near the love and comfort of my family - I am seeking to raise money for the part-time, in-home care, physical therapy, and occupational therapy I need to move back to my studio apartment. With my only income being SSDI, and my only insurance Medicare, I lack the means to pay for such care - without which, since I live alone, I risk reinjuring myself and setting back my rehabilitation by months. I am also attempting to raise money to pay for much-needed psychotherapy, medical costs and supplies, and to repay my family for the significant financial burden I've already saddled them with. 
Suicide is a growing epidemic in America and throughout the world. It is increasingly being recognized as a social, political and economic problem endemic of the day and age we live in - rather than the provence of the mentally ill. The problems one experiences prior to a traumatic suicide attempt don't magically disappear if you survive. I would be grateful if  you helped me secure a safe road to physicial rehabilitation, as well as obtain the therapy that will help me find the hope, meaning, and purpose to want to live again. Thank you for your time, regardless. 
You can read more about me, misconceptions about  suicide attempts and surviving one, and this rising sociological problem by reading my recent article on the subject, 
"No room in the inn: Suicide survivors' social, and emotional, wasteland."
 Or visit my Web magazine's home page
here
.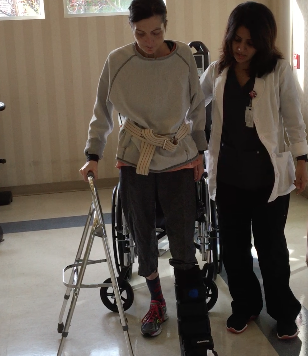 Me trying to "walk" for the first time, using a modified cane which helps me only bear weight on my heal, on the left side.
+ Read More
Update 2
34 months ago
Share
My dear friends and supporters - I apologize for taking so long to update you on my rehabilitation, and how your generous donations are helping me. I have been struggling immensely over the past two weeks; it has been a battle - physically - just to complete the basic functions of daily life. And, because public assistance-covered, in-home care has not been approved yet - I cannot afford the amount of in-home care I need to rest and rehabilitate adequately. Actually, I fear I have set my recovery back and only worsened fractures that were getting closer to finally being healed.
I discharged from the nursing facility about two weeks ago. Once your donations started coming in (the GoFundMe transfer process takes time), it allowed me to try to seek private, in-home care - thank you so much for this! That is largely where the donations have gone, in addition to medical expenses. But since I am still far short of my fundraising goal, I can only afford very limited in-home care currently. As a result, I have to perform many routine, physical activities on my own which I am not medically cleared to perform yet. One side effect - in addition to increased pain, and risking falls and re-breaking bones - is I have experienced incredible swelling in my legs and feet from standing and hobbling (with my walker) so much. This was very unexpected. I have had to buy special medical socks which are supposed to help circulation and reduce swelling, and they do help some - however such socks are exorbitantly expensive so I could only buy one pair, which is obviously not sufficient to last the week...
Due to typical county bureaucracy, my IHHS case was not officially opened until two days ago. I can only hope the county will approve me for in-home support soon, rather than the typical waiting time of 2 - 4 weeks. I have only been successful at obtaining three days of in-home care since I returned home, and it was only for a few hours per day - due to my budget, holiday staffing shortages and unreliable, immature care workers at private agencies. I may have finally found a reliable worker, as of yesterday - but if my IHHS case is not approved soon I can afford her for less than a week.
It has been absolutely tormenting me that I have not had the time to individually thank each and every one of you who has donated to my campaign or supported me through your incredibly powerful, heartfelt private messages. I am just so, so overwhelmed with gratitude and shock at the level of support I have received. Both forms of support - financial, and written - are equally life-sustaining for me right now. Please, please know that I will still be trying to reach out to you all in the coming weeks and months - I am just not sure how long it will be before I can do so - before it is not so exhausting, and time-consuming, to simply get through a day.
This difficulty is even more distressing as I am eager to return to my writing, which I would much rather be spending my time on - you all have also helped me feel hope that I can contribute to the world through my writing again, and for that I thank you deeply. Obviously I have learned much from my suicide attempt - and have much more to learn. Just as importantly, I feel there is more that needs to be shared about the socio-cultural and economic aspects of suicide - in addition to the plethora of misunderstandings about it. When I search for books on the sociological aspects of suicide, I have been surprised to find little has been written - and I believe suicide is going to become one of the defining acts of ours and coming generations. I think the act of suicide is also a gateway into an informed, fascinating discussion about unique issues related to the times we live in, how we define and treat "mental illness," politics, the disintegration of community, and many additional things..
I would be grateful if you could continue to share my fundraising campaign with others. In addition to needing money for the level of in-home support I truly need to rehabilitate sufficiently, I am in dire need of dental work - I broke my jaw and lost most of my chewing teeth in the suicide attempt, and so it is very difficult for me to get in sufficient nutrition right now (it is also one of the reasons my appearance is so altered). While a friend of the family who is a dentist has offered to help - it is unclear how much he can do on a "pro bono" basis, and I'm sure it won't include implants, which would be ideal. But of course - I am in no position to be picky. Any improvement in my dental situation will be a great aid.
There are some additional medical supplies I need, as well as funds to order meals and groceries, since I am not supposed to go out on my own (although I have been forced to occasionally since I've had so little in-home care). Such delivery services are very expensive however, and I cannot afford to use them often.
Needless to say, the medical supplies needed to help ease the unexpected physical repercussions of being home, and moving around and lifting far more more than I was in the hospital and then nursing facility - supplies which run out quickly - are all very expensive.
I hope this helps everyone understand where your donations are going and how essential they have been to my survival since I returned home. I JUST CANNOT THANK YOU ENOUGH! I have not been coping very well, emotionally, with the loss of control of many aspects of my body - which makes your help even more appreciated. The truth is - to put it bluntly - I have found I am a pretty crappy survivor of physical trauma. I thought I was strong, but I am weak. One of the things which anguishes me most about the difficulties I've had in the aftermath of Oct. 23 is how my emotions have been negatively re-directed at times toward my family. They have been incredibly supportive of me and done all they can to help me over the past two months - but they also have busy, stressful lives which I have made far more difficult. They deserve A LOT of credit for dealing patiently with my mood swings, my crying, my yelling, and other embarrassing behavior I have succumbed to over the past two months.
I hope that as I receive more in-home support and can re-focus again on both my physical and psychological rehabilitation, that my emotions will stabilize, that I will start writing again, and that I will start being the daughter, sister, aunt, friend, and advocator that I wish to be in this world.
Thank you again for all your support.
(I have attached a photo of me from ~3 weeks ago, when I was still in the nursing facility. I am grateful that my face's swelling has at least gone down, but still quite embarrassed by my disfigured appearance. I also still experience numbness in my face, as the plastic surgery there included the placement of metal plates [actually there are now metal rods, steals and plates keeping my bones together throughout my body]. The change in my appearance - and watching others, when I'm out in public, react to it - has been a difficult but also interesting experience - one which has made me understand in new ways how the way one looks plays a powerful, often-unacknowledged role in the directions and opportunities of one's life. This is another subject that I will perhaps eventually write about!)
+ Read More
Update 1
35 months ago
Share
Dear all my supporters - I just wanted to send a brief thank you tonight, with a promise to send more detailed thank you notes in the coming weeks. I have been overwhelmed with gratitude by the donations and messages of support I've received since I posted the article on my Web site, and launched this GoFundMe campaign. I have had a hectic two days, and have been quite exhausted, as well as continuing to battle bouts of depression - and that has prevented me from sending you the notes I intend to. Please know I read every comment and message, and that I take no donation for granted. I feel undeserving of all your kindness - but it is also helping me so very much. I will explain in more detail just how the donations, thus far, will be helping me as I adjust to some new circumstances.

Thank you also for sharing my story and campaign with others. I have received support from people I've never met, including some who relate deeply to my experience. The kind words some of you have written about my writing - mean so, SO much to me. They do help ignite the hope, and feelings of purpose, that I so need right now - and make me reconsider whether my writing might still have some merit after all. To know that my columns/articles perhaps do help some readers out there is the greatest Christmas gift - the greatest life gift, really - I could ever have.

You've helped me experience some glimmers of hope and beauty this Christmas. You are all wonderful, wonderful souls, and I will be trying to thank each person individually for rekindling some life in me following two months of wondering whether mine is still worth living.

I sincerely hope you've all had a peaceful and joyful Christmas - and that you know what a difference you've started to make.

Warmly,
Jeanene
+ Read More
Read a Previous Update