385
15
~ Parents Wake Up: Vaccines Kill ~
$12,379
of $15,000 goal
Raised by
380
people in 8 months

FUNDS USAGE
All proceeds raised will be used only for this campaign. Also stated in the video.

UPDATES!
Please read the UPDATES to see the progress of this campaign.

Parents MUST KNOW That Vaccines Kill Children
Infants, babies and children are being killed at an unprecedented rate by vaccination while the pediatricians who inject the poison into these helpless ones call their deaths "coincidence" and "Sudden Infant Death Syndrome" (SIDS). Even though these infants were developing normally and in good robust health, doctors deny any connection to the vaccines they injected and the sudden death of these babies. We must help stop the slaughter of our children and one way we can do this is by sharing the parent stories of vaccine killed children on Facebook with targeted paid boosts to specifically reach parents.

Facebook Paid Boosts Can Reach More Parents
I have the ability to share my many vaccine death stories  found on my Stop Mandatory Vaccination website onto my Facebook Page and run a "paid boost" to target parents with these stories. I have several vaccine death stories right now and we are currently working on a few more. Conceptually, the idea is to run a paid boost on MULTIPLE stories so that parents will see story after story after story in their newsfeed about vaccines killing children. 

How "Boosting A Post" Works
Essentially, I give Facebook a budget, which countries I want to target, a timeline, and in this case, a category: parenting (and related categories). Long timelines work best - 30 days to 60 days - so that a post will gain social traction. For example, I am running a low budget boosted post right now targeting parents in 5 countries, and it is currently getting almost 39 clicks per dollar spent (39 parents went to the website for the cost of one dollar). That is an excellent number. Take a look. 



Plus, for just $3.60 that post has already been seen by over 4,400 parents. Now, imagine a dramatically higher budget on 5, 6 or even 7 stories, all happening at once, all being seen by parents new to this! Vaccine induced death after death after death after death going through their newsfeed. Do you think that's going to grab their attention?  I sure do! 

Clicking To The SMV Website & Call To Action
Obviously, we are hoping that parents click over to read the story. But then what? Well, at the top of literally every single page on my website I have a set of essential resources for parents, including a starter guide on why to be vaccine free, injury and death stories, vaccine free parenting, find a vaccine free doctor , a book, and very importantly, a link to our Facebook Group  where parents can join and ask questions. Parents who join often go vaccine free! Take a look.



So, this campaign is not just about raising awareness by having parents see some vaccine death stories in their Facebook feed (although that is imortant), this campaign is designed to get parents to LEARN MORE about vaccines and JOIN OUR FACEBOOK GROUP to learn more, so that they will stop vaccinating or never start. Parents new to this need community and a way to ask questions (but, what if my child gets a disease?)- this campaign does that!

The Current Vaccine Death Stories On Stop Mandatory Vaccination
• 2-month old Dies 48 hours After 8 Vaccines: Owen's Mom Speaks Out
• $250,000 Awarded To Parents After Their Healthy Infant Is Killed By Vaccines
• DTaP Vaccine Shatters UFC Fighter's Family After It Kills Their Healthy Boy

Plus, we are currently working with two moms for two more vaccine death stories, and a possible third story as well.

$10,000 To Reach Three Million Parents
There are a lot of variables in running paid boosts on Facebook, but, it appears that a $10,000 budget could easily reach three million parents if we all play our part. So, take a look at my screenshot of a 10K budget, and I am targeting UK, Australia, Canada and USA with an interest in "parenting" (parents). The reach would be 1,148,000 parents on the low end after 14 days and 7,140,000 parents on the high end. So, lets just round it to 3,000,000 parents. That's a LOT OF PARENTS!!!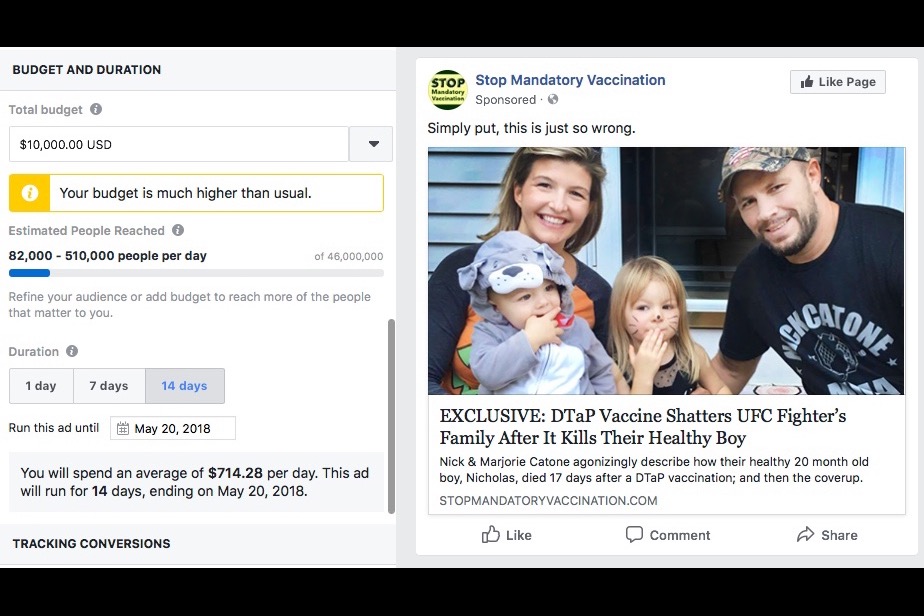 How To Reach More Parents
When you see any of these sponsored posts come through your feed, like and comment on them because that tells Facebook to show them to even more people. When we do this together, we can reach so many more parents!

Let's Do This!
I had amazingly wonderful feedback in the Stop Mandatory Vaccination Group when I shared this idea. So, let's do this! Your contribution could help directly save 1, 10, 100 or even 1,000 babies from being killed by vaccination. The more we can raise together, the more children we will save AND the more activists we will have on our side fighting against vaccine mandates. With so much support already promised, let's see if we can get to 10K in a week and really blow this up! Please join me!

Thank you!

Larry Cook 
+ Read More