43
25
PARA NAYARITT ESPERANZA DE VIDA
$2,260
of $5,000 goal
Raised by
59
people in 4 months
HELLO, MY NAME IS GABRIELA RODRIGUEZ, I OPEN THIS CAMPAIGN ON BEHALF OF MY GREAT FRIEND NAYARITT DUARTE, WHICH I LEFT IN VENEZUELA, IN THE MIDDLE OF ONE OF THE WORST CRISES THAT OUR COUNTRY LIVES. NAYARITT DUARTE IS A YOUNG WOMAN, LUCHADORA, ALWAYS WILLING TO GIVE WITHOUT RECEIVING ANYTHING IN CHANGE ...
UNFORTUNATELY MY FRIEND NAYARITT DUARTE DIAGNOSTICATED WITH BREAST CANCER OF GRADE II, ON DECEMBER 27, 2017, A VERY HARD HIT, FOR ALL THE CIRCUMSTANCES THAT TODAY HAD TO LIVE, FROM THAT TIME SHE DECIDED TO GIVE BATTLE TO SUCH DISEASE, THAT IN VENEZUELA IS A CONDEMNATION TO DEATH, SINCE THEY DO NOT HAVE PUBLIC HOSPITAL SERVICES, NOR MEDICINES, FOR SUCH DISEASE, AS WELL AS FOR MANY OTHER.
SHE AFTER OVERCOMING HER PAIN, RAISED UP AND BEGAN HER STRUGGLE, TRYING TO GO TO ANY PUBLIC SERVICE THAT WOULD HAVE HAND, WHERE THE ANSWER THAT I RECEIVED WAS A "NO" ROTUND, THE ANSWER WAS ALWAYS THE SAME ONE THAT HAD TO SIT TO WAIT AS THEY DO NOT HAVE ANYTHING TO TREAT IT OR MAKE IT THE OPERATION THAT SHE AMERITTED EMERGENCY ... IN VIEW OF THIS SITUATION NAYARITT GOES TO SELL SOME OF ITS MATERIAL BELONGINGS, SO I CAN CARRY OUT THE CORRESPONDING EXAMINATIONS .. STARTING HER FIRST STEP IN THIS HARD BATTLE, WITH THE HELP OF AN ANGEL THAT STILL EXISTS IN THIS WORLD, AS WELL AS THE HELP OF MANY OTHER PEOPLE, SHE ACHIEVES ITS OPERATION "A RADICAL MASTECTOMY WITH EXTRACTION OF ITS AXILLARY GANGLES" ... HER OPERATION WAS PERFORMED ON APRIL 27, 2018, ALMOST IN DATE STOP, BUT WHICH WAS SUCCESSFULLY ACHIEVED, FOR HER WAS A VERY HARD BLOW, BUT HOPEFUL AT THE SAME TIME, AND AS SHE SAID HER DR AT THAT TIME "THIS IS OUR SCARLET OF THE FIRST TRIUMPH ",
SHE TAKEN THOSE WORDS AND I KEEP THEM FOREVER WITH HER ..
NAYARITT TODAY IS IN THE STAGE OF BEGINNING ITS CHEMOTHERAPIES AND RADIOTERAPIAS, OF WHICH, ITS FIRST CYCLE OF FOUR, THANKS TO THE DONATIONS RECEIVED IN ITS FIRST CAMPAIGN, WHICH WAS CALLED "A HOPE OF LIFE" ...
TODAY WE ARE COLLECTING DONATIONS FOR YOUR SECOND PHASE OF CHEMISTRY AND SUBSEQUENT RADIOTHERAPY, WITHOUT THESE DONATIONS IT WOULD BE IMPOSSIBLE FOR HER TO CONTINUE WITH HER BATTLE FOR "A HOPE FOR LIFE" ...
IT IS FOR ME A NEED TO EMPHASIZE THAT SHE LIVES IN VENEZUELA, AS IT IS WELL KNOWN WORLDWIDE, THE COUNTRY TRANSFERS THE WORST HUMANITARIAN, POLITICAL, SOCIAL, ECONOMIC CRISIS, IN WHICH THE ONTOLOGICAL PATIENTS, AS WELL AS OTHERS, SHOULD RECOVER VARIOUS MEANS THAT CONTRIBUTE TO HIM AS THE DONATIONS, WITHOUT THESE AIDS OR DONATIONS MY FRIEND NAYARITT WOULD BE CONDEMNED TO DIE IN VENEZUELA WITHOUT BEING ABLE TO RECEIVE THEIR TREATMENTS ...
I MAKE THIS CAMPAIGN IN HIS NAME, IN THE NAME OF NAYARITT DUARTE MY GREAT FRIEND BECAUSE IT IS THE SAND GRANITE TO HELP ME FROM MY PART, THAT IS WHAT WE RECOVER TODAY FOR YOU TO PLEASE HELP NAYARITT SO THAT IT CAN CONTINUE IN THE BATTLE AND ACHIEVE YOUR "HOPE OF LIFE" ....
APPEAL TO HUMILITY AND GOOD HEART FOR THE HELP YOU NEED IN THE BATTLE FOR YOUR LIFE MY FRIEND NAYARITT DUARTE ...
I LEAVE THE INFORMATION OF YOUR ONCOLOGY DOCTOR WITH MORE THAN 20 YEARS OF EXPERIENCE FOR PEOPLE, WHO WISH TO CONFIRM AND VERIFY, THEIR CHEMOTHERAPY PROCESS, WHICH IS IN CHARGE: THE DRA KAREN KUBICEK ... YOUR TELEPHONE NUMBER. 04122334427 ...
ANNEX NEW RESULTS OF EXAMINATIONS MADE ON THE DAY OF AYER 31 AUGUST 2018 ... IN THE ECO OF SOFT PARTS YOU CAN APPRECIATE THAT A NODE WAS FOUND, WHICH MUST BE BIOPSYED IMMEDIATELY FOR POSSIBLE CANCER AGAIN ....
HELLO, TODAY I WANT TO UPDATE THE INFORMATION OF MY PROCESS, AS MY DONORS KNOW AND THOSE WHO CONCESS MY STORY, I WAS FOUND A FAIR NODLE NEXT TO THE SCARLET OF MY OPERATION OF MASTECTOMY, WHICH IS PERFORMED BIOPSY RESULTING POSITIVE TO CANCER. IMMEDIATELY MY ALARMS WERE ON AGAIN, ALMOST IMMEDIATELY I HAD TO ENTER THE QUIROPHANN, ON OCTOBER 26, 2018, OR 4 DAYS AGO, TO REMOVE IT AND ALSO REMOVE A CYBER AND FIBROUS MATERIAL. ALL THIS HAPPENED TO THEM. 5 MONTH OF MY FIRST SURGICAL INTERVENTION. I AM IN MY HOUSE AGAIN IN RECOVERY OF THE SECOND INTERVENTION, AND FIGHTING FOR MY LIFE ...
ANNEX MEDICAL SUPPORTS
FOR THOSE WHO WISH TO MAKE THEIR DIRECT DONATIONS TO THEIR ACCOUNTS IN VENEZUELA, I LEAVE THEM BELOW:
HOLA, MI NOMBRE ES GABRIELA RODRIGUEZ, APERTURO ESTA CAMPAÑA EN NOMBRE DE MI GRAN AMIGA NAYARITT DUARTE, LA CUAL DEJE EN VENEZUELA, EN MEDIO DE UNA DE LAS PEORES CRISIS QUE VIVE NUESTRO PAIS. NAYARITT DUARTE ES UNA MUJER JOVEN, LUCHADORA, SIEMPRE DISPUESTA A DAR SIN RECIBIR NADA A CAMBIO...
LAMENTABLEMENTE A MI AMIGA NAYARITT DUARTE LA DIAGNOSTICARON CON CÁNCER DE SENO GRADO II, EL 27 DE DICIEMBRE DEL 2017, UN GOLPE MUY DURO, POR TODAS LAS CIRCUNSTANCIAS QUE HOY LE TOCA VIVIR, DESDE ESE MOMENTO ELLA DECIDIÓ DARLE LA BATALLA A DICHA ENFERMEDAD, QUE EN VENEZUELA ES UNA CONDENA A MUERTE, YA QUE NO DISPONEN DE SERVICIOS HOSPITALARIOS PÚBLICOS, NI MEDICAMENTOS, PARA DICHA ENFERMEDAD , ASÍ COMO PARA MUCHAS OTRAS..
ELLA DESPUES DE SUPERAR SU DOLOR, SE LEVANTO Y EMPEZO SU LUCHA, TRATANDO DE ACUDIR A ALGUN SERVICIO PUBLICO QUE LE TENDIERA LA MANO, EN DONDE LA RESPUESTA QUE RECIBIO FUE UN ROTUNDO "NO",  LA RESPUESTA FUE SIEMPRE LA MISMA QUE TENIA QUE SENTARSE A ESPERAR YA QUE ELLOS NO POSEEN NADA PARA TRATARLA NI REALIZARLE LA OPERACION QUE ELLA AMERITABA DE EMERGENCIA... EN VISTA DE ESTA SITUACION NAYARITT ACUDE A VENDER ALGUNAS DE SUS PERTENENCIAS MATERIALES, PARA ASI PODER REALIZARCE LOS EXAMENES CORRESPONDIENTES.. EMPEZANDO ASI SU PRIMER PASO EN ESTA DURA BATALLA, CON LA AYUDA DE UN ANGEL QUE AUN EXISTEN EN ESTE MUNDO, ASI COMO LA AYUDA DE MUCHAS OTRAS PERSONAS, ELLA LOGRA SU OPERACION " UNA MASTECTOMIA RADICAL CON EXTRACCION DE SUS GANGLIOS AXILARES"... SU OPERACION FUE REALIZADA EL 27 DE ABRIL DEL 2018, YA CASI EN FECHA TOPE, PERO LA CUAL SE LOGRO CON EXITO, PARA ELLA FUE UN GOLPE MUY DURO , PERO ESPERANZADOR A LA VEZ, Y COMO LE DIJO SU DR EN ESE MOMENTO "ESTA ES NUESTRA CICATRIZ DEL PRIMER TRIUNFO",
ELLA TOMO ESAS PALABRAS Y LAS GUARDO PARA SIEMPRE CON ELLA..
NAYARITT HOY SE ENCUENTRA EN LA ETAPA DE COMENZAR SUS QUIMIOTERAPIAS Y RADIOTERAPIAS, DE LAS CUALES, A CUMPLIDO SU PRIMER CICLO DE CUATRO, GRACIAS A LOS DONATIVOS RECIBIDOS EN SU PRIMERA CAMPAÑA, LA CUAL FUE LLAMADA " UNA ESPERANZA DE VIDA"...
HOY ESTAMOS RECAUDANDO DONATIVOS PARA SU SEGUNDA FASE DE QUIMIO Y POSTERIOR RADIOTERAPIA, SIN ESTOS DONATIVOS SERIA IMPOSIBLE PARA ELLA CONTINUAR CON SU BATALLA POR "UNA ESPERANZA DE VIDA"...
ES PARA MI UNA NECESIDAD HACER ÉNFASIS QUE ELLA VIVE EN VENEZUELA, COMO YA ES BIEN SABIDO A NIVEL MUNDIAL, EL PAÍS ATRAVIESA LA PEOR CRISIS HUMANITARIA, POLÍTICA, SOCIAL, ECONÓMICA, EN LA CUAL LOS PACIENTES ONCOLÓGICOS, ASÍ COMO OTROS, DEBEN RECURRIR A DIVERSOS MEDIOS QUE LE APORTEN AYUDA COMO LOS DONATIVOS, SIN ESTAS AYUDAS O DONATIVOS MI AMIGA NAYARITT ESTARÍA CONDENADA A MORIR EN VENEZUELA SIN PODER RECIBIR SUS TRATAMIENTOS...
HAGO ESTA CAMPAÑA EN SU NOMBRE, EN EL NOMBRE DE NAYARITT DUARTE MI GRAN AMIGA PORQUE ES EL GRANITO DE ARENA PARA AYUDARLA DE MI PARTE, ES POR ELLO QUE HOY RECURRIMOS A USTEDES PARA QUE POR FAVOR AYUDEN A NAYARITT PARA QUE ELLA PUEDA SEGUIR EN LA BATALLA Y ALCANZAR SU "ESPERANZA DE VIDA"....
APELO A SU HUMILDAD Y BUEN CORAZÓN PARA LA AYUDA QUE NECESITA EN LA BATALLA POR SU VIDA MI AMIGA NAYARITT DUARTE... 
LES DEJO LA INFORMACIÓN DE SU MEDICO ONCOLOGO CON MAS DE 20 AÑOS DE EXPERIENCIA PARA LAS PERSONAS, QUE DESEEN CONFIRMAR Y VERIFICAR , SU PROCESO DE QUIMIOTERAPIA , DEL CUAL ESTA A CARGO: LA DRA KAREN  KUBICEK.... SU NUMERO TELEFÓNICO . 04122334427...
ANEXO NUEVOS RESULTADOS DE EXÁMENES REALIZADOS EL DÍA DE AYER 31 DE AGOSTO 2018... EN EL ECO DE PARTES BLANDAS PUEDEN APRECIAR QUE FUE ENCONTRADO U NÓDULO, QUE DEBE SER BIOPSIADO INMEDIATAMENTE POR POSIBLE CÁNCER DE NUEVO....
HOLA, HOY QUIERO ACTUALIZAR LA INFORMACION DE MI PROCESO, COMO MIS DONANTES SABEN Y LOS QUE CONCEN MI HISTORIA, ME FUE ENCONTRADO UN NODULO JUSTO AL LADO DE LA CICATRIZ DE MI OPERACION DE MASTECTOMIA, AL CUAL SE LE REALIZO BIOPSIA RESULTANDO POSITIVA PARA CANCER. INMEDIATAMENTE SE ENCENDIERON DE NUEVO MIS ALARMAS, CASI DE INMEDIATO TUVE QUE ENTRAR A QUIROFANO, EL DIA 26 DE OCTUBRE DEL 2018, O SEA HACE 4 DIAS, PARA RETIRARLO Y DE IGUAL MANERA RETIRAR UN QUISTE Y MATERIAL FIBROSO.TODO ESTO SE PRODUJO A LOS 5 MESE DE MI PRIMERA INTERVENCION QUIRURGICA.HOY ME ENCUENTRO EN MI CASA NUEVAMENTE EN RECUPERACION DE LA SEGUNDA INTERVENCION, Y LUCHANDO POR MI VIDA...
ANEXO SOPORTES MÉDICOSPARA LOS QUE DESEEN HACER SUS DONATIVOS DIRECTOS A SUS CUENTAS EN VENEZUELA SE LAS DEJO A CONTINUACIÓN: BANCO PROVINCIAL CTA CORRIENTE0108-0014-51-0100236717NAYARITT DUARTEC.I.11.689.120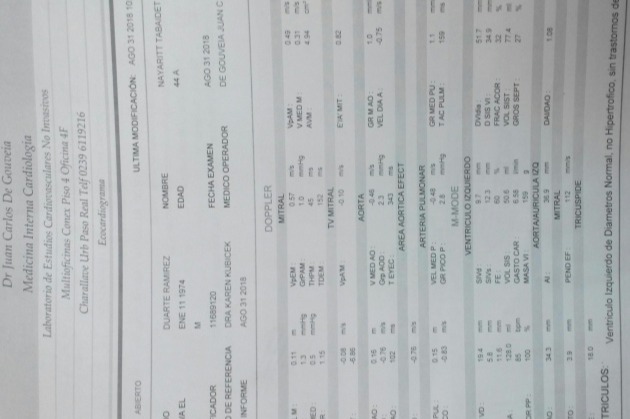 + Read More