Rädda Näraby Ödegård
kr300,000
goal
Campaign created
5 months
ago
Vi vill rädda ödegården Näraby, vill du vara med?
---------------------------------------------
Help us rescue the abandoned house NÄRABY!
English translation below.
---------------------------------------------
Näraby hemsida / website
More about us -
Facebook
and
Instagram
and
youtube
Näraby
är en gård med ett lång historia och många hemligheter, vad vi har kunnat hitta information om så har den stått här sedan 1600-talet, eller kanske ännu längre. Historier från alla de människor som har en koppling till huset vittnar om den värme, gästfrihet och det lugn som alltid omgav huset - alla var välkomna till Näraby och det fanns alltid tid och ro, aldrig någon stress.
Vi vill att Näraby ska få bli det huset det en gång var igen - en plats där alla känner sig välkomna! 
Gården har stått öde i 20 år och den sista renoveringen utfördes runt 1945. Den senaste hyresgästen  var en liten katt vid namn Sotis, han fick bo kvar i huset när hans ägare flyttade in på äldreboende, grannarna såg dock till att han fick åka och hälsa på sin husse.  
Efter att ha stått övergivet så länge behöver huset - och ladorna - en totalrenovering, upprustning och väldigt mycket kärlek. Mellan alternativen att bygga ett nytt hus och rädda ett gammalt så var valet enkelt  - Näraby förtjänar att leva kvar!
Nu börjar projektet att rädda detta otroliga och unika hus och vi behöver din hjälp! Prio ett är takrenovering, dränering och byte av dåliga bjälkar och syllar - sen tar vi resten!
Är du byggnadsvårdsexpert? Har du stenkoll på renovering av gamla fönster? Äger du en traktor och tycker det är superkul att gräva dränering? Har du överblivet byggnadsmaterial från din renovering som står och samlar damm? En hög med grus på tomten? En byggnadsställning för utlåning? Älskar du att fälla träd? Eller kanske har du den perfekta möbeln som skulle passa utmärkt i detta huset?
Hör av dig, vi behöver all hjälp vi kan få! Har du inte kunskapen eller tiden men vill hjälpa till ändå så tar vi tacksamt emot alla donationer - små som stora. Det kommer bli ett kostsamt, tidskrävande men så fruktansvärt och otroligt roligt projekt att rädda Näraby <3
När det börjar bli klart firar vi med en stor invignings- /inflyttningsfest!!!
Näraby today
Näraby 1945
In english:
Näraby is a farm with a long history and many secrets, what we have been able to find information about, it has stood here since the 16th century, or perhaps even longer. Stories from all the people who have a connection to the house talks about the warmth, hospitality and the peace that always surrounded the house - everyone was welcome to Näraby and there was always time for everyone. We want Näraby to be the house it once was - a place where everyone feels welcome! 
The farm has been abanoned for 20 years and the last renovation was carried out around 1945. The last tenant was a small cat named Sotis, he was allowed to stay in the house when his owner moved in to the residental home, but the neighbors made sure that Sotis came to visit his owner. After standing abandoned for so long, the house - and the barns - need a complete renovation and very much love. Between the alternatives to building a new house and saving an old one, the choice was easy - Näraby deserves to live!
Now the project to save this incredible house starts and we need all the help we can get! Prio one is roof renovation, drainage and replacement of bad beams and sills - then we take the rest! 
We are so grateful for all the donations - small and big. It will be an expensive, time consuming but so incredibly fun project to save Näraby <3
With love and gratitude!
/Emilia 
Nils Knutsgård
The view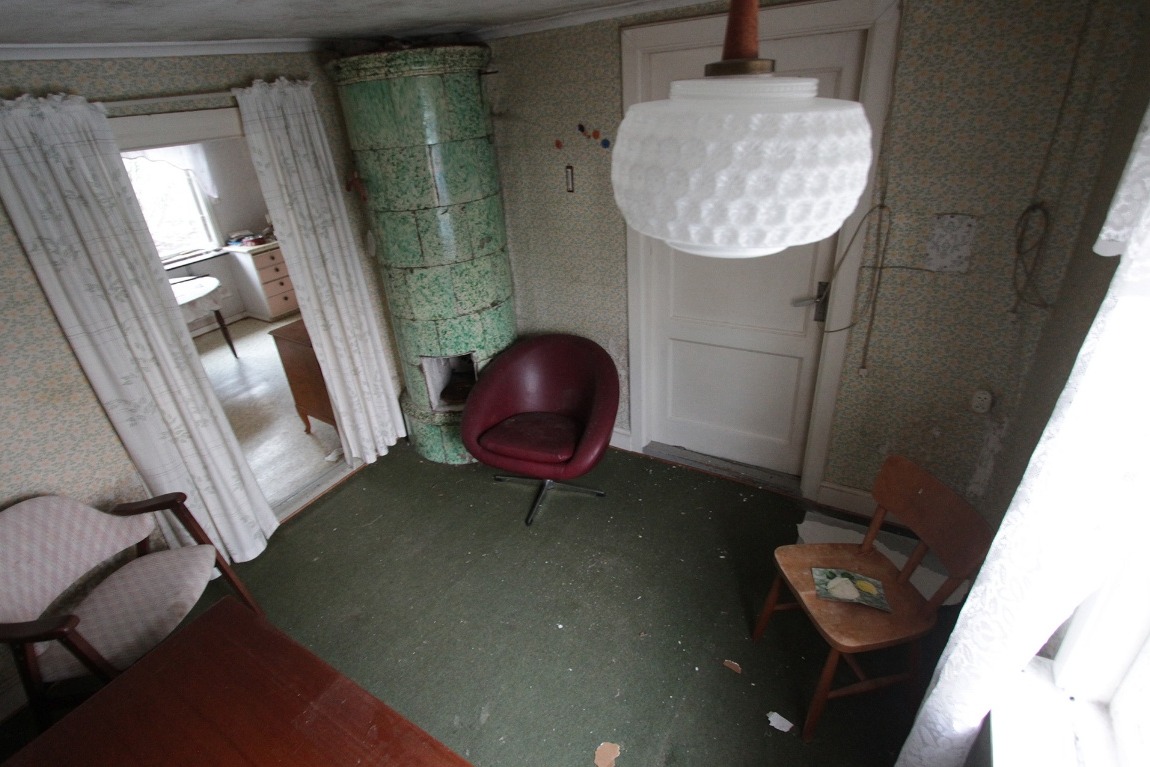 Interior
Interior
Upstairs
"hustomte" looking out
One of the barns
+ Read More