Offline eHealth mobile app for Tanzania
€11,290
of €45,000 goal
Raised by
11
people in 1 month
                                                    ** We thank Freiheit.com for opening funding doors to our project**

We are two african women passionate about solving problems in our communities using technology. 
Problem statement:
Lack of accessible health information and poor education have been the driving forces for major challenges  in Africa including:-
- Continued family cycles of poverty due to unplanned large numbers of children. 
- Unproductive communities of young women due to child/teen pregnancy where almost 3 out of 10 young girls between 15 - 19y/o are already mothers or pregnant with their first child.
- HIV /AIDS new infections are on a record high for youth between 16 - 25 yrs old.
- Avoidable deaths from communicable and noncommunicable diseases are still common. 

Solution:
By using mobile technology,  we are  working to develop the first offline mobile application in Tanzania designed to enhance youth,  girls and parents understanding of health education, personal well being and career development. We have the potential to reach more than 15 million users in Tanzania and 45 million in East Africa.

NB: Binti App idea comes from the first women only co-working space in Eastern and Central Africa - Safe Space Co.


BACKGROUND INTRODUCTION

What we are Looking for

1.  Funding for:- 
(i)App development 
(ii) Pilot testing

2. Technical Support and expertise to execute the project successfully.


Our initial development budget is €45,000.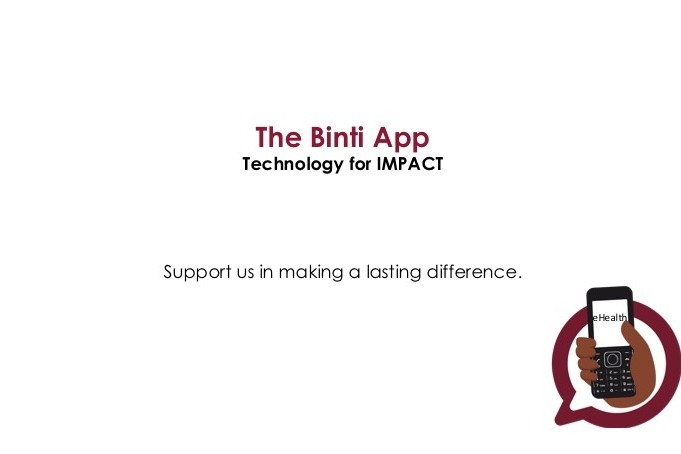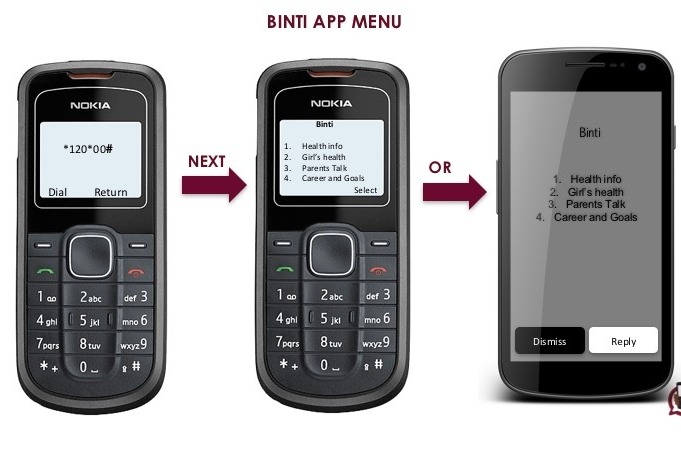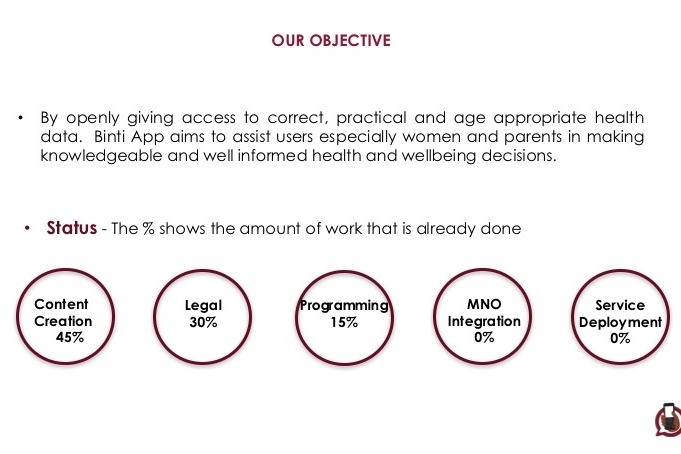 MORE INFORMATION ON THE TECHNOLOGY -  USSD
- Early Mobile Internet Menus were designed around USSD. Early Mobile Feature Handsets supported USSD and the protocols required to interact with the Mobile Network.
- USSD messages are up to 182 alphanumeric characters long. Unlike Short Message Service (SMS) messages, USSD messages create a real-time connection during a USSD session. The connection remains open, allowing a two-way exchange of a sequence of data. This makes USSD more responsive than services that use SMS

Sources for USSD text :
• https://en.wikipedia.org/wiki/Unstructured_Supplementary_Service_Data 
• https://django-ussd-airflow.readthedocs.io/en/latest/how_ussd_works.html 
• https://django-ussd-airflow.readthedocs.io/en/latest/tutorial.html


                                                                                                       
                                                                                                                       ****
Please support us with funding, partnership and learning opportunities OR reach out to us at  - hello@safespacetz.com  or mt.kadushi@safespacetz.com

+ Read More
Update 1
Posted by MTsafespace Tz
7 days ago
Share
Thanks to each and everyone of you for your generous contributions and donations. You have taken us a step closer into establishing this project.

A total of more than 720 potential donors have visited this campaign. We appreciate the support, love and positivity. For all those who wrote to us, thank you for taking the time to do so.

Funds update:
Unfortunately GoFundMe does not support Tanzania yet, hence the funds raised can not be directly transferred from the platform to our bank account.

This is where we would like to introduce Mr. Dennis Schridde ­– our project's volunteer who has worked hand in hand with us in organizing this fundraising campaign. In particular, he is currently working to figure out ways to transfer the funds to Tanzania, consults advisors on taxes and legal compliances and assists in related matters.

If you have suggestions or advice on the best ways we can handle this process, please, without hesitation, let us know.
+ Read More