A Writer's Dream - Nailah's Passion
$2,995
of $4,500 goal
Raised by
34
people in 37 months
Here is her story and I have included one of her poems.
My daughter Nailah was born to write. She is driven to do so. Her fictional stories draw you in and make you root for the characters' success. Her poetry
is so moving that it brings tears to your eyes. She has already written several novels but has yet to get them published. She just needs the confidence to
release them into the world. She has been admitted to Interlochen's Summer Creative Writing Camp and this campaign is about funds to get her there! I believe that armed with the tools necessary for success she will grow as a writer and be ready to take on the world. At just 14 years old she has a voice that's well beyond her years and a heart of gold. All of the funds raised here will be used for tuition and transportation. She is a caterpillar in transformation!!
In her words...
Written Word
I don't write because
my teacher gave me a homework assignment.
I don't waste my time making characters
that I fall in love with every time I read their story because I like people to tell me how good I am.
I don't sit inside all day with a pencil and paper
because I want to impress someone someday.
I don't write because I'm told to.
I write because I have to.
I may not speak a lot, but I still have something to say. My words don't often reach ears,
but they can reach eyes and minds and hearts.
I can make people see and think and feel
in ways they didn't think possible.
I can make people imagine and believe things
they thought they had let go of.
I can make people remember
things they thought
they had forgotten.
I can make them
remember
what they
tried to
ignore.
Words flow as easily to me as
a fish cruising downstream on a gentle river.
They pop into my head,
kernels of endless ideas,
rolling quicker than rocks
down the slope of a mountain.
Flowing, popping, rolling....
My hand never moves fast enough,
my pencil never long enough,
my notebook never thick enough....
Footsteps gentle and quick,
tapping to a tune trapped in the prison of one mind.
Eyes closed against a crisp, golden sun
that gives a red tint to the darkness that holds
invisible music notes written in one's imagination.
Lips bouncing together, holding the voice of a girl, encaging a whisper that yearns to be a boom.
A voice murmuring and lecturing in the background
of a melody lacking the ability to remain silent during class.
A musician disguised as girl
held hostage of mandatory science class.
Wet hands cover eyes
the color of a just setting sun.
Salty drops tell the story
of one soul with no one there to hear it.
Soft, quick gasps of a young boy,
breathing quietly so his mother won't know.
She's cried enough for him and her,
so he helps her.
He wraps himself in silent blanket
like he used to do before the truth leaked out.
A small boy,
too young to know worry and fear,
mourning for his sister.
Two stories of two characters
yet I make them one.
I hold stories of people
who do not exist,
but are real.
They are real because I make them real.
They are real because I give them breath,
I give them life, I give them fear, love, and passion.
I give them a reason.
But they are also real because
they are me.
I take pieces.
I take one part of me and give it to someone
and make them real.
I take my love for music
and put it in a girl trapped by different barriers.
I put my love and fear for my brothers
and give it to a boy who fears for a different reason.
I write because I'm telling a story about me.
Don't ask me to speak,
but I'll write for you.
You may not know anything about me,
but if you take the pieces,
pull each part out,
shape them until they fit....
I reach eyes, not ears.
Don't ask me how I feel.
I'll let you read me.

Nailah
May 2014
I have struggled with the idea of a campaign to raise funds for this purpose.  I wasn't raised to "ask" for anything.  You find a way.  You do it yourself.  You make it happen.  
When my daughter decided that she was going to apply to summer writing camp, I was excited.  Mostly because I know how hard it is for her to "share" her work and put herself out there.  But when she decided this year it would be the Interlochen Center for the Arts, (
http://www.interlochen.org
 )I encouraged her, but as a parent had to prepare myself and her for the outcome.  While I strongly believe in my daughter's abilities and gifts, the reality is that Interlochen considers thousands of applicants from more than 50 countries each year. This summer 2500 exceptional young artist will attend.  I can only hope my daughter will be one of them.  
After 3 months of waiting and anxiously checking emails, I finally received the decision:  YES, YES, YES!!! She was accepted.  All her hard work on her writing portfolio was worth it!  Interlochen also saw what I have been knowing for years now!  My daughter has the gift of writing! I scrolled through the documents, my eyes searching for the bottom line:  How much was the financial aid and scholarship?  How much do we have to pay?  How do I tell her she was admitted to one of the best schools for her craft and she can't go?  
She received a merit scholarship but it's not enough.  The ride home from school that day was spent mostly in silence accompanied by me saying , "Well at least you know you're good enough."  I watched her disappointment as she wrestled with the realities of life.  
I spent the last 2 weeks trying to make a dollar out of 15 cents.  I had friends tell me to "try the gofundme site".  I came up with a million reasons in my head, why I shouldn't do it.  How do you ask for handouts?  This is your child you're suppose to provide for her?  She is not sick.  She does not HAVE to go to Interlochen.  You can start saving and try again next year.  But I can hear my mom's voice in my head saying, "Oh ye of little faith".  
So that brings me too where we are today.  We received a generous donation for the non-refundable $1,000 to secure her enrollment.  The balance of $3000 must be paid in full by May 1, 2015.  I WALK BY FAITH NOT BY SIGHT.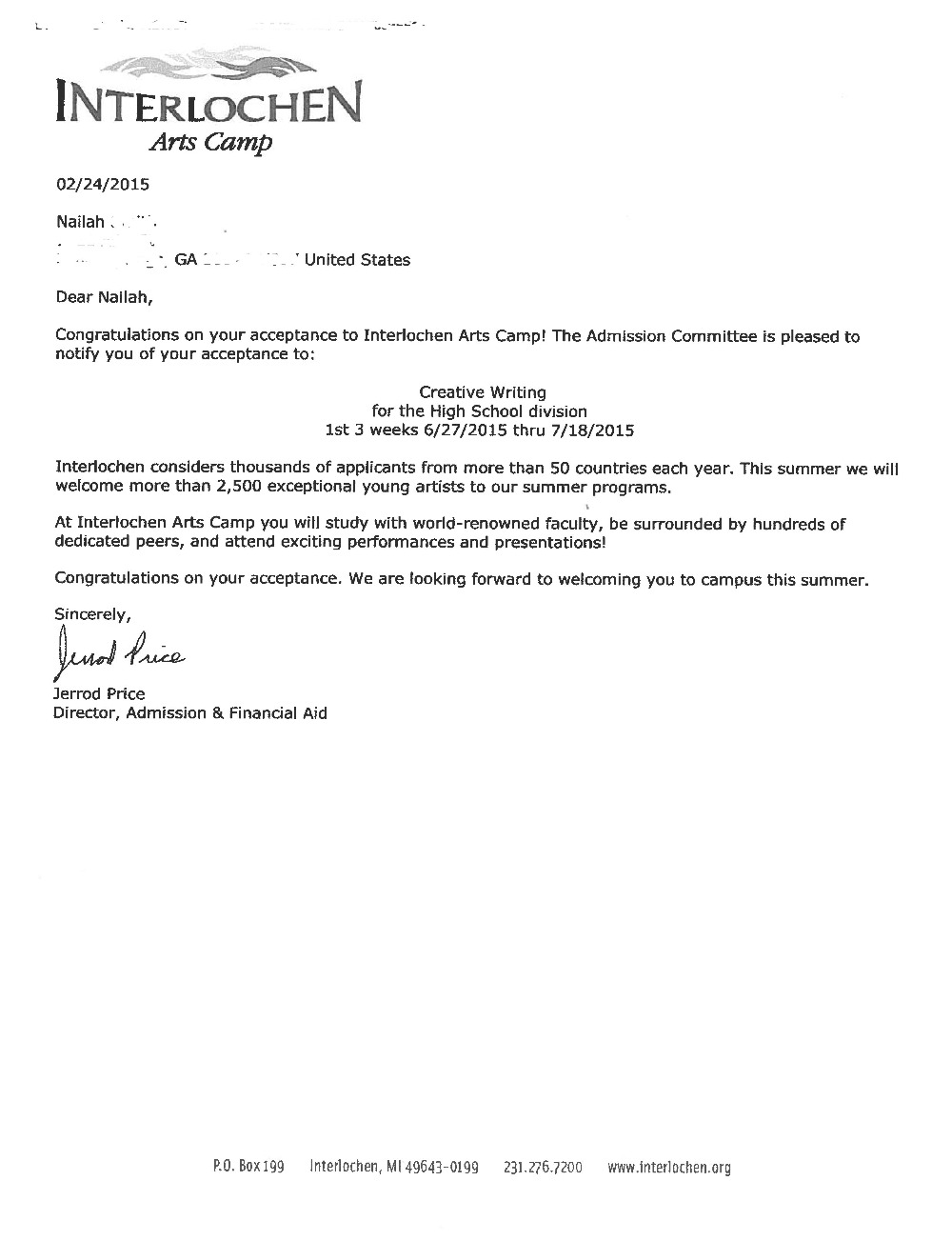 + Read More
Be the first to leave a comment on this campaign.