Nurse Blake - Give Up and Give Scholarship
$10,000
goal
Campaign created
7 months
ago
Last year, I gave up Starbucks and saved $1500 which I gave away as a nursing school scholarship.  This year, we should all Give Up and Give.
Join me in building a
Nursing Student Scholarship Fund
that is driven by the nursing community and given directly to outstanding future nurses. 
We all have things we could give up to help nursing students... coffee, fast food, subscription services, store credit cards?  Image if we put that money together and did something amazing with it!
-  100% of the money goes to nursing students!
-  Each scholarship will be $2500 (let's see how many scholarships we can give out!)
-  Scholarships will be awarded in the Spring and Fall semesters
-  All money will be secured by GoFundMe until scholarships are awarded
-  I'll post frequent updates - application info, deadlines, winners, etc.
Applications now open for Spring 2019:  
APPLY NOW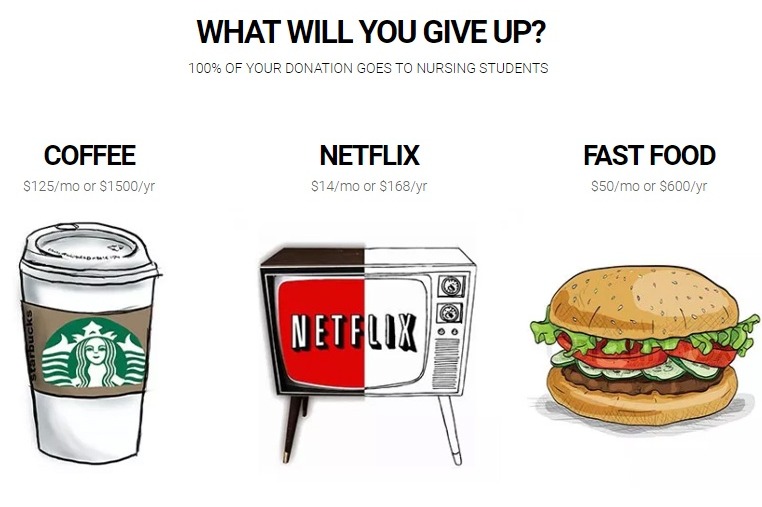 Last year's scholarship winner was Carlos from the University of Utah.  Congratulations Carlos!


Here is the video I put on social media last March (2018) to announce the scholarship.  I was so overwhelmed by the amazing applications I received, as well as the number of fellow nurses who reached out and wanted to Give Up and Give.  
For more information on Nurse Blake and the Give Up and Give campaign:
Website: 
NurseBlake.com
Facebook:  
www.facebook.com/nurseblake
Instagram: 
www.instagram.com/nurse.blake
+ Read More