Not Kidding- Cancer's a Punk
$6,381
of $4,000 goal
Raised by
86
people in 19 months
Thanks to the generosity of so many people, I've been able to stay at home and focus on healing from my first shoulder surgery- including through the extra month that my doctor has required. I'm not 100% yet, but I'm so much better than I was. My sweetheart and I are incredibly grateful to have been the recipients of so much kindness.
As I've been recovering from that surgery, it has been discovered that I have cancer.  I've officially been diagnosed with squamous cell carcinoma.  Apparently it started on the base of my tongue and we found out about it because about a week after my surgery I had a sore throat & one side of my neck swelled up. After antibiotics did not work, they did a lot of testing and they came back with this cancer.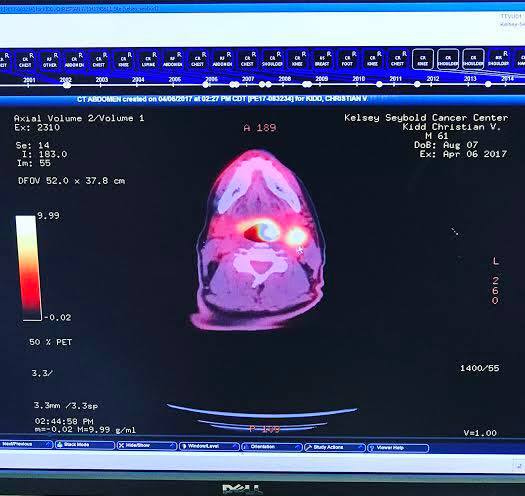 Luckily they found it early... the tumor is relatively small and so far it's only spread to the one lymph node. I've decided to go along with the recommendations of my oncologist and will undergo 5 - 7 weeks of radiation treatments, 5 days a week.
We know that I'm going to be just fine, but radiation can be tough. In anticipating that, there have been a few who have asked me to set up this new page. To say that we're appreciative of any more generosity is an understatement.  In fact, it's a little overwhelming- but in the very best way. 

On Thursday, 20 April we're going to meet with the radiologist/oncologist to do another CAT scan and then whatever we have to do to get this show started. Of course we'll keep you all in the loop as things move along. 

It's scary to hear the word cancer, especially when someone's saying that word to you. Yes, it was a little depressing to hear it when I was already recovering from something, but really I can never be sad for too long.  My life is pretty awesome still, and I have so much I still want to do. I know that I'm going to totally kick this cancer's ass, especially with your encouragement and support.
+ Read More
Be the first to leave a comment on this campaign.