New Life — Change for Life
$5,608
of $80k goal
Raised by
103
people in 8 months
New Life Community Ministries, Inc. (NLCM) is a faith-based not-for-profit organization that is an entity of New Life Church.  NLCM has been serving the Atlanta community since 2002, and has a history of transforming the lives of those who are homeless, or at risk of homelessness, through programs that address our client's immediate needs.
Every month more than 300 people in need of employment or education, food or shelter, hope and love, come to New Life Community Ministries. Many come seeking our life changing social service programs where case management and counseling services are made available.  Other service programs include:
·      Career Development/Job Placement
·      G.E.D Program
·      Homelessness Prevention
·      Mentoring for "At Risk Youth"
NLCM is located in South DeKalb County where the average high school dropout rate is 38.5% and 79% of the students that attend schools in South DeKalb are from economically disadvantage families. These factors are root causes of the systemic high unemployment and underemployment in this community. The need for the programs and services offered by NLCM is undeniable.
 With our collaborative relationships with many other  community/state agencies,  New Life Community Ministries provides not just the steps necessary to go from homelessness to housed, from hungry to fed, from no income to employment; but we offer these services with the love of Jesus Christ.    We welcome everyone regardless of sex, sexual orientation, race, national origin, creed or religion.
Although we have been successful with helping our clients' return to a life of self-sustenance, there is still more work to be done and we can't do it alone. Please join us in our mission to extend the Love of Jesus, through transformational programs that restore hope, revive dignity, and raise the quality of life for our global community.
Become a partner today by joining our "Change for Life Program."  Becoming a partner is easy! You donate toward one of our "Wishlist" items by making a one-time donation.  For more information about New Life Community Ministries please visit
http://nlcc-atl.org/
.
Our Wishlist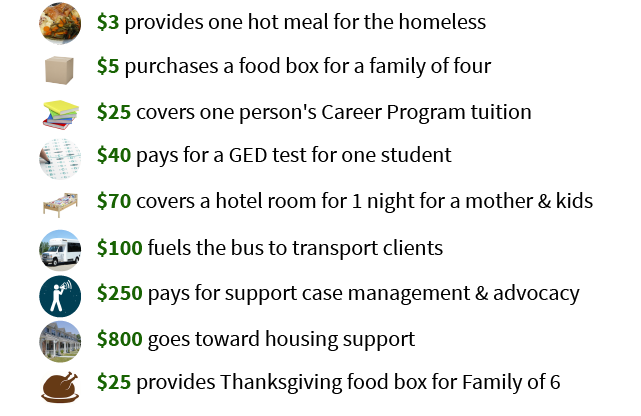 Recurring Donations
For the option to
set up a recurring monthly donation
, use this link and check the box "Give this amount monthly." 
www.GoFundMe.com/nlccchangeforlife?flow=d_aa_v1
+ Read More
Be the first to leave a comment on this campaign.