Justice for Lauren
£48,623
of £60,000 goal
Raised by
1,050
people in 40 months
My name is Alison, that's me in the picture with my daughter Lauren who was murdered in October 2013.
As a mum I never thought I would ever be writing a post like this. We see those awful stories' in the news and they touch us deeply. We always think, poor family, no idea how I would cope if that happened to me.
Now that is me, and I am writing this to let people know first-hand what happened to my daughter and why I need your help.
My 22 year old daughter Lauren was brutally murdered in October 2013 in Qatar, a country she called home. Lauren was my eldest daughter and after her father tragically died in 2008, she became more than a daughter she became my best friend. She was someone to confide in and the one person who helped me cope at that terrible time.
A few years after her father died, Lauren, who was studying to become a teacher, took an opportunity to go and work in Qatar teaching a reception class.
I went to visit Lauren and she took me to all the places she loved there. I spent the day in the classroom with Lauren and saw first-hand what a natural she was with the children and how much they in turn loved her, I also met her wonderful and ever extending circle of friends.
I left Lauren in the May a very happy young woman who had decided to extend her contract another year. Sadly my mother passed away suddenly in the October, so Lauren came home for her Grandmother's funeral and that was the last time my family and friends ever saw Lauren alive.
When Lauren left to go back to Qatar, I remember hugging her outside the house and telling her I loved her and I would be fine. I said I missed her, but I looked forward to seeing her at Christmas at home. As always, we texted over the day and I said "let me know when you arrive back in Doha safely". I never heard from Lauren ever again.
2 days later on the Saturday morning I tried calling her phone, texting, emailing but nothing. I was very worried. Lauren's boyfriend from Malta was arriving in Qatar that day and he had not heard from her since the night before when she was out with her friend. Her friends in the apartment block she lived in said she was not home. I panicked and that moment I knew something was dreadfully wrong, we never ever didn't contact each other.
Finally the friend who Lauren had been out with that night, confirmed that their 2 Qatari male friends had given them a lift home. They had dropped the friend first, then supposedly dropped Lauren off after. They were contacted and they said they had dropped Lauren off outside the flat and she was fine.
On the Saturday afternoon that call I'll never ever forget came through, it's every mother's worse nightmare as they told me a body had been found but they weren't sure if it was Lauren as she had been put into a pit in the desert and burnt beyond recognition.
I travelled to Qatar the next morning and for the next 4 weeks I stayed in Doha trying desperately to get my daughter's body flown home as my DNA was needed from me to give a match to enable Lauren to return home.
Not only was my daughter murdered in a foreign country, but I was unable identify her because what was left weighing only 7.5kg. All that was left was part of her head and neck, her upper jaw teeth with her brace still intact. Part of the chest with the knife still embedded (she was stabbed before being moved to the dessert to be burnt) Her feet were the only part of her body intact as they had been over the edge of the fire pit and her red nail polish that she loved was still visible.
Since October 2013 I have returned to Qatar over 11 times to attend court hearings, the 2 men who claimed to take Lauren home that night were charged with her murder. In March 2014 the Qatari lower court found 1 of the men guilty and sentenced him to death for the rape, stabbing and burning of my daughter's body. His accomplice only got 3 years for aiding and abetting - this is less than a traffic offence in Qatar.
Next came 1 more year of continuous court hearings as they had the right to appeal. Finally in March 2015 the appeal court upheld both of their sentences but they had one last chance at the court of cassation. This case was heard on the 1st February 2016. The man who murdered Lauren had his sentence overturned and a retrial was ordered.
I am writing this to ask you to share Lauren's story far and wide to make everyone hear her story and my families' plight. I need your help. I am 1 woman, a small voice against a judicial system I don't understand. With many voices maybe justice will prevail. I am also asking for people to donate, I have no money left to continually travel to Qatar and to fund a new court case.
Please help! I will be eternally grateful.
Yours, Alison.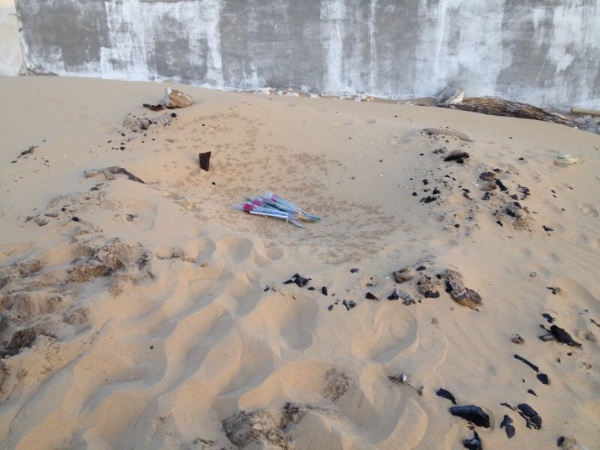 Flowers laid at the spot where Lauren was found in the desert.
+ Read More