NJ Oath Keepers Billboard Campaign
$2,940
of $4,000 goal
Raised by
46
people in 47 months
The New Jersey Chapter of Oath Keepers has  launched a billboard campaign as part of our Reach, Teach, and Inspire (RTI) initiative. We have identified key locations and wish to secure sufficient funds in order to cover several months of rent.  
ALL monies raised will be used to fund the Billboard Campaign.  See below picture for the billboard design.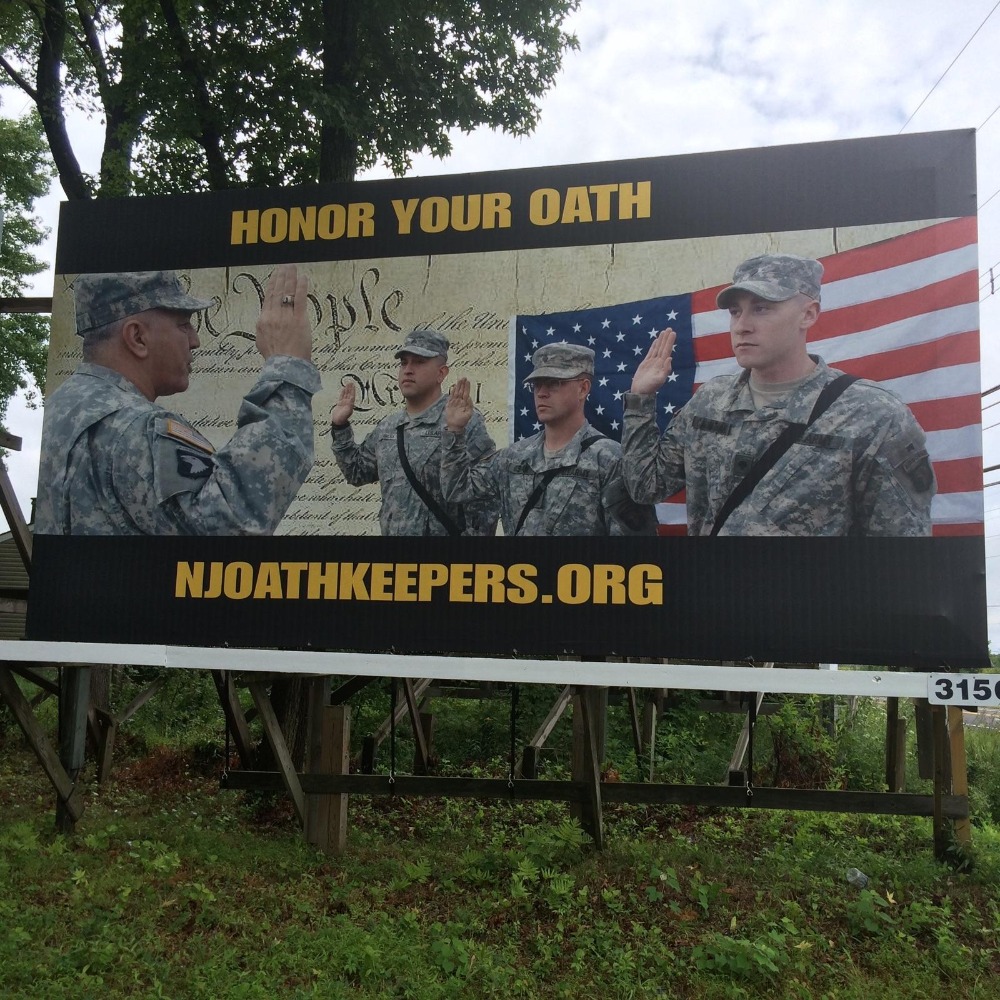 We are switching to ongoing funding and encourage recurring contributions.  Thanks for your continued support.  See our website for more options.


NJ Oath Keepers Website
NJ Oath Keepers Facebook Page
National Oath Keepers Website
Oath Keepers
 is a non-partisan association of current and formerly serving military, police, and first responders 
who pledge to fulfill the oath  to "defend the Constitution against all enemies, foreign and domestic." That oath, mandated by Article VI of the Constitution itself, is to the Constitution, not to the politicians,
and Oath Keepers declare that they will not obey unconstitutional orders, such as orders to disarm the American people, to conduct warrantless searches, or to detain Americans as "enemy combatants" in violation of their ancient right to jury trial. See the Oath Keepers
Declaration of Orders We Will Not Obey
 for details.
Oath Keepers
 reaches out to both current serving and veterans to remind them of their oaths, to teach them more about the Constitution they swore to defend, and to inspire them to defend it.
Our motto is "Not on our watch!"
+ Read More
My sincerest thanks to all those who in the cause of liberty and freedom have believed in, and have supported this project. We are nearly 40% to our goal and we should be able to have the first billboard up on the access road outside the Ft. Dix/McGuire joint military base in Pemberton, NJ. within 4 weeks. Continued donations and support will enable us to maintain the billboard project for several months. This billboard is an Oath Keeper project but when erected, will belong to each and every one of you.
+ Read More
Here is another way to support Liberty. The NJ Oath Keepers are funding a Billboard to be placed outside of Ft. Dix and in kiosks along the Wildwood boardwalk. Please donate what you can for this great cause to secure our REPUBLIC. All of us must participate in saving OUR REPUBLIC.
+ Read More