Celebrate #Nepal and #RebuildNepal
$2,950
of $4,500 goal
Raised by
11
people in 44 months
Post the major earthquake in April earlier this year, today Nepal is at the beginning of a long and painful road to recovery. Tourism is great way to help build a sustainable future for the people of Nepal, and also restore the Himalayan nation to it's original glory.
I am raising money to produce a series of Art gallery events to celebrate the beauty and grandeur of Nepal and Himalaya. The idea is to inspire the viewers to fall in love with Nepal and visit the Himalayan nation and contribute to it's economy. I'm also looking to raise funds through the sale of photos, and these would be contributed to non-profits -
Nepal Youth Foundation
, and 
Empower Nepali Girls
that are doing amazing work on ground in Nepal.
On display at these gallery events would be the photo collection of Mt. Everest Avalanche survivor, Kuntal Joisher, a passionate mountaineer and photographer.  Joisher survived the 2015 Mt. Everest Avalanche, and appears in the dramatic 
YouTube avalanche video seen around the world
. (He is wearing the white shirt)
Joisher has been climbing in Nepal for several years now, and considers Nepal his second home, and the ever-smiling Nepali people his family. To help Nepal recover, he produced an art gallery event in his home town of Mumbai and raised $6,000 for
The Himalayan Club
, which is running a long-term Nepal rehabilitation project. 
Your contributions would allow me to bring his photography art gallery show and lecture to 3 significant locations in Southern California, where more money and awareness can be raised for Nepal.
Three events are scheduled in September 2015. Two galleries have offered their space for free.
REI
, the action sports store, is hosting a lecture with Kuntal that I am producing. 
CallFire
- a technology company - has offered partial sponsorship for the event.
WHAT I NEED FROM GOFUNDME:
I have over $5,000 in vendor costs producing these events, including printing 125 photos for retail sale, framing, matting, food, drinks, insurance, and small labor costs to hang the images on gallery walls. My hope is that this campaign would help cover these production costs so proceeds from the sales of images can be collected by the non-profits we are supporting.
For a $5,000 investment, I can raise close to $15,000 (3X) in return or more through these gallery events. These valuable funds can be used directly by both the non-profits to help the Nepali people. In addition, we would be able to show-case Nepal and it's beauty in hopes that the event audience would choose to visit the Himalayan nation.
Kuntal and I are doing all the events out of our love for Nepal, on voluntary basis, and we are not being paid any money for the same.

Schedule of Events and Locations:

REI Event


Los Angeles Gallery Event
Orange County Gallery Event
About Me
I am a marketing and public relations consultant in Southern California. You can see my website 
here.
 I have helped to produce many previous art gallery events for pediatric cancer charities. I have experience producing corporate events, parties, and fundraisers.
About Kuntal Joisher
Kuntal Joisher combines the distinction of being an avid and a passionate mountaineer as well as a high end computer science and engineering professional. He has scaled some of the toughest and tallest mountains of the world. Alumni of USC Viterbi School of Engineering, today he juggles his IT career and his passion for mountain exploration, becoming only the second Indian civilian, and the first Vegan to climb and summit Mt. Manaslu, the 8th highest mountain in the world. Joisher is also an accomplished photographer and many of his photographic conquests have received International acclaim including National Geographic, Flickr Explore, BBC Earth, Himalayan Journal, and the reputed Indian mountaineer magazine. Joisher has completed several challenging and exciting mountain expeditions in the Himalaya of Nepal and India, Chilean Patagonia, and the Western Ghats near Mumbai. Joisher first visited Nepal as a child at the age of 4, and since then has returned six times as a member of international mountain climbing teams. Forever passionate and irrepressible in his goal, he continues to focus on his goal along with a serious fitness training regime to climb Mt. Everest in 2016. He continues to raise awareness for the causes of Dementia and veganism, the intrinsic and core values of his passionate and towering journey to climb Everest and many more lofty heights!
The Avalanche
In April 2015, Joisher was in Nepal as an expedition leader of a strong team comprising of 8 international climbers attempting Mt. Everest via the South-east ridge route. On 25th April 2015, at 11.56 am a 7.9 earthquake struck Nepal. A huge avalanche triggered by the earthquake swept through the entire base camp. More than 18 people died and over 70 were injured. Joisher was in midst of the avalanche, and featured in the video that went viral across the world. Joisher survived the avalanche and stayed alive to tell the story. However, this was not a mountain climbing tragedy; it was a tragedy of unprecedented levels. Over nine and half thousand people died in Nepal, tens of thousands were serious injured, and more than half a million were displaced from their homes and continue living in temporary shelters today.
Mumbai gallery event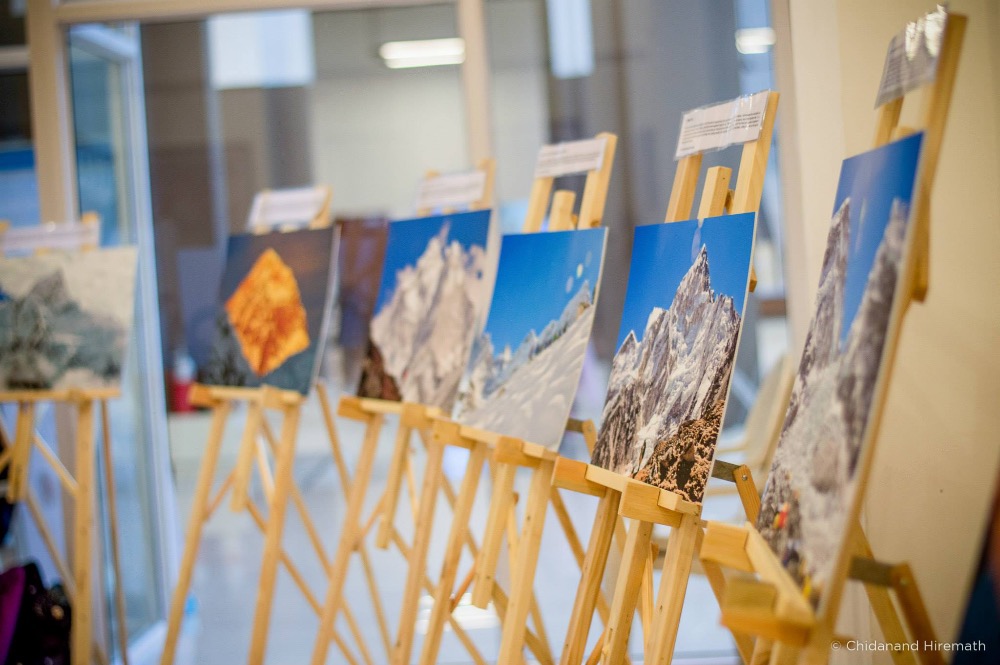 + Read More
Update 1
43 months ago
Share
Thank you both for your donations. I look forward to seeing you both at our events.
+ Read More
Be the first to leave a comment on this campaign.