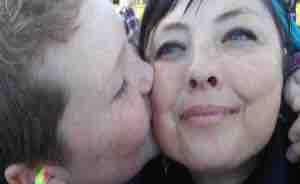 31
4
Tess is the Best
$2,500
of $2,500 goal
Raised by
37
people in 7 months
A little over a month ago, Tess came to work without her smile. I knew something was wrong but I didn't know how to help. I joked around, danced silly, and tried to make her laugh. To this day there is still a voice in the back of my head telling me, 'you should've done more, you should've known'.
You know those commercials for medications that show you a person who's happy, while the narrator quickly names off all the side effects the medication could have? You don't really pay much attention to those words. Not while there's a happy lady outside playing with her dogs when before she was too sad to leave the house!
Tess was put on a new medication, replacing one she had been on for 15 years. It was supposed to help her balance out and not be so depressed. It was supposed to work better with her other medications she needed to take due to a recent surgery. However, some of the side effects were increased depression and thoughts of suicide. As her depression worsened, as her energy decreased over the following months, she had a glancing thought that it was the medication. But it was so gradual, and before she knew it, the negative and sad thoughts had a mind all of their own.
She knew something wasn't right. She voiced it many times. I heard her say it. But it was gradual. 'I'm just tired today.' 'I just had a hard day.' 'I'm just getting old' There was always an excuse, and she always bounced back. A few months later though, after starting the medication, her depression got even worse. There was no good days in between the bad. There were no excuses. It was too much. She started self harming. A week later, she drove herself to the ER. (To hear it from her here's a link
https://www.facebook.com/tess.mclaughlin1/posts/10215372077438901
)
I can't imagine how scary all this has been. How unbearable. None of us plan to have our entire life just derailed, and spun into chaos.
Tess got the help she needed in the hospital and finally got answers to why this was happening. She got solutions. But this still hasn't been an easy road. She has been out of work for over three weeks now. Finding it hard to pay bills, rent, and with the holidays coming up, hasn't been able to do all she wants for her loved ones and her son.
Please, if you know her and love her like I do, if you have a way to give, please do. If you don't know her personally, but know even a little of what it feels like to fall apart completely and struggle with all you have to get back on track, give a little. If you don't want to give money, please email me throught here and I will help with ideas of other ways you can help!
Thank you all! Let's help Tess and her family feel the support and love. And give them some holiday cheer this Christmas! ❤️
Much love and God bless!


+ Read More
Update 1
7 months ago
Share
We've had so many awesome people willing to give! Thank you so much!! Tess has started work again, slowly but surely! She's still been having a hard time, especially since our job is high stress and fast paced. But she work almost her whole shift yesterday and did awesome! Please continue giving in any way you can. And prayers would be appreciated! Thanks again everyone and Merry Christmas!!
+ Read More