Ms. Wheelchair America 2016
$4,613
of $10,000 goal
Raised by
41
people in 41 months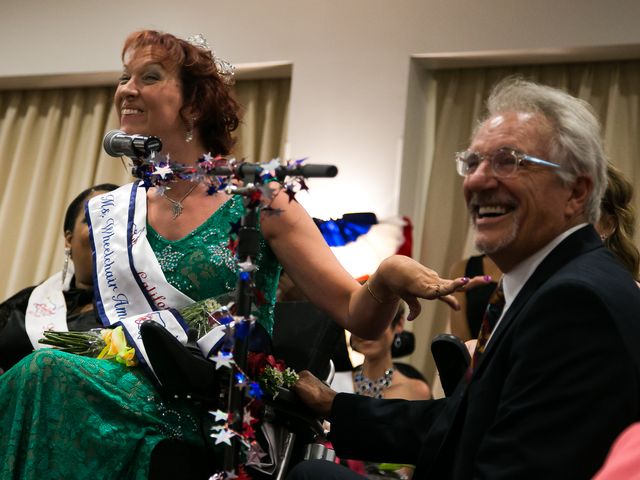 When I was born, the message was clearly conveyed that as a person with a disability I would be less than. The assumption was that I would not be a contributing member of our society and I surely would not be capable of raising a child. This mentality existed in 1971 and for over 56 million people in America who live with a disability these beliefs continue to impact our day-to-day lives. Ignorance continues to be the greatest obstacle facing those with disabilities. 75% of people with disabilities are unemployed and 80% live below poverty. This is unacceptable when we live in a nation that prides itself on life, liberty, and freedom. An inability to successfully access housing, education, and healthcare are pivotal issues faced by the disability community. Along with these basic needs is the reality that people with disabilities are penalized and lose services when they marry. 80% of people with disabilities encounter discrimination, oppression, and ignorance when becoming parents.
On August 1, 2015, I became your Ms. Wheelchair America 2016. As a national spokes person, I am eager to serve the community and provide mentorship for successful living with a disability across the nation. My platform, PRIDE: Parental Rights Include Disability Equality, focuses on transforming social response, advancing public policy, and strengthening community resources for parents with disabilities. During the national competition I emphasized that parental rights in the disability community is an urgent issue. I am pleased to announce that the federal government agrees with me. This week the Department of Justice and the US Health and Human Services announced new federal guidelines to protect parents and perspective parents with disabilities from discrimination. Specifically they call for increased awareness and education across state agencies to ensure that parents and prospective parents with disabilities have "equal access to parenting opportunities without encountering artificial barriers posed by longstanding discriminatory practices".
Being a leader, educator, and mentor drives my goal of eliminating the barriers that exist for parents and perspective parents across the nation. As a mother with cerebral palsy who holds a doctorate in psychology I am able to speak to a variety of audiences by combining my personal experience with research data and evidence based practices to facilitate change across systems of care and promote inclusion across communities. I want to be able to provide workshops, deliver public addresses, increase media images, and mentor parents and perspective parents with disabilities across the nation in order to reduce ignorance and eradicate discrimination.
I need your assistance to achieve my goal as Ms. Wheelchair America 2016. Help me bring the message to local, state, and national communities that people with disabilities are successful in education, employment, and as parents.
For more information please visit
www.mwa2016.com
+ Read More
Be the first to leave a comment on this campaign.