Montreal Student Movement Convention
$1,760
of $13,000 goal
Raised by
37
people in 56 months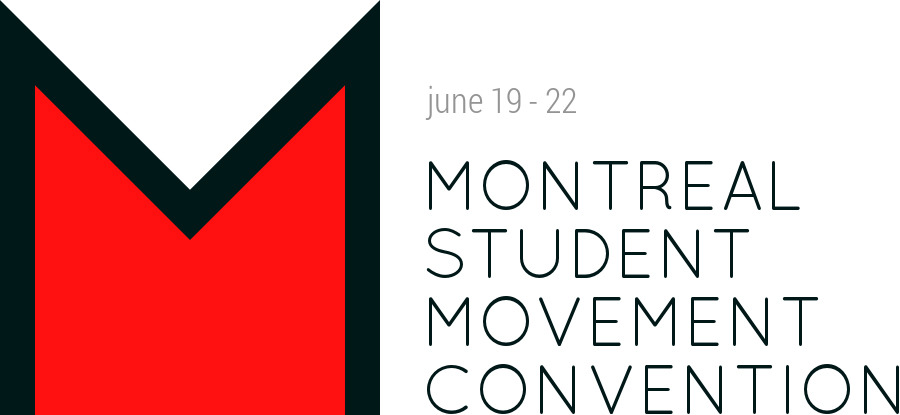 (La version française se trouve plus bas.)
The 
Montreal Student Movement Convention
is a gathering of students from 5 continents that has been in the planning for nearly a year. From June 19-22, students will converge at the University of Quebec at Montreal to meet fellow organizers and learn from organizers all over the world about building student unions, creating intersectional movements, and taking a crucial step towards uniting as a global movement.
The good news is that registrations have been pouring in, and more students than originally expected will be attending the convention. The bad news is that this has led to unexpected costs with UQAM and other logistical issues coming up at the 11th hour, which is why
WE NEED YOUR HELP TO MAKE THIS CONVENTION A REALITY.
Because of the larger participant pool, the University has decided to charge more for room reservations beyond what was originally intended. In addition, hard fought for union regulations that protect the wages and rights of university workers must be honored. So, we need you to help get this link out to the world.
EVERY DOLLAR MATTERS. EVERY PLACE YOU POST THIS LINK INCREASES THE POSSIBILITY OF MORE MONEY.
Sending this link to every student you know, every professor that supports the student struggle, every union member that believes in solidarity - it all matters. Posting in Facebook groups, sending emails, soliciting your second cousin you met once at a family reunion - it's all valid.
It's up to us to make this conference a reality now. We can't rely on just a few people to lead the way and solve this problem. If we're going to overcome this deficit, it's going to take all of us mobilizing in a real way over the course of the next 2 weeks. As student organizers, we believe that another world is possible, and that radical generosity can create a new reality. In attending this convention, we are taking a tangible first step toward building real international solidarity and a global student movement that is connected and powerful. Let's practice what we preach. Let's unite in solidarity. Let's create one fist. As the student revolutionaries of May '68 said, LA BEAUTÉ EST DANS LA RUE. Let's make it a reality.
ALL POWER TO THE STUDENTS!
In solidarity and love,
The Montreal Student Movement Convention organizing commitee
_______________________________________________
Du 19 au 22 juin 2014, le
Montreal Student Movement Convention
rassemblera les mouvements étudiants progressifs de cinq continents afin d'échanger à propos de nos luttes communes et de nos stratégies et méthodes d'organisation dans nos mouvements respectifs. Ceci sera une opportunité unique afin de bâtir des solidarités entre les différentes facettes du mouvement étudiant international, et permettra à tous et à toutes d'apprendre les uns et les unes des autres pour ainsi renforcer les mouvements étudiants progressistes de partout dans le monde. C'est aussi une chance unique d'échanger nos expériences en termes de luttes antiracistes, anticoloniales, féministes, écologiques ainsi que de diversité sexuelle et de genre. La bonne nouvelle, c'est que nous avons beaucoup plus d'inscriptions que prévu. La mauvaise nouvelle est que cela a engendré des coûts supplémentaires importants au niveau de la location des espaces de l'Université du Québec à Montréal (UQAM) et que cette information nous a été transmise il y a de cela seulement 48 heures.
NOUS AVONS BESOIN DE VOUS POUR RÉALISER CE PROJET
En raison du nombre important de participants et de participantes, l'université a mobilisé un nombre considérable d'employé-e-s pour le gardiennage et l'entretien des espaces. Afin d'honorer la convention collective des employé-e-s de soutien, cette décision coûteuse se doit d'être respectée.
CHAQUE DOLLAR COMPTE. CHAQUE FOIS QUE VOUS PARTAGEZ NOTRE PAGE AUSSI.
Que vous partagiez ce lien avec vos ami-e-s, votre famille, votre camarade de classe, votre professeur-e préféré-e, que vous le mettiez sur la page Facebook de votre association étudiante ou sur le mur Facebook de votre grand-tante – chaque petit geste compte.
La réussite de cet évènement dépend de nous tous et toutes. Si nous voulons surmonter cette impasse, il faudra que tout le monde s'y mette. C'est par nos efforts combinés au cours des deux prochaines semaines que nous réussirons à surmonter cet obstacle. En tant que militants étudiants et militantes étudiantes, nous croyons que la générosité de chacun et chacune a le potentiel de faire avancer nos projets sans compromettre les valeurs qui les mènent.
Le MSMC est un pas concret vers la construction d'une réelle solidarité internationale avec les mouvements étudiants du monde entier.
Pour que les outils forgés par nos luttes deviennent le flambeau des générations futures, pour que la vague de conscientisation politique qui déferle sur le Québec et dans le monde se transforme en raz-de-marée. Ayons le courage de nos ambitions et unissons-nous!
UN JOUR, NOUS VAINCRONS!
Solidairement,
Le comité organisateur du Montreal Student Movement Convention
+ Read More
Be the first to leave a comment on this campaign.