19
2
Melanie's Mission To Live
£3,501
of £80,000 goal
Raised by
64
people in 19 days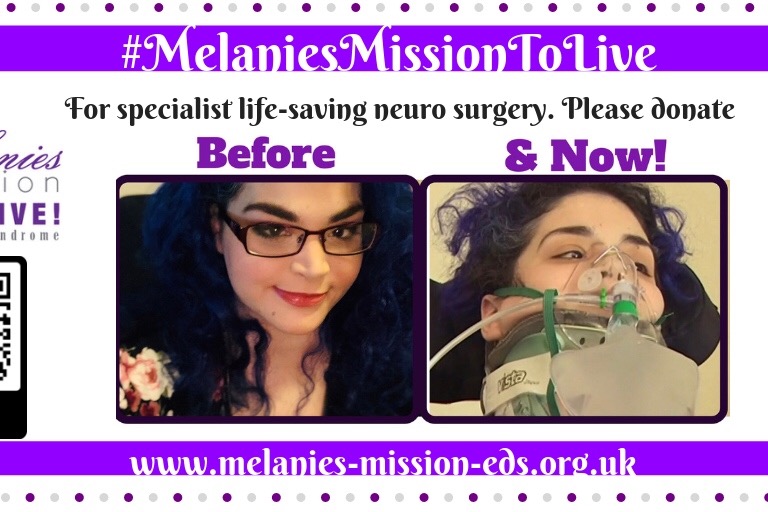 Melanie is 29 and a bubbly graduate of the School of Biology at Newcastle University. She lives in Cramlington with her mum. She suffers from a severe form of Ehlers-Danlos Syndrome, (EDS)‌, which causes all her joints to dislocate - especially those of her spine and neck! This lead to a very severe case of Spinal and now also Cranio-Cervical Instability, (CCI).
This meant her skull and brain are sinking onto her spine, (like a pumpkin on a toothpick), and she needed to fundraise for specialist & life-saving surgery to her neck to fuse the skull to the neck in a matter of a few months! For over a year Mel was unable to sit up without triggering severe seizures and was forced to spend her days lying down on her bed or stretcher, in a rigid cervical collar at ALL times! 
Tremors, nystagmus and episodes of paralysis from the neck down are just some of the symptoms of CCI among many which are even more horrific. The prognosis for the most severe of CCI cases without the fusion surgery is paralysis & ultimately, death & specialist neurosurgeons have watched "one slight wrong move could cause a full skull dislocation -  resulting in death!"
However, a renowned neurosurgeon in Barcelona, Spain, agreed to take on Mel's complex case saving her life!
Thanks to YOUR HELP Melanie was able to have this lifesaving neurosurgery 2years ago, she had a skull decompression and fusion of skull to T1 and then a second surgery T10- sacrum/pelvis, to prevent these areas dislocating and putting her life in danger.
HOWEVER, after 2 years of being symptom free from horrific neurological symptoms of CCI, her skull has become unstable again following recent surgery to her knee under general anaesthetic, and her neurological symptoms are rapidly returning! She is now back in bed all of the time and in a neck brace 24/7, using oxygen, in severe pain and desperately needs support to raise £80,000 to fund more testing and surgery in September, in Barcelona to fix the problem ASAP .... before it's too late!
Are you willing to support #MelaniesMissionToLive?
PLEASE join our 
Facebook: 
www.facebook.com/melanies.mission.eds
Website: 
www.melanies-mission-eds.org.uk
‌ 
In time, this would help her to achieve her dreams of becoming a teacher, enjoying spending time with Katiya and ultimatley to live her life to the full once again!
Thank you so much for your support!
#melaniesMissionToLive
+ Read More
Update 2
5 days ago
Share
This is our latest video appeal for the campaign, any shares on social media or donations are appreciated- we need to raise £80,000 by September 2019!

Thanks again for the support!
+ Read More
Update 1
13 days ago
Share
Hi,
I have spoken with my specialist neurosurgeon this afternoon and discussed the rapid deterioration and all my symptoms etc.
He needs me to get a CT scan urgently in the uk, so I'm arranging that now, and the total cost for the remaining tests needed in Spain and the surgery will be around £80,000.
Once he can review the urgent scan he is going to book me in, and it could be as soon as "June or July".... so i need all your help and support now to fundraise and host events and sponsorships!
Please spread the word and share my Facebook posts!
Thanks again for all the support and here is a recent article from the chronicle:
https://www.chroniclelive.co.uk/news/north-east-news/melanie-hartshorn-devastated-determined-after-16371715
#MelaniesMissionToLive
+ Read More
Read a Previous Update