19
9
Magdalene Laundry Poetry Project
$3,155
of $7,000 goal
Raised by
25
people in 10 months
MY STORY:
I'm a full-time university English instructor in South Dakota and a working poet. I have a full-length collection of poems,
The Book of Crooked Prayer
, looking for a publisher. I have a chapbook of poems,
The Sea is My Ugly Twin
, coming out in July, 2018, from Finishing Line Press. I'm part of an amazing group of women, the Women Poets Collective, who gather annually to give readings and workshop each other's manuscripts. I facilitate a community writer's group, and I'm the faculty advisor for a literary and creative writing student organization. This is all just to say I'm pretty serious about the power and importance of poetry.
THE MAGDALENE LAUNDRIES:
Like many people, I hadn't heard of the laundries until I heard Joni Mitchell's song, "The Magdalene Laundries" (
https://www.youtube.com/watch?v=X473kTKMY5Y
). The song inspired me to do some digging. That was a couple years back, and what I've learned since has broken my Irish heart, has made me angry, and has set me on a new writing path.
The Magdalene laundries were workhouses run by four groups of Catholic Sisters. They housed girls and women from the mid-18th century until the last one closed in 1996. Girls and women were sent to the laundries for all sorts of reasons: truancy, petty crimes, pregnancy, promiscuity or a family's fear of eventual promiscuity, being a victim of sexual abuse, rebelliousness, etc. Since the laundries were run by the Church and unregulated by the State, each institution was largely autonomous and unaccountable.
An estimated 30,000 girls and women were forced into unpaid labor in the laundries, which provided contract laundry, ironing, mending, and garment construction services for hotels, hospitals, and other clients. (See
http://jfmresearch.com/home/preserving-magdalene-history/about-the-magdalene-laundries/
). The babies of young women who gave birth while in the laundries were taken from them without consent, kept in group nurseries, and adopted out. Many went to the United States, including to celebrity families and others who "contributed" to the Catholic charity running that particular laundry.
Life in the laundries was brutal. Girls' and young women's hair was cut or shaved when they arrived, they wore uniforms, and they were renamed. They worked long days in stifling heat and silence, with boiling water, caustic bleach, and hot irons. In some cases, sisters in the laundry worked alongside the girls/women and suffered the same deplorable conditions, although they were at least free to come and go. Some laundry survivors claim to have been abused in other ways, either verbally, physically, or sexually.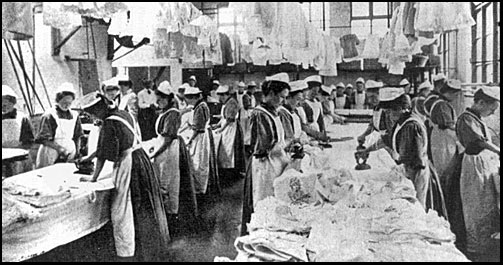 Some women aged out of the laundries. Many died before they could leave. A mass grave with the bodies of 155 girls and women was discovered at one facility.  And the bodies of over 800 infants and children were discovered in an abandoned septic system at another facility.
In 2013, under pressure from laundry survivors and victims' families, the Irish Government publicly apologized for the laundries and established the Magdalene Restorative Justice Scheme in order to pay reparations to laundry victims, although the Catholic Church still refuses to contribute to the fund.
MY PROJECT:
I've started work on a full-length collection of poems about the laundries. Here's one of the first poems from the collection:
For me, poetry has the power to examine and bring into the light the human condition, even its most painful and sometimes shameful aspects, softened and made more bearable by poetry's beauty. With this book, I'm hoping to give voice to the real and imagined laundry girls and women, to the sisters who operated the homes and sometimes suffered the same fates, to the adoptive parents of laundry babies, to the babies who were adopted, and to others whose lives were touched in some way by the laundries. I also want to explore our own part, as members of the human family, in this painful history.
To my knowledge, only one book of poems has been written about the laundries: Rachel Dilworth's beautiful
The Wild Rose Asylum: Poems of the Magdalene Laundries of Ireland
(
https://www.amazon.com/Wild-Rose-Asylum-Laundries-Paperback/dp/1931968616
). Certainly we must not stop there. The tender and tragic stories of these girls, women, and their children must be told over and over.
The purpose of this page is to fund a trip to Ireland. I hope to visit the places where these events occurred, and where many of the babies, girls, and women are buried. Though I can never feel or know the actual experiences of the "laundry girls," I can at least better know and understand the land and culture in which they lived (and sometimes died).
My goals are to visit as many laundry sites and cemeteries as possible, to work as much as I'm allowed with the Justice for Magdalenes Research project (
http://jfmresearch.com/
), to do research with JFMR's oral histories, and if possible, to visit with laundry survivors.
ESTIMATED TRIP COST:
·      Plane fare, Omaha to Dublin (round trip): $1500
·      Lodging in Dublin for three weeks: $3500
·      Living expenses: $2000 (includes transportation and food)
TOTAL NEEDED: $7000
YOUR CONTRIBUTIONS:
·      Gofundme funds will be kept in a separate account  and used only for trip/research expenses.
·      If there are any gofundme contributions remaining at the end of my Dublin stay, they will be donated to the Justice for Magdalenes organization.
WHAT THIS MEANS FOR
YOU
:
·      You will have my sincere gratitude. You will be a patron of the arts for a public university teacher and working poet who could never afford such an undertaking without your help.
·      Anyone who contributes $50 or more will get a signed, framable copy of one of the poems from the book (unless you're contributing anonymously).
·      I will give collective acknowledgment in the book to gofundme contributors, and I'd be happy and honored to mention you by name, as well. (Please leave a comment if you'd rather not have your name mentioned in the book.)
·      Most importantly, you will have contributed to keeping the stories and memory of the Magdalenes alive.
In the spirit of peace, love, justice, and forgiveness,  THANK YOU,
Marcella
(photos are from the JFMR website)
+ Read More