Help Olivia Battle Chronic Lyme
$6,350
of $13k goal
Raised by
94
people in 43 months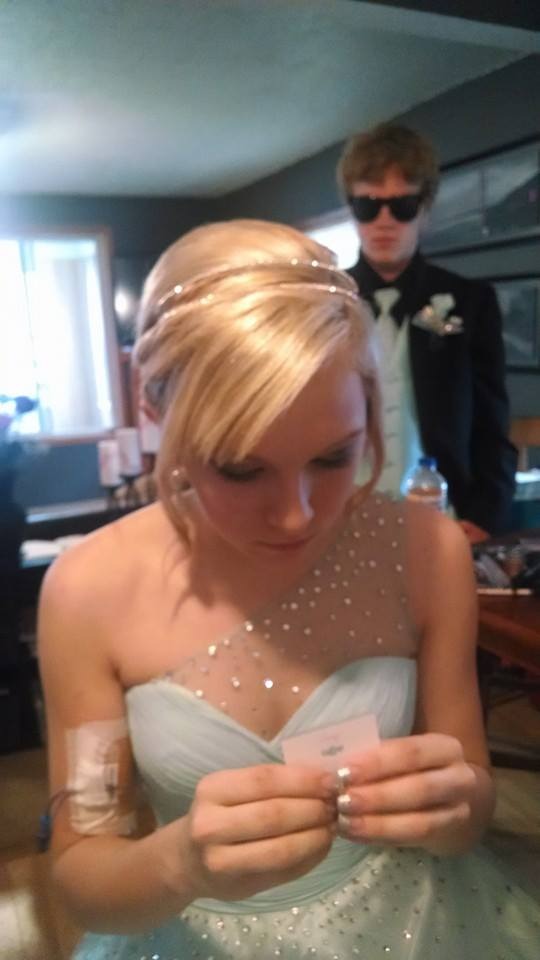 To all parents: How far would you go for your child if you had to watch them beg you in tears not to give you their treatment because they were already so sick from the others (keep in mind they are like chemo?) How far would you go for your child if you watched them become pale and utterly exhausted from an outing that consisted of getting a heart monitor hooked up to her? How far would you go for your child if you had to carry her to the bathroom and to bed at age 14 and then undress and redress them? How far would you go for your child if you held her in your arms looked in her eyes listened to her tell you in slurred speech that she was in so much pain that she couldn't handle it? How far would you go for your child if you held her head in your lap, stroking her hair as she had convulsions? I would go to the ends of the earth. If you would be willing to help me in that process I would be so grateful to you. Please help my daughter
Hi, my name is Olivia Evans-Whiteside and I have late stage Chronic Lyme Disease. I am only 15 and my bills are adding up very fast. I have to see my doctor very frequently, I have several prescriptions that have been costing a lot. Many of the medications don't agree with me and it is just money down the drain. I also have to take several vitamins, supplements and some special food that I can get down. I have a Picc Line (a catheter that goes up my arm and to my heart to deliver medication straight into my heart) and I get daily IV treatments. I have an in-home nurse that visits weekly to change the dressings on my arm, check on the Picc Line, sticks my other arm to draw my blood, and monitors my health. We also have my braces that cost a lot every month as well and my insurance isn't very good so we have high co-pays. Because my dad refuses to help pay his 75% of my braces, my mom got rid of her Jeep Liberty and bought a really old junky car that doesn't run well (no wipers, bad brakes, makes noises like a dying cat) so she could put a down payment on my braces and make the payments.
I have several health problems directly related to the Chronic Lyme. I get hives almost everyday and Benedryl does nothing, I get covered in other rashes that itch so bad, I have terrible insomnia but sleep aids make me hallucinate, I am in constant pain everyday all day, some days I cannot walk, I have collapsed and my mother and brother had to carry me to my room, I get migraines almost daily, I have blurred vision, I have heart palpitations and am just starting a med for that, my chest always hurts as if bricks were dumped on my chest, I am starved for air and nothing helps it, I get confused, spaced out, I can't always get the words I need from my brain to my mouth, sometimes I don't understand simple things, my mood is up and down and I am sad a lot, I don't want to miss out on the normal things of being a teen so I push myself pretty hard and that also pays a toll on me. I haven't been able to be in school since February, I had to take a leave of absence at my job that I love so much, Dairy Queen, I can't take a simple walk for more than a block because I become too tired and my joints hurt too bad to go any further. I watch people walk by my house and it makes me so sad that I can't do any of that. Even a trip to the movie theater is difficult. I volunteer time for a service organization I am in and hold a Grand Officer position , I have played the violin for 5 years and I have been active in Speech at school.
I realize my mom is very dedicated to me and my health as well as my brothers and she is trying to finish her education so she doesn't have a lot of money for all of the things it takes to try and kill all these nasty little bacteria buggers. She has had to stay home with me because I am so sick. Since I have neurological problems she can't leave me home alone. She does everything possible for us, but since she is unable to work because of my illness it makes it very difficult on our family.
I am thankful my mom is so dedicated to me and has fought to get me all of the medical care I need. She searched high and low for the great doctor we are currently seeing. We have to travel up to St. Paul Mn to see her. We always have to borrow my grandmas car or my cousins because our car isn't road worthy to go that far.
This illness has been very emotionally, physically and mentally trying and I am doing everything I can to keep it together. Thank you so much for reading and considering. I appreciate it! XOXOXOX
4/7/2014- Well, things have really changed since I first wrote that :( I am no longer able to go to full time shcool, now I do a 12 hour a week program to keep my core classes so I don't lose those credits. I haven't been able to work at DQ in quite a while, I had to take a leave of absense which makes me really sad because I love it, I haven't been able to work at the dome, go to a Rainbow event, or pretty much even go on a walk. I am lucky if I can even walk! I started having nuerological problems. That means the Lyme is affecting my brain. I have been occassionally falling, having blurred vision, slurred speech, I sometimes have convulsions, I have days I can't walk at all and have to use a wheelchair at home. I have been having really bad brain fog too and I can feel it, I don't like that at all. I don't like feeling trapped in my house with my mom all the time.
4/13/2014- I went to prom with my sweet boyfriend Isaia and it was fantastic! We had so much fun. We had a fabulous dinner at the Water Street Grill in Waverly! My moms friend Christine at Photography by Christine did a whole fun photo shoot of us the the day before!!! We stayed out only until 11:30 because I couldn't handle any longer. I did end up in severe pain by 2:00am and my mom stayed up with me all night long, took care of me, and rubbed my back. I am still glad I went even though I had all the pain. 
We have found a great Lyme Specialist who we are very happy with! The office visit is $300 for the first visit (because of a sliding scale) and $100 for follow ups. We will need $780 very soon to send off necessary lab work that insurance does not cover. Luckily my grandma drives us up because my moms car is not reliable for a trip like that at all. We also need to make some changes to our house to make it a little safer for me since I have been falling down the stairs or just unable to walk at all . My moms friends husband is going to do all of the construction work for us, but we just need to get the supplies. Currently we are trying to raise donations to support my lab work, some medications, and the construction supplies. Its not a lot of contruction supplies luckily:)  
And.....TOMORROW IS MY 15th BIRTHDAY!!!!!! Going to the cardiologist for my 15th birthday,wonder if he will get me a cake. hmmmm....
Hey...check out my website! I am working on it a little more!!!
www.lymielivi.com
*I have it linked to my mom's facebook page since she can answer questions better, plus she knows way more people than I do.
*Please "like" our family facebook page:
http://www.facebook.com/thegreenribbonfamily
+ Read More