Help for end-of-life expenses
$9,029
of $9,000 goal
Raised by
130
people in 31 months
Update December 15, 2016

Amazingly Kourtney is still with us. In fact, because palliative care is considered short-term, Kourtney is being considered for removal. While the move will be difficult, this opens up other possibilities for Kourtney. 

According to her doctor, Kourtney's liver has stabalized, however, she is still in the end stage of organ rejection and her life will not be long.  Along with the medical staff, I was bracing myself for her death in June, and then again in September. We were sure she was only days away from heaven then, and now I am  joyous that it looks like she can spend one last Christmas with me, and God willing, her 20th birthday in January.  I have been told though, that there will likely be no more miracles and they predict she will be gone within 5 months.

So what does the near-future hold for Kourtney?
She can now be allowed to move into her own place. I live too far away from medical help for her to be with me. She will have the support of her boyfriend who she lived with prior to May, who has been laid off and has moved to Penticton to be with her. He's been at her side and helping her in the Hospice every day. He is also looking for work to help with low income housing expenses when an appropriate place is found. She will then join the Home Palliative Program designed to allow people to die at home. She'll have a nurse come in a few times a day, and a support worker, have a hospital bed etc.

What does this mean financially for Kourtney?
We don't know exactly. Hospice is paid 95% of her disability pension, and we don't know what the costs are for the Home Palliative Program, but she still will need help with other costs like food and basic stuff as well as some extras.  For example, one of the food items that I think helped sustain Kourtney, was drinking 8 Booster Juices a day. This was expensive, but we really think it helped and it was the only thing that Kourtney could take for any kind of nutrition. She still wants them, but money has run out to support something like that. There are still medical items she needs and drugs that aren't necessarily covered by the Province or the program.

So again, I appeal to everyone to please help as you can.  I control the donation money and we are quite frugal with it. Your care makes these last months for Kourtney bearable to not be worrying about money all the time.

Thank you so much for your generosity.

Update October 17, 2016

Thank you again everyone for your generosity. Kourtney is a fighter and she is still hanging in there. She knows she is going sooner rather than later, but she  now has a goal to help people that has given her direction and focus that seems to have afforded her some extra energy to keep her here a little while longer.
Ever since she was on Global TV news show: http://globalnews.ca/news/2938264/a-lot-of-people-told-me-to-kill-myself-dying-teen-speaks-out-about-impact-of-bullying/ she has a newfound invigoration to keep going as long as she can with her anti-bullying message.

Most of us have about 80 years to make our marks in life, and Kourtney at 19, has days or weeks. The doctors thought she'd be gone by now and even as her mom, I thought she would be too. But she is still here and despite the constant, and sometimes exruciating pain, she is determined to be here as long as she has a message to share.

However, because she is here longer than we expected (and we are so happy she is!) that means the money that has been donated is no longer enough to keep her going the next few weeks.

It's a humbling experience needing to ask for help like this, but I so want Kourtney to be as comfortable as she can be in her last days/weeks.

If you can see your way to helping again, or for the first time, we so need it and appreciate it.


Update September 2016
:
I'm praying for anyone to help us out. I love my daughter so much and she doesn't need more stress in her last few days on Earth. She's gone through so much. Any donations will go toward Kourtney's happiness and comfort in her now… final days… and to provide for her memorial service.

Kourtney's condition has deteriorated and she can no longer leave the hospice easily. She remains conscious but is in constant pain. While she understands and accepts the inevitable end, she also sometimes expresses her fear of the unknown. She has regrets of not being here longer, but at the same time she is hopeful and yearns for the peace it will bring being reunited with her baby boy who passed away 3 years ago.

We are so very thankful to those individuals who have donated that has helped make her short life a little easier, but now she also worries about the expenses to me for her memorial service. I'm hoping in these last days that people can share this campaign on social media and donate a small amount to bring Kourtney some earthly peace of mind and show her that people really do care.

Thank you so much from the both us.
-------------------------------------------------------------
 Kourtney's Original Story

My beautiful 19 year old daughter Kourtney was born with a rare liver disease called PFIC2 or known as Bylers Syndrome. It is a condition that makes her liver over-produce bile acids and her body can't filter the bile out. While living a fairly normal but difficult life, unlike other children, she has been under the shadow of death her entire young life.

She underwent two transplants at age nine, which, thank God, gave her precious time. Unfortunately, she's been in severe rejection for a long time. At the beginning of May she was very sick and was in and out of the hospital with pneumonia and then failed kidneys before finally being admitted to hospice for palliative care about 8 weeks ago.

She lives in constant pain and has steadily lost weight; now down to 65 pounds.

At this time Kourtney is not expected to live long... but, she's a fighter. And she steadfastly refuses the drugs offered to end her suffering and end her life prematurely. Unfortunately she can't be at home with me because she requires a portable pump system to deliver pain relief to her and a professional round-the-clock caregiver to care for the pump. I have quit my full-time job to spend all the time with her that I can, and try to pick up casual work when able as my husband is not working at this time. Sometimes I stay with her in hospice.

Kourtney can still leave the hospice in the evenings with help but requires the services of a taxi that has wheelchair capability. This is difficult for us to do financially. She is on a Provincial disability pension, but the cost of hospice (and we so appreciate hospice availability and all they do) is 95% of what she is given as an allowance. This leaves her $95 for the month (very recently raised to $172).

 It would be so WONDERFUL to make the end of her life less stressful, filled with kindness and caring, and some happy and easier moments. A local proprietor is providing her cannabis free-of-charge that helps her to walk a little and sleep better and further ease her pain. But there are so many little things that we all take for granted that could make her life easier. Money for taxis, maybe a movie; some trips out for ice cream, and for providing healthier organic food rather than the unfortunate industrial food that she must eat now... A bigger wish would be funds to rent her a more comfortable and easier to maneuver wheelchair; to upkeep her cell phone; and a loaned or purchased up-to-date laptop or tablet for her to converse with the world outside... so many little things.

My daughter is beautiful, vivacious, intelligent, and she is well aware that her future isn't in this world. While most of the time she is so optimistic and upbeat, she has a lot of down and lonely moments. She craves the friendship of her peer group, but her sickness, and a move across the country in her late teens, has created a wall that has hindered finding and developing those relationships in the last few years. In public she finds herself more of a curiosity because of her emaciated condition and yellow skin. Her pet peeve is the stares she gets. So she is lonely for her own peers and welcomes any company who wishes to spend genuinely caring and fun time with her.

Any and all donations are so greatly appreciated. I'd love to see Kourtney smile and feel the peace that comes knowing others care enough to help, since she is still so young and doesn't really see the inspiration she is for others.

Thank you very much from both of us.

Please help spread the word!
+ Read More
Help for medical expenses has reached 64% of its goal. Thanks to Tim, Ashley and Tanya.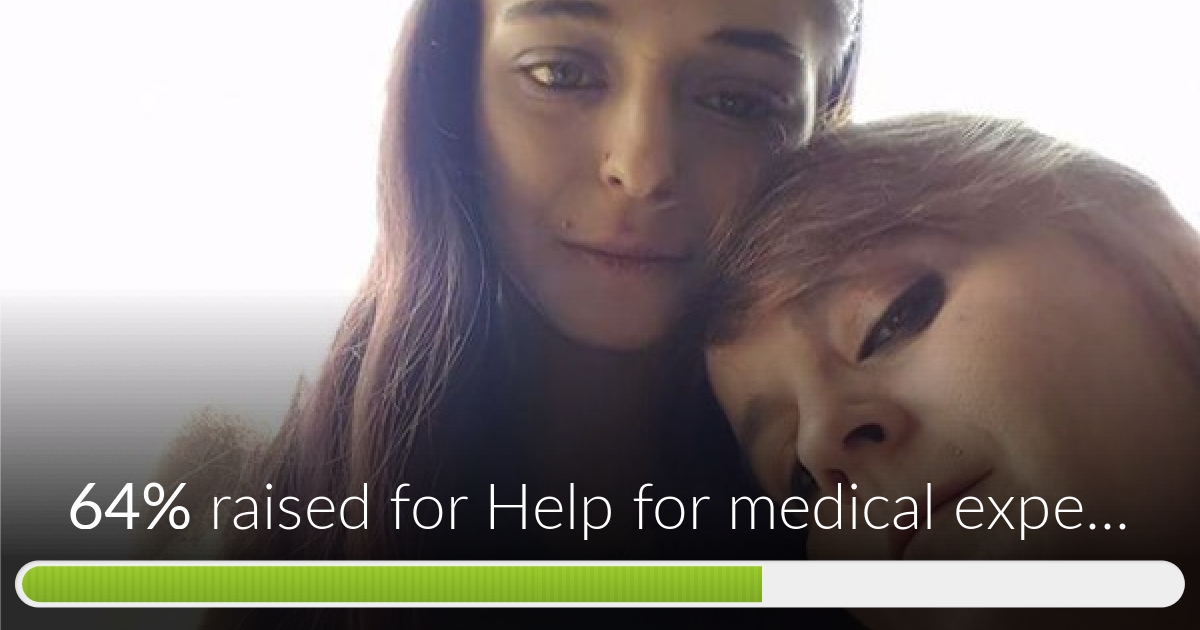 + Read More
Read a Previous Update