Love Always, Mom
$11,898
of $50,000 goal
Raised by
83
people in 7 months
We've raised $30,000 of our $50,000 GOAL!  HELP US RAISE $20,000 MORE TO REACH OUR GOAL!  
In 2015 we started our journey to build our family after battling and living with stage 4 breast cancer for 2 years.  We chose to film that journey as a resource for others and as a tool to raise awareness and funding for metastatic breast cancer.  Today, we not only have our son, Grayson who is now 21 months, but we premiered our "second child," the feature documentary LOVE ALWAYS, MOM, directed by Tricia Russo and Craig Shapiro at The Bentonville Film Festival on May 2, 2018 and took home the Best Documentary Audience Award!  This is evidence that the film resonated with audience well beyond the conversation the film ignited around metastatic breast cancer and infertility issues during our Q&A's and anyone who learned of our story throughout the festival week.  
"With startling intimacy…Russo makes a vivid understated onscreen heroine as she takes viewers through her intense journey over several years." - The Hollywood Reporter "Every aspect of 'Love Always, Mom' is a breath of hope." - Film Inquiry "…Skillfully made, never flinching away from uncomfortable moments, but also celebrating life and all it has to offer." - FilmThreat"Seldom do documentaries or movies hold your attention for every single moment as they move forward, but this is definitely one of those rare ones." - Red Carpet Crash
These are just a few of the reviews we received after our premiere! None of this would be possible without people like you!  This film has been entirely funded by individual contributions to The Cyan Gray Hope Foundation.  The goal of the film is to raise awareness for metastatic breast cancer and infertility issues and ignite a dialogue around these issues.  The sale of the distribution rights will be donated to research for metastatic breast cancer.  The Cyan Gray Hope Foundation is championing a model of non-profit content creation; create content that educates and raises awareness and sell that content to multiply the investment and increase the amount contributed to research!  
We're screening at The Catalina Film Festival on Friday, September 28th from 3-5 PM and have several young metastatic survivors joining us for this screening to kick off our fall campaign to raise awareness for metastatic breast cancer and infertility issues, and much needed funding for metastatic breast cancer research.
Then in October we'll be screening in Downtown Los Angeles at the Regal L.A. Live.  Date and time TBD but this is a fantastic opportunity in the midst of Pinktober to raise our voices for METASTATIC breast cancer.  Stay tuned for details on this screening!
We need your help!  We have raised over 50% of our 2018 goal of $50,000 via a combination of GoFundMe, Facebook, and check donations.  We need to raise $20,000 in the next 95 days to exceed our minimum 2018 goal!  The funding in 2018 will help us continue our screening run, as well as pay off deferrals from the filming of the documentary so that more of the proceeds from the sale can go directly to research.  We are so thankful for your past support and hope you'll contribute again in 2018!  If you've already supported us this year- thank you thank you!  Please help us spread the word by liking and sharing our posts on social media (@lovealwaysmomthemovie) and if you are interested in other opportunities to get involved, join our GoFundMe Fundraising Team, create your own Facebook fundraiser benefiting The Cyan Gray Hope Foundation, join a Party Planning Committee or become an Ambassador for the Film in your local community!  Thank you for everything!     
Endless gratitude!
Always,
Tricia Gonnella Russo 
P.S. Check out our trailer!
What is Metastatic Breast Cancer:
 Metastatic breast cancer or advance stage breast cancer or Stage 4 is when the cancer spreads from the breast to another organ or tissue.  According to statistics the mean survival with metastatic breast cancer is 4 years.  When we started filming, I had a 22% chance of being alive today.  There is only a 10% chance that I'll reach my 10 year cancerversary in 3 years.  I'm enjoying motherhood and want to be here for as long as I possibly can to see my son grow.  Over the past 5 years I have met and watched countless survivors lose their lives to metastatic breast cancer.  Due to the over abundance of pink in October, there is a false sense that research for a cure for breast cancer is sufficiently funded yet approximately 30% of early stage survivors will have their cancer spread in their lifetimes and approximately 40,000 lose their lives in America annually to breast cancer, and this statistic has not changed in years.  This is because only 7% of breast cancer funding goes to research for
metastatic
breast cancer which is incurable.   The only way to change these statistics is with more funding for research for metastatic breast cancer. 
Everywhere we screen we're raising our Voice for metastatic breast cancer and infertility issues.  Next up the Catalina Film Festival and DTLA Film Festival!  You can stay tuned for all info on these and future screenings by following @lovealwaysmomthemovie on Facebook and Instagram!
Craig, Trish, & Bentonville Film Festival Co-Founder, Geena Davis after winning the Audience Award- Documentary Film Award.  INCLUDE!
I'll steal a line that my surrogate spoke in our film, "I won't be famous.  I won't be a doctor or a lawyer, but I want to make a difference."  Our surrogate felt the way that should could make a difference in the world was by helping us have our son.  The way we could contribute to the world was making this movie and donating the proceeds.  Please help us continue our efforts to raise at least $50,000 to help achieve our goals.
+ Read More
Update 2
6 months ago
Share
Thanks to everyone who has supported our LOVE ALWAYS, MOM World Premiere launch fundraiser. Between Facebook, GoFundMe, and check donations we've raised approximately 20k of our 50k goal. We head to Bentonville on Tuesday for our World Premiere on Wednesday. Incredible news that our premiere screening has already sold out and our Thursday morning screening only has a few tickets left! It is incredibly validating to see people respond and purchase tickets. This is 4+ years of work, of our lives, and to know that it will be shared with the World very soon is exciting and terrifying!!!! I had a yoga teacher once who said that fear is just excitement without breath so I'm trying my darndest to just BREATHE. We would not be here without you and we are so thankful for your continued support in 2018 to bring LOVE ALWAYS, MOM to the World, as we continue our film festival circuit, screen at cancer centers, fertility clinics, and in conjunction with like-minded non-profits. Please keep sharing and if you aren't already- follow us on Facebook and Instagram @lovealwaysmomthemovie to stay posted on future screenings and to follow our upcoming trip to Bentonville!
+ Read More
Update 1
6 months ago
Share
This past weekend I attended the Living Beyond Breast Cancer Metastatic Conference in Philly with my Mother (and biggest cheerleader), Arlene and my sweet 17 month old, Grayson. This annual conference is an incredible resource but also has led me to some incredible friendships with metastatic survivors nationwide. It is bittersweet to say "see you later" to my friends at this conference. Every year some don't return- whether it's because metastatic breast cancer took their lives or the medical bills have made it impossible to afford the ability to take off work or pay for travel (LBBC does offer travel grants). Anise Smith was one of my Friends that I missed this year. MBC took her from us too soon. She was a mother to two children and last year we spent a lot of time sharing stories about our kiddos.

MBC (metastatic breast cancer) also robs many of these women from becoming Mothers. Some are rendered infertile by chemo treatments, others were unable to preserve eggs prior to treatment, many can't afford the fertility treatments or the astronomical costs of third party reproduction. Then, of course, there is the personal decision based on the likelihood of survival as there is a 5 year survival rate of 22% and metastatic breast cancer is currently incurable and treatment is ongoing. It may not be a technical infertility but I consider it infertility nonetheless when the choice has been taken from you due to a medical issue. Today is also the first day of National Infertility Week. We hope that Love Always, Mom can be a part of the #flipthescript campaign this week. As we raise our Voice for metastatic breast cancer, we also raise our Voice for infertility, an often silent struggle. You'll never know how badly you want something until you are told that it may not be possible.

We just hired an awesome publicist to support us surrounding our upcoming World Premiere at the Bentonville Film Festival. I couldn't be happier with who we brought on board! As it so happens, she too has her own ivf story and a child Grayson's age! Her passion for what we are trying to accomplish by making and sharing this film is incredible. Excited to see the exposure she can get for us! Will keep you all up-to-date on all fronts! We would not have been able to take this important step without you so we can put our best foot forward and attract a sale of the film so more $ can go towards metastatic breast cancer and infertility research.

Btw- the picture is of my friend, Amanda, a fellow metastatic survivor who I met at LBBC last year and was happy to see again this year. This is her meeting Grayson for the first time and he has given her so much hope that, she too, one day could have her own family. If you're in the NY/NJ area we hope to see you this Sunday to send us off to Bentonville for our World Premiere. If you haven't already, follow us @lovealwaysmomthemovie on Facebook & Instagram. This trip to Philly feels like the beginning of our "walk." It is a "walk" that will take about a year and cover a lot of the country as we work to share Love Always, Mom and raise funding for cancer and infertility issues! Thank you for all your support!!!!

#flipthescript #nationalinfertilityawarenessweek #stage4needsmore #dontignorestage4 #dreambig #BFF2018 #surrogacy #eggdonation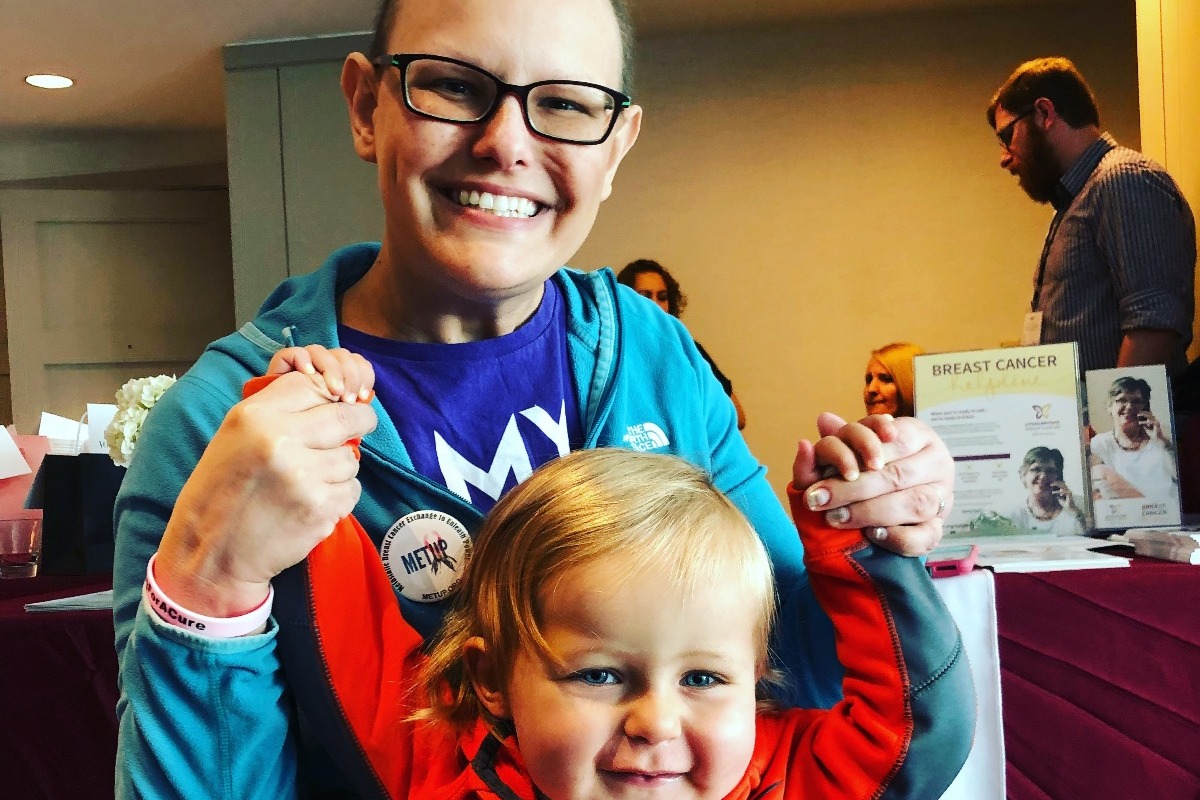 + Read More
Read a Previous Update
Be the first to leave a comment on this campaign.