Love for Linda: Help My Mother See a Clear Future
$3,440
of $15,000 goal
Raised by
55
people in 1 month
Just over a year ago, January 25, 2018, my mother was diagnosed with glaucoma; it took over half of her eyesight. In less than a month from now, her mortgage company is going to try to take her house from her. She needs your help.


HOW DO I HELP?
Donate if you can. If not, Linda is a landscaper (who, due to her current condition, now mostly works Chicago's Northwest side). If you're interested in hiring her, just call Linda's Lawn Care at (773) 507-5296. Or tell your family and friends to hire her!






WHY SHOULD I HELP?

My mother has always been a fighter. When her marriage ended in a difficult divorce, she built a successful landscaping business that has been her primary source of income for over 20 years. She has always had an aversion to asking for help, preferring to work for everything she has. As a single mother, she raised me, my disabled brother, and our baby sister all while working 6 - 7 days a week.

During loan modification negotiations with her mortgage company… she fell ill. What she thought was an aggressive sinus infection, coupled with pinkeye, was actually an acute, closed angle glaucoma attack. Lacking quality health insurance, it was weeks before she could get treatment; someone finally told her to go to Cook County hospital, where she learned the severity of the situation. At only 58, it was unexpected, to say the least. She was also diagnosed with diabetes (now controlled), hypertension, and suffered at least one minor stroke in the following months, due to the stress of her conditions. Given her illness and the subsequent recovery, she missed deadlines and her mortgage company began foreclosure proceedings on her home. We were informed of the judgment of foreclosure just before Christmas, and are currently in the "redemption period" with the sale date weeks away, as the mortgage company is reviewing all the documents we have submitted.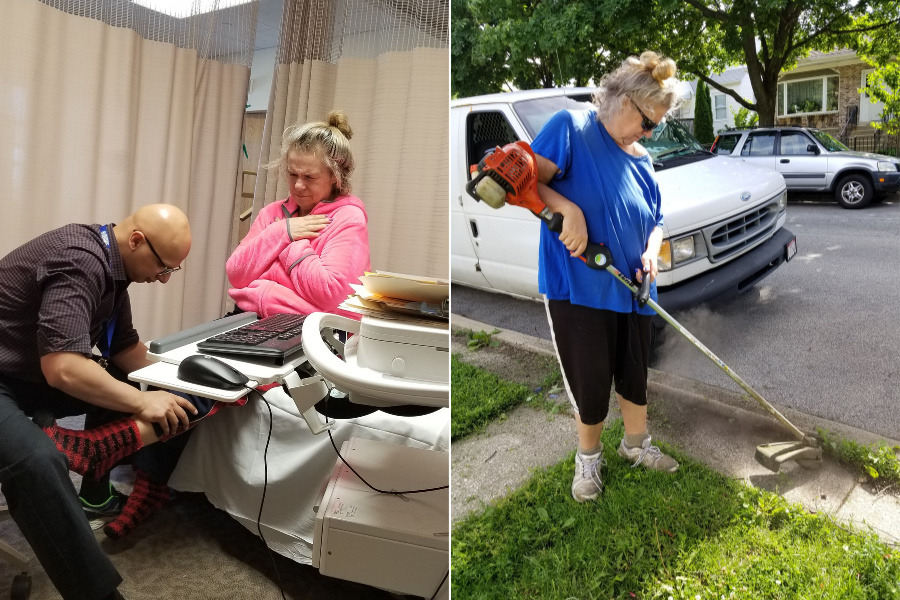 She's endured her fair share of hardships: the long recovery process, and trying to use her other senses to aid her low vision while working



WHAT IF I DO HELP?
As she catches up with bills and we wait for the landscaping season to start up again, we're trying to raise $15,000.This amount will help cover medical needs, can help with a few mortgage payments, and would be put towards other unexpected expenses (like truck repairs). With this money, the mortgage company may agree to a loan modification so my mother won't lose her home of 33 years; she can continue to be as autonomous as possible despite her stretch of bad health, being more than capable to tackle the spring season.

Please remember, every little bit helps, whether it's a donation, or a landscaping job. I'm infinitely grateful for all help we receive, and I know my mother will be even more so. Thank you.

If you wish to know even more details, I have posted her story on Facebook as #LindaTheLandscaper which will be the hashtag going forward.
Again, thank you.




Even during some of our many hospital trips, we can make her smile
+ Read More
Update 2
28 days ago
Share
Only 6 days into the fundraiser, we are past 20% of our goal, and at 300 shares on social media!

We cannot thank you all enough for what you have done. We ask that you keep sharing, and please keep in mind that Linda is looking for new landscaping customers as well! Her business info is on the main page. :)
+ Read More
Update 1
1 month ago
Share
About 3 days in, and we're already at 15% of our goal! <3

I am so very grateful to all of those I know and love. For all the support, and outreach, and ideas, and everything. Thank you, thank you, thank you.

I'm going to be doing all I can to reach farther and wider. Let me know any ideas that I might have missed!
+ Read More
Read a Previous Update