Love for Lauren
$28,772
of $50k goal
Raised by
147
people in 66 months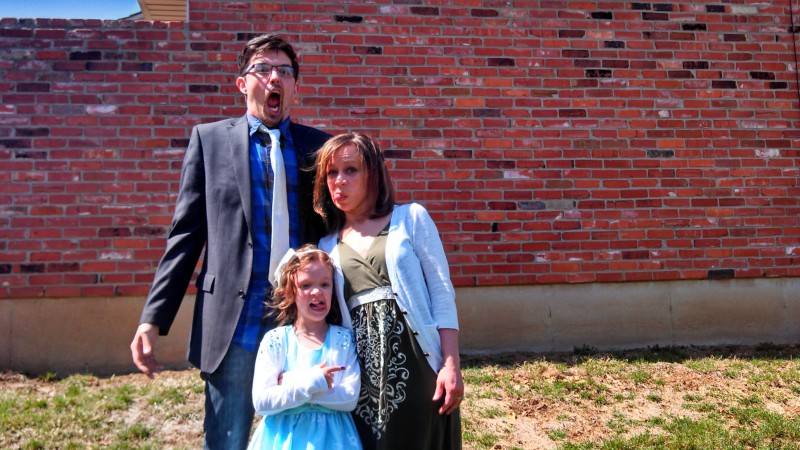 Who is Lauren?
Lauren Harman is 30 years old and married to Andrew. They have a 8 year old, Lily.  Their family are intercessory missionaries at C-HOP and Dayton SHOP. Lauren was diagnosed with Cutaneous T-Cell Lymphoma in June 2010, but has been dealing with it's symptoms since August 2007. Cutaneous T-Cell Lymphoma, or CTCL, is a rare type of cancer that begins in the white blood cells and attacks the skin. There is no known cure for CTCL.
How Cancer has Changed
her Life
Lauren has been diagnosed with an aggressive form of CTCL. Symptoms that Lauren experiences include severe itching over her whole body, intense pain from touch, extremely dry skin, raised skin patchiness and discoloration, burning, insomnia, irritability, and loss of hair. She has insomnia from the pain and itching and at times only gets an hour or two hours of sleep a night. The cancer has taken away her ability to do much of anything and larger portion (6-8 hours) of the day is often spent in the bathroom trying to lessen the pain, itching, and extremely dry skin with lotion and coconut oil.
Treatments
Lauren has tried several different treatments to help slow the progression of the cancer and manage her symptoms. Unfortunately, most of these treatments have either showed little or no results or made Lauren's symptoms worse. Although her symptoms continue, she has shown some signs of improvement, it is a roller coaster of symptoms. She will improve for a while, then get worse, then show signs of improvement, and then new symptoms start or old ones return.
In August of 2011, Lauren began treatments with the Burzinski Clinic in Houston, Texas where she saw positive results for 6-8 months. The results were short-lived however, and the cancer again progressed over the next year.
Lauren started natural treatments at the Get Well Center in Mansfield, OH in June 2013. Lauren saw improvements with the treatments she did, but due to a series of infections, she was unable to continue these treatments. She is now at the Ohio State University James Cancer Center doing treatments with a CTCL clinic as of December 2013. She has seem some improvements, but also some side effects.
She was scheduled to start a clinical trail in early 2015, but at the last minute she was denied participation. After being off all medical treatment for 5 months, she started a new treatment in November 2015 that wasn't available before. Even in a short amount of time, this treatment (along with a new nutritional supplement) seems to be helping Lauren improve significantly again.
Prayer Support 

Lauren and her family need your encouragement and prayer support in this difficult season! It is our belief that God can and will heal Lauren of this cancer and that she will not die. She has received numerous confirmations from family, friends, and even strangers (who do not know her situation) that God will heal her. We believe in that promise, but she needs relief from the severe pain and symptoms she experiences in the meantime. 
The Financial Need
Many of you have partnered with us to help save Lauren's life against this cancer already. Some of you are just learning about her story now. Wherever you've entered into her story, we ask that you consider financially partnering with us to help Lauren.
Some of her treatments have been covered by insurance, or funded by grants through  the hospital, but there are many other financial concerns for their family. These include paying for her health insurance every month, insurance co-pays, traveling to and from the hospital for treatments every month, expenses realted to the many hospital stays that occur, daily medical supplies used to keep Lauren from getting an infection, medications, nutritional supplements to boast her immune system, and clothes and personal necessaries to keep Lauren as comfortable as possible.  
In the 8 years that Lauren has been battling cancer, she and Andrew have spent well over $100,000 on medical expenses and insurance. There is a continual need for fundrasing to help Lauren be able to continue treatment to fight this cancer.
Update for December 2015
, the Love For Lauren fund has been depletted over the last 2 years since the last major fundraiser. Because Lauren is still battling this cancer and continues to need finanial support, we are updating the page and launching a few new fundraisers. 
As mentioned, the Harmans are full-time missionaries who raise all of their own financial support. This means that their livelihood is dependent upon the donations of their ministry partners, friends and family. During this difficult season, their ministry is looking different, but Lauren and Andy plan to return to IHOP full-time when Lauren has improved or been healed. If you would like to partner with the Harmans in their ministry efforts, please make separate checks payable to Living Waters Ministries (do not write their names on the checks) and mail to:
Andrew & Lauren Harman
PO Box 72
Versailles, OH 45380.
Thank You & God Bless You
+ Read More