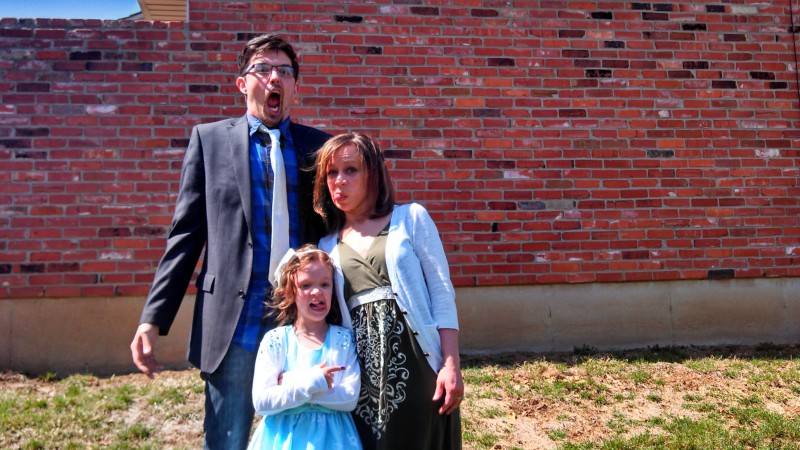 Who is Lauren?
Lauren Harman is 28 years old and married to Andrew. They have a 6-year old, Lily, and they serve as missionaries on staff at the
International House of Prayer in Kansas City
, Missouri.
Lauren was diagnosed in June of 2010 with CTCL "" Cutaneous T-Cell Lymphoma, a non-Hodgkin's lymphoma of the white blood cells.
How Cancer has Changed
her Life
CTCL is generally a slow growing cancer but is without a cure; what's more, Lauren was diagnosed with Folliculotropic CTCL, an aggressive form of the disease that generally bears a bad prognosis. For the last 7 years Lauren has battled disabling symptoms: severe whole-body itching, raised skin patchiness and discoloration, burning, insomnia, irritability, and loss of hair. She's had so much constant pain that taking a shower is almost unbearable and even laying down to sleep is excruciating.
Lauren began treatments in January of 2010 that included topical steroids (which caused other new issues), topical light treatments, and photophoresis (which was ineffective). For the latter two, she needed to drive 45 minutes (one way) 2-3 times a week for treatment which drained not only her energy but also her finances. The treatments were mostly unsuccessful, as she saw the disease progress in both severity and phase.
In August of 2011, Lauren began treatments with the Burzinski Clinic in Houston, Texas where she saw positive results for 6-8 months. The results were short-lived however, and the cancer again progressed over the year since.
In recent months, Lauren's pain has increased exponentially to the point that many days she is nearly incapacitated. The cancer has taken away her ability to do much of anything and larger portion (6-8 hours) of each day is spent in the bathroom trying to lessen the pain, itching, and extremely dry skin with lotion and coconut oil. To put it simply, CTCL has destroyed her life and is threatening to destroy her future.
A Change for the Better!
In light of all this, we recently visited an integrative cancer clinic in Mansfield, Ohio. They specialize in treatments that incorporate insulin potentiated therapy (IPT) and high-dose intravenous Vitamin C with oxygenation therapies, immune therapies, and multiple alternative treatments. The
Get Well Center
has had much success treating Lymphomas as well as other cancers and the projected outcome of the doctor was quite positive.
We have hope that a different treatment protocol might be effective because this disease responds differently with different people. Studies show that the "specialized" delivery protocol of low-dose chemo and the I-V Vitamin C are effective with a variety of cancers, including non-hodgkin lymphomas. We believe these two, as well as other alternative treatments offered by this clinic, have the potential to bring a change for the better in Lauren.
The Financial Need
Many of you have partnered to help us save Lauren's life against this cancer. Some of you are just learning about her story now. Wherever you've entered into her story, we ask that you prayerfully consider financially helping us in getting her well. The average cost to receive treatment at this clinic is $20,000 per month and the minimum treatment time is 6-8 weeks. Little to none of this is currently covered by insurance.
After Lauren's body responds to the treatments, she will then decrease the number of visits to once a month, then every three months, and so on until she is doing follow-up visits yearly, so costs will be ongoing, but will decrease over time.
Andrew, Lauren, & Lily will also need to temporarily move to Mansfield for the duration of the treatment, so we would like to have enough to cover living expenses as well.
As a missionary family, the Harmans know that every donation, from $10 to $10,000 will help, so don't think your gift is too small. ANY AMOUNT is GREATLY appreciated!!
The Family Need
Being in the missions field, Andrew & Lauren raise their living expenses on their own; this means that their livelihood is dependent upon the donations of their ministry partners, friends and family. In 7 years that Lauren has been battling cancer, she and Andrew have spent well over $100,000 on medical expenses and insurance. Needless to say, their resources have been virtually pillaged by this disease. This fundraising effort is vastly important as current medical expenses (even before this treatment) can more than double their average monthly income.
The Harman family clearly needs your help. Thank you for your help and your prayers.
Thank You & God Bless You