Create the Science Learning Campus
$559,915
of $1.0M goal
Raised by
344
people in 13 months
We are no longer collecting donations through GoFundMe, but if you would like to purchase a brick or  plaque, or make a donation, you can do so through our website HERE.  Thank you for all of your support and for helping build The Living Planet Science Learning Campus!

Create the Science Learning Campus
Loveland Living Planet Aquarium in Draper, Utah, is at capacity and expanding to provide more educational experiences and create new animal habitats, and needs your help. We are creating The Living Planet Science Learning Campus to serve the local community, become a destination for guests nationwide, and further our mission to inspire people to Explore, Discover, and Learn about Earth's diverse ecosystems.



What is the Science Learning Campus?
The Campus will include two primary structures: a cutting-edge 80,000 square foot Science Learning Center and The Claw, an iconic, 165 foot tall structure that served as U2's stage for their renowned 360° Tour.



Why a Science Learning Campus?
The Campus will serve K-12 and university students, as well as Aquarium members and guests. Through hands-on interactive exhibits, animal habitats, high-tech classrooms, laboratories, and more, the Campus will offer experiences that help them understand that the environments we live in are all interconnected as one global ecosystem: The Living Planet. With this knowledge, we all can become better stewards of our environment.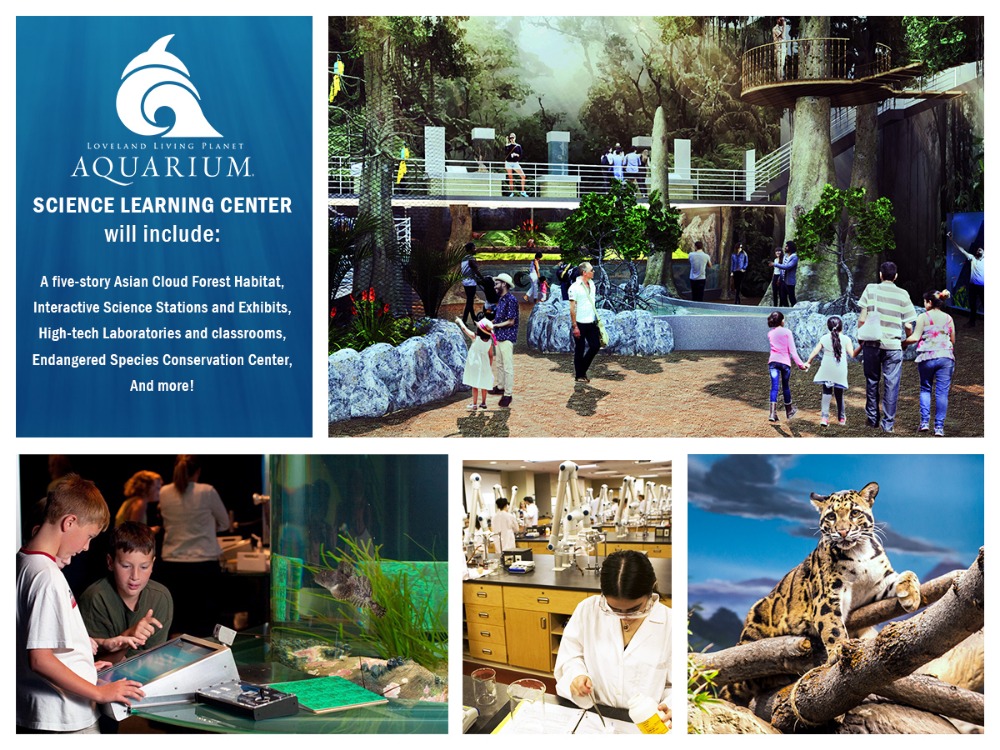 What is The Claw?
The largest stage in music history, The Claw traveled around the globe from 2009-2011 as part of U2's renowned 360° Tour, the highest-grossing concert tour of all time. Designed with 360° open sight lines, this iconic structure and engineering marvel was seen by more than seven million people in 68 stadiums around the world during the three year tour. 



How will The Claw be used as part of the Science Learning Campus?
In its new life, The Claw will crown our Science Learning Campus and be sustainably repurposed as a permanent Utah landmark and majestic symbol of science exploration, learning, and conservation. It will serve as a community gathering space and come alive with special events, immersive hands-on interactive exhibits, outdoor animal habitats, imaginative play areas, and much more. One of two remaining structures, this will be the only Claw in the United States.



You Can Help Create the Science Learning Campus
As a 501(c)(3) nonprofit organization, we rely on your support. This Campus is a way for us to give back to our community and visitors nationwide with a unique place that will benefit current and future generations. With your help, we can begin construction this Fall. Every gift matters. If you can't contribute, please help us spread the word by sharing our campaign: www.gofundme.com/LivingPlanetAquarium. For more information please visit expansion.thelivingplanet.com, and for unique naming and sponsorship opportunities contact development@thelivingplanet.com.



Commemorate Your Legacy
You can help build the Living Planet Science Learning Campus and give the Claw a new home by purchasing a brick to be prominently placed in front of or even on the plaza stage! Leave a lasting legacy with your personalized inscription to commemorate family or loved ones, thank a friend or mentor, and to show your support for science, learning, and conservation of our living planet. Bricks will be located in front of the stage and a limited number of premium plaques will be on top of the stage beneath The Claw. Laser Engraved Bricks are available in two sizes including the River Level (4 x 8-inches/$100) and Lake Level (8 x 8-inches/$250) in front of the stage. Ocean Level (12 x 6-inch premium engraved plaques/$500) are limited and will be located on top of the circular stage.



Bricks and plaques are available now for a limited time only. They will be ordered an installed in 2019 to coincide with the ribbon cutting to open opening of the Science Learning Campus plaza and to welcome the magnificent 360° world tour stage to its new permanent home.  A representative from Loveland Living Planet Aquarium will contact you through email regarding what you would like as your inscription on your brick or plaque. (Logos and images are also available to be added to your 8x8 inch brick or plaque at additional cost).


+ Read More