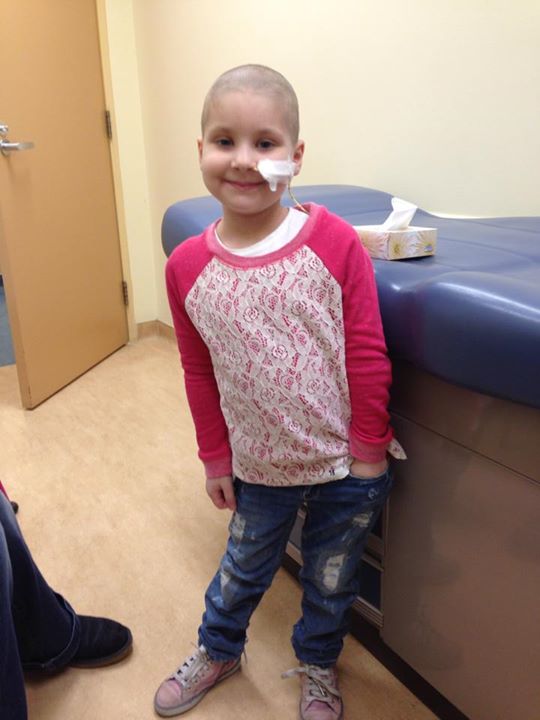 Our daughter Anya who is currently 6 years old has been fighting leukemia for over 3 1/2 years only to continue hearing that she has relapsed again. She just battled through a bone marrow transplant where we did not have a matching donor however had a cord blood that was close enough to go through the transplant. Five months after the transplant she relapsed once again and now we need to look at going to the US for treatment that is not offered in Canada in order to save her life. The treatment cost is from $500,000 - $800,000 USD which is why are fund raising. We have been researching whatever options we could find including a clinical trial which injects fighter cells to try and attack the leukemia cells and just found out that we also have at least a two month wait to get into the trial. We are praying for a miracle and hope she is eligible for a program such as this.
Anya is a smart, intelligent, giving little girl that just wants to have fun and bring joy to others. To give you an idea of her demeanour, when Santa Clause came to see her at Sick Kids Hospital in Toronto during her bone marrow transplant and asked her what she wanted for Christmas, she replied with "Presents for all of the sick kids here in the hospital". Her braveness is unbelievable and really is an inspiring little girl to a lot of people. I would say the strongest people in my family are certainly my daughter at a hard number one, followed by my wife at a close second, then myself and my four year old boy at distant third and fourth. We are looking to raise money only to give her the best chance to live and any extra will be put right back into supporting someone or people who need it in similar situations to us. Another great example of my daughters mindset is, just before the recent relapse I went to South Africa for work and just as I was departing for the airport she ran to the door with her piggy bank asking me to give the money she had saved to the people who need it most in South Africa. I made sure to help someone there and captured some pics so Anya could see how she helped someone on the other side of the world. Her kind heart deserves a chance at life where she doesn't have to live in pain or in hospitals as since 2 1/2 years old she has been fighting harder than most.
We appreciate any and all help and are committed to continue the fight of giving back. We are just battling something at the moment and if we can save my daughters life we can concentrate on continuing to give back and help others who need it as well. Thank you so much and I can assure you we are doing everything we can to give my daughter a real chance to get better. I am certain she is destined to be somebody great!
Thank you,
Martinez family.