11
9
Little Johnny & Debbies Fresh Start
$1,225
of $8,500 goal
Raised by
12
people in 9 months
I started this GoFundMePage for my good friend Debbie, and her now 6 yr old grandson Johnny, who had been living with me at my townhouse since the end of October 2016. My name is Sharon and I live in Sunrise, Florida.

One night towards the end of October
, after 6 years of physical and ongoing verbal threats to Debbie and especially very mean talk about and towards Johnny by her boyfriend, she called me crying that she had to get away from him. I said they could stay with me that evening. Also during their 6 year relationship Debbie woke up a few times with chunks of her hair cut off, her boyfriend said he didn't know anything about that. She also had a small locked safe broken into twice and some cash, jewelry plus her mothers wedding ring were missing. Then even the safe disappeared. He said he didn't know anything about that either. Debbie was finally afraid to stay with her boyfriend any longer in their apartment, which was also in a not-so-nice area of Sunrise.
The next day
while Johnny was in school we both returned to her apartment where her boyfriend told her he was moving to New York State for a job. He had secretly been planning on leaving for a while and even had a trailer already rented to move out of their storage unit. This left her in a terrible bind since he left her without a car and only a $20 dollar bill! (and he told her he was leaving $40.00) He left with a truck AND a very nice Harley-Davidson motorcycle and left Debbie and Johnny homeless!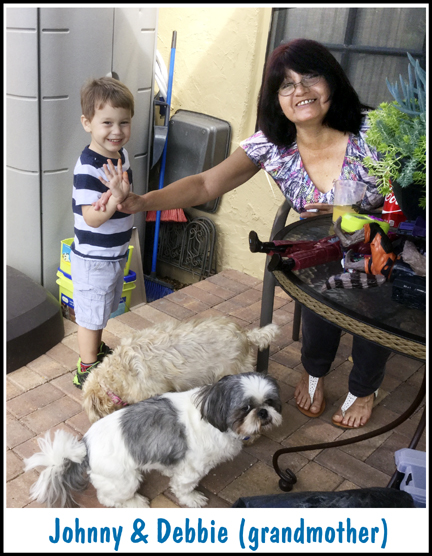 For 6 years
, Debbie had been giving her boyfriend money to put in the bank for her since she did not have a checking or savings account. She thought the money would be safe but he never gave her back any money (except for that $20). He told her that her money (approximately $8500-$9,000) was for her back "rent". And much of that money was from life insurance policies which were paid to her after her son died in a car accident in 2010. And to top this all off, Johnny had saved a little over $100.00 in his own piggy bank... but when Johnny got to my house and opened his piggy bank there was only $3.00 and some change in it!!! I wonder where that $100 went???
So after living together for 6 years as boyfriend and girlfriend
, and with Johnny for 5 years, he left them with just $20. He bailed on Debbie and Johnny without a thought or care of what she and her grandson would do without a roof over their heads, or food, and no car, and no way for Johnny to go to school... But I saved them from those problems for the time being.
I myself have financial and health issues
. I had a liver transplant in 2010 and am on disability, so I am not in any position to take care of two other people, financially or otherwise... especially an active 5-1/2 year old boy. Having to spend an extra $40 a month to put her on my auto policy is a hardship. And I pay about $75-$150 a month extra for food, water, electric, gas, household repairs, laundry supplies and other needed things.. I love them both but this makes things financially very difficult for me.
Debbie has now had sole custody of Johnny for 6 years
. His parents are both convicted drug users, in and out of jail, and do not give Debbie a penny for his upkeep. Johnny's other grandmother does not give Debbie any money either. Debbie has no one else to help her. Her family, and other so called "friends" have turned their backs on both of them and will not help at all.
At my house Johnny has his own room but Debbie has to sleep on a couch, which is not right for a 56 year old woman to sleep on every night. Debbie does not have a job or any other money but she wants to get a job and an apartment for herself and Johnny. When she was living with her boyfriend she was a great homemaker but was not able to work at the time because of her own health problems and she had no vehicle of her own. (He let her use his truck to go food shopping and do some other errands)
This past March 8th Debbie saw her Medicaid doctor
who gave her a written diagnosis informing her that she had
Multiple Sclerosis, Essential hypertension, Calculus of kidney and abnormal glucose
. (I have the medical papers so I know this for a fact)Debbie is still capable of doing many things at this time. She is very good at house cleaning, baby-sitting and taking care of animals. She would be an excellent nanny or home/pet sitter as well... but the thing that is putting all this on hold is that
she needs her own car
. Once she has a car and car insurance she can get a job and then rent an apartment for her and Johnny.
I would like to raise enough money
to buy Debbie a small inexpensive car with good tires, minimum PIP car insurance, and enough money to rent a small 1 bedroom apartment near Johnny's school here in Sunrise before the end of the summer. If Debbie and Johnny could get $7000 or $8000 that would be wonderful but even $5,000 could buy a car and insurance plus some money to put away for school clothes, supplies, etc... and some money towards an apartment.
I pray that I can raise these funds for Debbie and her grandson Johnny
so they can start a new life for themselves in their own home. They both deserve a new start. They love and count on each other so much. Please help give them a fresh new start.
God Bless You. Sharon
+ Read More
Update 2
3 months ago
Share
Hi Everyone...

Deb and Johnny had been living with someone for the last few months but there were problems and they had to move out. Now more than ever she needs a car and some place to live... and then find a job where she can afford for them both to live.
+ Read More
Update 1
9 months ago
Share
Debbie and I want to thank those people who have contributed as of today, especially the man who donated $500.00. This was completely unexpected and extremely generous.

We are very thankful for any amount that is donated no matter if it is $2, $5 or $500... every dollar brings us that much closer to my goal of Debbie and Little Johnny making a fresh new start.
+ Read More
Read a Previous Update