mobile podcast production hardware
£190
of £3,000 goal
Raised by
8
people in 30 months
Goal: 52 PODCASTS produced for campaign groups in a year... One every week.
When the Gofundme target is reached. The funds will be used to purchase equipment to produce podcast and radio type programming.
Aims:
The equipment will be used to produce podcasts and radio type content for groups and organisations that raise awareness on issues including mental health, disability, social issues, political economics etc.
The aim is to produce at least one podcast a week. Working with a number of organisations/groups/individuals who wish to inform in a sustained way.
An example of this, a monthly podcast on the issues around mental health with The Mental Health Resistance Network. Another example; a monthly update podcast on issues around the fast moving situation regarding the future of the NHS. I am talking to other groups to organise other podcasts aiming to produce a total of 4 per month.
This project is an extension of LetMeLookTV. LetMeLookTV has been filming events protest and other interesting current affairs content, for around 5 years.
This is a project of passion. LetMeLookTV is a self prescribed social prescription for recovery. After spending a number of years trying to (lets call it a decade) trying to find support for clinical depression and c-ptsd a pursuit that only served to make my mental and physical health much worse. An opportunity came to get a camera and some other basic kit. I took the opportunity and its been a life saver.
Taget: My overall aim is to help people and groups. Who might not otherwise have the funds or capacity to organise. Provide access to skills and facilities to produce quality video and audio content. That highlights campaign issues and brings that to a wider public.More info:
The equipment will consist of hardware needed to produce content with upto 4 participants at studio quality. Full head phone monitoring etc. The equipment will be housed in a tough case to ensure its protected and easy to transport. A great deal of time and effort has been put in to specifying the equipment, to ensure best value and versatility in equipment selected. The selection is based on nearly 30 years of being a passionate follower of production technology and working in most types of audio/video production environment in the past.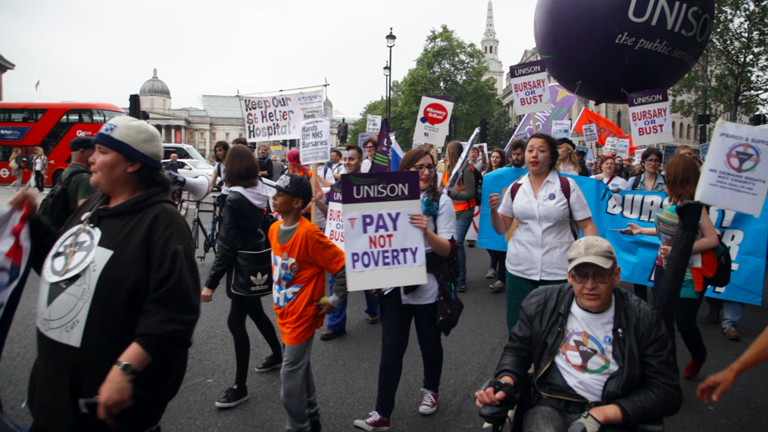 I am interested in social justice. Particularly abuse survivors & disabled rights, mental health care, NHS and drug law and education reform.
We live in a time where every corner stone of modern UK society is being attacked. The NHS, Education, social care, The justice and prison system.
People willing to put in the time and effort to produce and report on issues of our time is essential. Our media Has failed us. It does not represent the truth. Public interest or hold the establishment to account.
LetMeLookTV has filmed at scores of events covering mental health, disability, benefit issues, drug reform and political events. These videos have all been made available online for free youtube.com/letmelooktv LetMeLookTv would like to broaden its resources available to offer local grass-roots organisations high quality Podcast productions.  To be able to act quickly and in response to current events.
LetMeLookTV
is working with The Mental Health Resistance network on producing a series of programs looking at Metal Health and issues relating to people with mental health needs.
mentalhealthresistance.org
Thank you for taking the time to read my appeal.
+ Read More
Update 2
13 months ago
Share
Now its more important than ever to have an alternative to corporate news. The real truth of the chaos in health, mental health, and social care is eating away at this country. We need to hear the voices that speak to these truths that wont get air time on corporate new media.

Podcasting growth has meant that in many age groups it has taken over from the radio. This provides smaller groups and campaigns much broader access to creating content and distributing. But we need to compete with the traditional broadcasters on quality of content. I hope that this project will facilitate that for groups that often are having trouble being heard.
+ Read More
Update 1
30 months ago
Share
First Donation already Thank to the first supporter :) Off to a great start, Fantastic!!!
+ Read More
Read a Previous Update
Be the first to leave a comment on this campaign.