HELP 98YR OLD WAR VET ROBBIE CLARK,
£10,680
of £34,300 goal
Raised by
469
people in 42 months
SAD UPDATE 26/06/2017
It is with a Sad heart and deep sorrow that we must tell you that Robbie passed away in his sleep on Friday Morning, his Family would like say thank you for all the support and love you have all shown Robbie over the last couple of years. Robbie got his wish to die at home, and his own words. when he was captured by Rommel in Tobruk "For you the war is over" Well i would like to add my own words about Robbie,You are a Gentleman and true hero and a friend, i will miss your wit your smile your stories and your humbleness and your love for life god bless you as you fly with Angels. A  True  Hero RIPWe thank you for supporting this page but this page will no longer be taking donations..
UPDATE 18TH MAY 2017
Just thought we give you all an update and thank you for you ongoing support for Robbie, Robbie sill soon reach the grand age of 99 years old and still brent Council carry on failing him with more and more bills, and he worries every day, a man of his age should never have to worry,  please you can still help. it would great Thank you.
UPDATE 25th NOV 2016
According to Brent CCG and Brent Council,98 year old World War 2 hero Robbie Clark does not have Primary Health needs - well, Robbie is blind, disabled and confined to a wheelchair, he has COPD - a life threatening condition that affects his breathing - and suffers regular black outs or 'syncopes' which are dramatic and each one takes longer for Robbie to recover from. In addition he suffers hallucinations at night which can keep him awake for days - these we think are linked to his time as a POW and the post traumatic stress from these Drastic events 75 years ago.
Because of your Continued support , Robbie is able to stay in his home, which makes him happy in the circumstances,and be looked after by his dedicated carers. He is not able to go outside the house though due to the fragility of his health and the risks associated with doing so. He lies titled in a chair for four hours during his waking time and he is fed his meals and washed and cleaned.
Robbie is still having to pay towards the cost of his care, despite all the publicity and media attention over the past two years - if the NHS CCG and the Council agreed that he had Primary Health needs then all his care costs would be fully funded.
Though we all support him and have been incredibly generous,
The NHS and the Council have still not done the right thing - Its people like U and the rest of Britain/World that continue to do the right thing and put our public sector to shame.
Robbie is one of the few survivors of Hitler's Death March in 1945. He continues to show this resilience and determination to keep going.
Thank you for continuing to keep Robbie in your mind - he is eternally grateful.
And we dont want to see Robbie Homeless before Christmas as well .
So please Donate what you can.....
UPDATE 10th Nov
We had an update re Robbie,s Care which he needs 24/7.. Over the last  month his night time care has failed to turn up and this has caused distress to Poor Robbie we are working on getting this sorted for him so it will Not happen again we hope. he is lucky that his day Care person was able to stay with him but this is unfair on her. please keep supporting Robbie as he supported us Thank you 
UPDATE 2nd Nov 2016
Brent Council screwing Robbie saying he owes  27k and this goes up every month and now the taking him to court  this has caused so much stress to Robbie a 98 yr old WW2 Hero. in this day and age this no way to treat a man who stood tall for our country and its freedom.  all he wishes to do is  live out his days in the house which is his home that he sharred  war time sweetheart who became his wife. yes a  really wartime love story.  Let no let him down like Brent Council. Thank you. 
Update 28th oct
No news about support from Brent Council still trying to screw him over, sadly funds after last year running low please keep supporting this man, he stood tall for us. lets do the same for him and let him live the rest of his life in the home he loves  Thank you
update 18th Sept
A meeting was asked for with Brent Council  over 3 weeks ago to discuss this matter  re Robbie, as of this Friday no such Contact has come from Brent Council, it seems Brent Council does not think it is important enough for them to meet with the 98 year old War Hero Robbie to sort this all out, but in the mean time still send him MORE Bills. and they may take his home. Robbie Needs our ongoing support still to stay at home please dont let him down. Than kyou...
1st sept Update
Brent Council send letter talking about Balifs the Guy is 98 years old he fought for this country he stood up for us let stand up for him please 
UPDATE 25/08/2016
Read Robbie story in the Brent and Kilburn Times Today  
http://www.kilburntimes.co.uk/news/brent_council_bills_war_hero_98_24k_for_his_care_1_4670686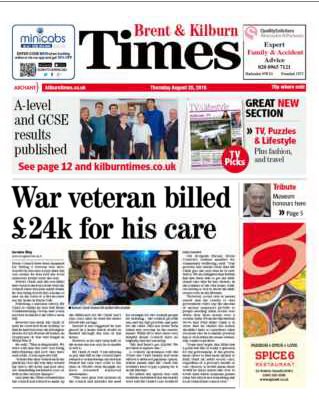 Update 23rd Aug 2016Brent Council want WW2 Hero Robbie Clark to no longer be with us so they can claim the 24k + when they  take his Home.  Robbie at present dosnt no which way to turn at present he is so very upset and very distressed by this,  as he has no income now just relying on people kind help, for his care. Brent Council have no empathy and are uncaring. Please Please support and stand up for Robbie as did he did for us. 75+ years ago.
More on Robbie in the Papers later this week
Update 17th Aug 2016
Robbie now  could lose his home due to the Brent Council sending him a bill for his Care for 24k , which is a total Disgrace , with now the threat of Enforcement. Robbie is 98 years old and used up all his savings to pay for his care a year ago, we here have managed for the last year with you kind help and other to  keep his care going, but has run dry. but Brent Council want to dig the hole deeper they say Quote,  "it would be cheaper to put him in a care home"
Robbie does not wish to go in to a home, he has lived in this house for years. and has all the Memories. he say put me in a home i would  be dead in months. all i would like to do is reach 100 id be a happy then.
This is No way to treat anyone but even worse is this man stood up for and fought for us and this this country.
If you wish to support please do in anyway you wish but please spread the word shout it from hills.  and show Him we care .
One of Britain's oldest surviving prisoners of war faces being forced into a care home against his will after a Labour council refused to pay for his home help.
Robbie Clark a 96 year old War Hero and ex POW, Robbie 96, has spent more than £50,000 of his life savings to pay for 24-hour care at his home in Burnt Oak, North London. Now the veteran, who was one of the British soldiers who survived Hitler's 1,000-mile death march across Europe in 1945, only has enough money to last another three months. Mr Clark's son Mike, 58, has been in a two-year battle with Brent Council over funding his father's care since the pensioner lost the use of his legs after a heart operation in 2012.
Please support if you can, lets give  Robbie his respect that he has earned. and allow him the funds to carry on living in the home he loves
EVERY PENNY DONATED GOES TO ROBBIE
Thank you
+ Read More