89
56
Kyle's Lymphoma Assistance
$9,345
of $18,000 goal
Raised by
130
people in 7 months
Hi everyone! My names is Kyle, I'm 30 years old, and I live just outside of Atlanta. I figured I'd start with a little bit about me. I have been crazy for a girl named Latavia for nine years now and we have a hilarious and beautiful daughter named Talia who's 3. My sister Kali, my mom Amy, and I are very close and I really can't thank them enough for all the sacrifice they've experienced, especially this last month or so. I'm a huge horror movie fan, I collect VHS tapes and comic books, love Stephen King books, and I'm very big into bands like Coheed and Cambira, Circa Survive, and Say Anything. Going to the movies, flipping though comic book boxes, and hunting for tapes at thrift stores are my favorite things to do, even if I can't buy anything, I like the hunt. I really appreciate you stopping to read my story!
I've been dealing with severe Venus Reflux in my legs for several years and among other symptoms, I've had bouts of dizziness, feeling weak, and restlessness throughout that time. However, over the course of the last few months, the dizzy spells were becoming blackouts and the weak feelings evolved into being out of breath after just walking a bit, going up a few stairs, or playing with Talia. One evening I couldn't catch my breath at all so my sister, Kali, took me to the emergency room.
On October 8th, after all kinds of testing, I was diagnosed with Lymphoma, cancer of the lymph nodes. I have a very large mass sitting in my chest, pushing down on my right lung, my heart, and the pathway from my brain to my heart. I was petrified by the news because my sister and I lost a lot of our family at a young age due to cancer. The sound of someone telling me that now I had cancer just made me think of Talia. I spent the week at Emory Midtown where they did a biopsy procedure that would be preformed by going down my throat and through my lung to get a few samples of the mass. Unfortunately, they didn't get the samples they needed so they did a second biopsy procedure, this time going through my throat, just above my collarbone, and down to get larger samples. Once the results came back, it was determined that I had b-cell non-Hodgkin Lymphoma. My doctor at the time actually suggested opening my chest up to try and get as much of the mass out as they could but deemed it too dangerous based on where it it sitting...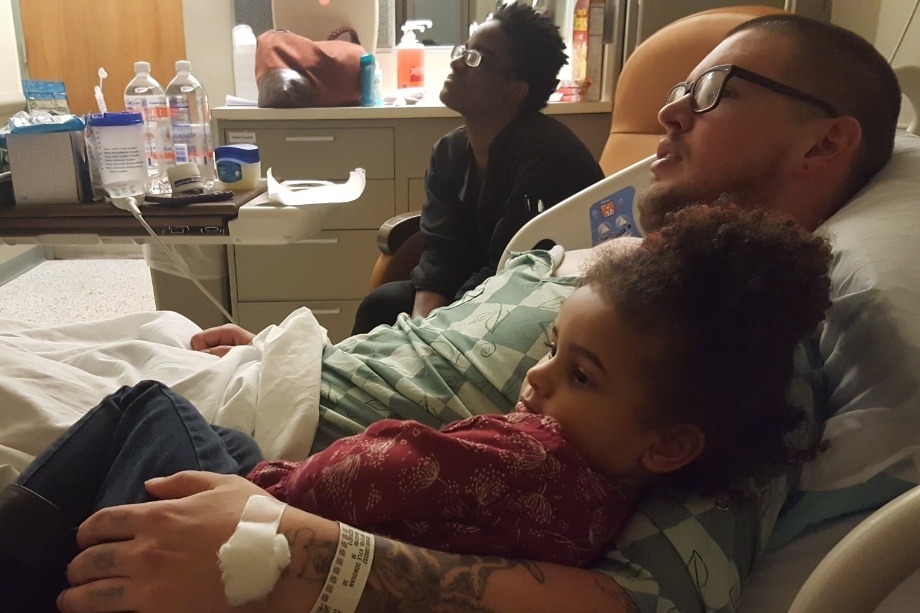 (Photo: Latavia, Talia, and I watching some cartoons while I was admitted)
Since then, I've been going to my appointments at Emory's cancer division where they've been amazing at explaining and helping me get through this as smoothly as possible. My doctor really is an amazing person and always very direct and honest with what's going on, which I appreciate very much. I'm about to do a bone marrow biopsy and a PET scan to determine if the cancer cells are anywhere else in my body and to learn what stage of lymphoma I have. I'm getting my port for chemotherapy installed into my chest this week and I'm beginning my first round of treatment on the 7th of November. I'll update the page after all of this to let everyone know the current situation.
The help my little family and I are asking for will go towards prescriptions I need for treatment, the already countless medical bills, and some of our bills at home as we are unfortunately behind on just about everything. All the tests I've done, that entire week I was admitted into the hospital, and all of the things to come are not cheap by any means. I'm in the middle of trying to get medical insurance but it's incredibly difficult and a long process. Especially since I've been a stay at home dad for last year or two due to my legs. Any little bit helps and I'm hoping to be close to or in full remission by my daughters 4th birthday in April. It's difficult for me to ask for help like this but I to swallow my pride because I need the help and more importantly to me, my family truly needs the help.
Thank you so much for taking the time to read my story.
 Any questions, tips, or motivations are absolutely welcome. Thanks again! 
(Photo: My sister Kali and I just before my second biopsy)
+ Read More