Dixie's Medical Fund
$3,740
of $15k goal
Raised by
60
people in 26 months
As always, we appreciate any donations and most of all your gift of prayer.
…to Pray is to let go and let God take over…Philippians 4:6-7
Update on January 26, 2015:
Dixie is currently in Le Bonheur Children's Hospital and had her GTube placement surgery today. She will undergo an MRI of the brain/spine and a skeletal survey this week as well. This is Dixie's 3rd surgery and 4th hospital stay in her short 17 months of life.
Dixie's Story, written by her Mom, Paige Parker:
Dixie was born on July 30, 2013. The younger sister of  2 very excited, older brothers, Hayden and Kash. She left the hospital below her birth weight and struggled to catch back up for many weeks.  When she was 4 weeks old,  they found a small mass on her left chest. In October of 2013,  at 10 weeks old,  Dixie had surgery to remove what came back as a "benign tumor".   After surgery, Dixie still struggled to maintain her weight,  but we always thought it was from the early trauma of surgery and that she was just playing "catch up".  Between her 6 and 8 month check up, Dixie lost weight and fell off the growth charts. This red flag sent us searching for answers. We started with an ENT that discovered a Submucous Cleft Palate. After the EN T, we were referred for a Modified Barium Swallow Study where we were told that Dixie had been aspirating her formula and had a condition called "Dysphagia" basically, difficulty swallowing. This, combined with the cleft palate,  explained our lack of weight and development.  She was then placed on thickened feedings. Then at the end of April 2014, Dixie started refusing feedings altogether and developed Failure To Thrive.  She was admitted into the hospital in early May and after days of IV fluids and regulating  her feedings, we were released.  Dixie went home on "honey thickened" feeds (one of the thickest consistencies available) and began a heavy therapy schedule. Dixie started, and still continues,  to receive 5 therapies a week (Physical Therapy 2 days, Occupational Therapy, Speech Therapy and Developmental Therapy). In August 2014,  Dixie had her 3rd MBS (swallow study) which she failed. Meaning she would remain on the honey thickened feeds with little to no improvement. 
On September 11, 2014 Dixie had surgery at Le Bonheur Children's Hospital to repair her Submucous Cleft Palate. The surgery was very successful and we had hoped this would be the beginning of the end of the her swallowing issues. At 15 months of age, she was still not walking and developing like we had hoped. We noticed that every time we encouragedher to walk,  her feet (and hands) would turn shades of purple/blue and sometimes very white. We were then referred to a Cardiologist that on December 5, 2014,  discovered a small hole in the heart as well as a diagnosis of Raynaud's Disease (Raynaud's disease causes some areas of your body — such as your fingers and toes — to feel numb and cold in response to cold temperatures or stress. Because Raynaud's is rare in toddlers,  we were told that it may be blanketed under another disease and were scheduled to see Rheumatology at Vanderbilt in February 2015. Thankfully, after the Raynaud's diagnosis and learning what measures we could take to ensure Dixie was comfortable and prevent flare ups, she started excelling in her therapies over these past few weeks (January 2015).
On January 22, we were scheduled for a routine MBS (swallow study). It would be our 4th swallow study and the 1st one since the successful cleft palate repair. While anticipating some aspiration and not much change, we were hopeful for improvement from the Dysphagia stand point.  Much to all of our surprise, not only did Dixie fail her study,  we were also told that she was aspirating to a point that it was no longer safe for her to have ANY liquids by mouth. We were also told  that we needed to be admitted into Le Bonheurright away  for an NG Tube and to schedule G Tube surgery. This also sent up major red flags that we HAVE to find answers as to why her dysphagia has worsened when we were so hopeful it would start improving after her cleft palate repair. 
We are under some of the best GI, Neurology, Rheumatology and Genetics Specialists in the city and we are very hopeful that we will get some answers soon.
XOXO,
Paige
 Paige's Blog with Dixie's story in length: sanityamongstchaos.wordpress.com
Paige's Facebook: facebook.com/paigecparker
+ Read More
Update 1
Posted by Sarah Noelker Ortiz
24 months ago
Share
Today Dixie had a bronchoscopy and a laryngoscopy. This was basically an exploratory procedure to hopefully give us some insight into her dysphasia/aspiration. We prayed and prayed and prayed for some kind of answer, and boy did we get it + so much more. Come to find out Dixie's vocal folds/cords are not closing. (The vocal cords are also responsible for helping to protect the upper airway during swallowing to prevent aspiration.) So, because of this find we have lots of confidence to believe that the vocal cords not closing are directly related to her aspiration. Praise Jesus, hallelujah, but what can we do about it??!! That's where it gets tricky... Unfortunately repairing the vocal cords is not a simple fix if even an option to fix at all. (One day at a time, Paige, one moment at a time.) After the procedure our oh so wonderful doctor brought in neurology and genetics. We reviewed and repeated a few tests that we are currently waiting (about 2 weeks) on the answers to. Our first step and our hope for now is to identify her unnamed (so far) genetic disorder and see the relation between said disorder and the brain and the messages the brain is sending the body. We are also beginning a full neurological muscular work up. Our hope is that through many many therapies and procedures that we can stimulate the brain enough to repair or help the vocal cords. And then, hope and pray that stronger/fixed vocal cords will deminish the aspiration. (Alot of unknowns but at this point it is so worth the risk vs reward) However, if that doesn't work we still have a couple of more options in our back pockets. We aren't there yet and will cross those bridges when we get there. Dixie still remains a huge risk as far as liquids and aspiration is concerned (Thank God for GTubes) We have to watch her every move, we are careful about where and when we leave her and have to make sure that everyone around us understands the severity of her condition and her not having or being around ANY liquids <--- this is so hard. Please continue to keep us in your thoughts and prayers. For the first time in a year we feel hopeful again. We feel like we have gotten something. And that is all we asked for.. "Dear Lord please reveal something" and, he did. But with that "something" came a lot of other "things". We will continue to push forward and we will continue to search for answers. We are so thankful to have a great medical team who is equally passionate about finding answers to our little medical mystery. Today, we got what we asked for and for that I am thankful. Everything else, we will process and continue to take it one day at a time.

XOXO,
Paige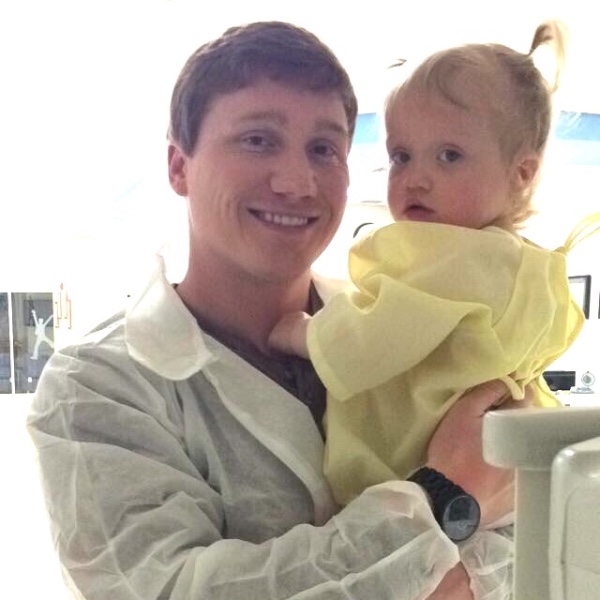 + Read More
Be the first to leave a comment on this campaign.