better future for displaced Nepalis
€3,261
of €4,000 goal
Raised by
58
people in 29 months
If you do not have a credit card, you can also transfer money to the following bank account 

NL54 TRIO 0390 4149 48 "Stichting Stand by Nepal"


Kusala Carpets: helping displaced Nepali people to become financially self-sustainable.

Due to the terrifying earthquakes and huge landslides last year, more than 2.5 million Nepali people are now displaced. 130 families have moved to Selang camp, an area located on the top of a mountain in the Sindhupalchowk district and equipped with only temporary shelters and little economic opportunity.
Multiple NGOs and individuals had arrived to help, bringing food, clothes, blankets, medication and money to help these families survive. Even though these projects are crucial for the immediate survival of these people, what lacked was a long-term solution that involved helping families become financially self-sufficient.


Sangita and Suntali in Selang Camp

In our search to sustainable solutions for Selang camp families, we decided to take an approach that is slightly, yet crucially different from those of present NGOs. We looked beyond the question 'What do people in Selang need now?' and instead focused on the question of 'How can we work together for a better future in Selang?'
During our stay in Selang, we discovered that more than 30 people in the camp had the knowledge of how to weave traditional carpets. They only needed the looms and shelter in order to start creating carpets. That's where we got the idea of starting a social carpet factory which reinvests all profits into new social projects. 
Within three months we managed to raise enough money, find the appropriate experts and secure the necessary permits to start constructing a temporary natural building for what would become Kusala Carpets factory. The construction process was achieved together with the local community, for which they received daily salaries. After the building was complete, the looms were brought to the factory and community members began weaving their first carpets, after which the weavers received their first monthly salaries and were able to start taking care of their families by themselves. 


Current living situation in Selang Camp

As of now, 15 people are working in the factory and 21 carpets have been woven and sold. Four of our team members are currently back in Nepal with the aim to help the people in Selang even more. 

What's next?
At this moment, we are looking for financial support in order to finalize the building. Due to heavy rains during the monsoon season, which started earlier than expected, some parts of the factory walls have been washed away before they could dry properly. Despite the fact that the structure of the building is earthquake proof, we would like to improve the walls and apply a protective outer layer on the building. Furthermore, the roof needs adjustments in order to protect the walls more. For these improvements, we will need the help of local people, which implies that we need financial support to pay their daily salaries and all necessary materials.


Damage of the building

The budget we need to improve the building of the factory is 4.000€, when we have raised this amount we will start the process and we aim to finish all adjustments at the end of May 2017.

We believe that this project is beneficial to all parties involved, as it helps the people in Selang camp to financially sustain their families and save for permanent housing in future, it creates local economic opportunities inside the community, it provides people around the world with beautiful hand-made carpets, and ultimately, profit from this business will be used to improve the whole community through new social projects such as improving the school with competent teachers, creating health facilities,  and finding solutions for the growing plastic burden in Selang. 





If you do not have a credit card, you can also transfer money to the following bank account:
Dutch: NL54 TRIO 0390 4149 48 "Stichting Stand by Nepal"




About us: 
We are five girls that have been helping Nepal in different ways since the 7.9 earthquake on April 25. As three of us were in this country when it happened, we have seen the trauma caused by the disaster that made us motivated to help in a different way.

Some of the help we did since now is; providing first aid, distributing blankets, health assistant, working on a better educational environment etc. With LivingNepal, All Hands volunteers and Obrigado Portugal.

Find below several links to see what projects we completed before:
Stand by Nepal
Desde Nepal Facebook page

For more information, questions or queries do not hesitate to contact us by email to: kusalacarpets@gmail.com
Or call to: (np) 00977-9823112332
                       (nl)  0031-681495901
                       (sp) 0034-685382493 (whats-app)
                       (usa) 001-15029378052
Thank you for your support!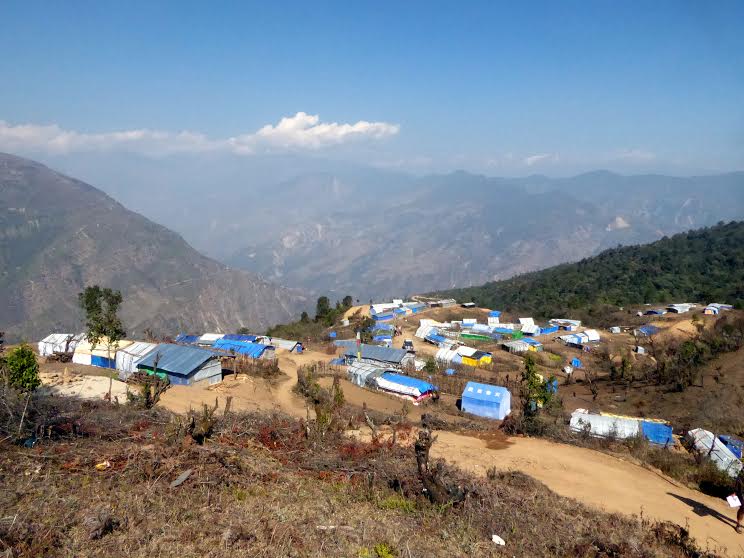 + Read More
Be the first to leave a comment on this campaign.