Lynnie's Wish For Her Beloved Birds
$650
of $2,500 goal
Raised by
9
people in 48 months
This will be one of the hardest pieces I will ever have to write in my life.  One of my dearest friends and long time confidant, Lynn Morgan, lovingly known by her Chakota TRC Family and Friends  as our 'Crazy Bird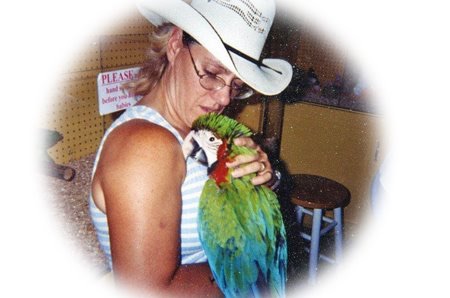 Lady' and AKA  Friday's Original Mom, who rescued him from abuse at the tender age of 4, now needs our HELP as she is in the battle of her life now..............
Lynnie's cancer is back and with a vengeance!
Last year, February 2014, Lynnie was diagnosed with stage 3 anal cancer. She started treatment on my birthday, March 17 for 6 weeks and ended on her birthday, April 18. The hope was that chemo and radiation would work and surgery wouldn't be necessary.  She endured two bags of chemo and 5 days a week of radiation for those six weeks. I drove her over to her treatments and watched as my strong, independent friend got thinner and weaker. And more concerned about her Bird Rescue.  During all of this, she only needed help to feed twice. Otherwise, she took care of her 'babies' the whole time. 
After she finished her treatment, her three month pet scan showed no cancer!!  At her six month pet scan, it showed it was back and aggressive.  Already back at stage 3.  She had the biopsy done a few days before Christmas and they scheduled her for surgery on January 14.  Her only option, to have everything removed and to live with a Colostomy bag for the rest of her life.......... Her life has been turned upside down. 
She came home this past Sunday, and gave me permission to create this page.  And it's not for the reason one might have thought, it's not for medical expenses. Her husbands job offers excellent insurance, so blessed for that.
This is to raise money to fund the trip to a beautiful bird sanctuary called The Gabrial Foundation located in Denver Colorado.  They are willing to take her special need birds and give them a forever home, but we have to get them there.  Ever since I have known Lynnie, she has been an animal advocate. She has ran a Rottweiler/Doberman Pincher rescue. She also ran and operated a horse rescue, which is where Friday and Chakota came from. And for the past 12 years, she has been running Amazing Grace Exotic Bird rescue. She has helped save and rehome so many animals over the course of her life with very little help.  And she has done it with the safety and health of them all as top priority. 
The money raised will be used for rental of a trailer for all the cages and equipment she will be donating, gas for the trip out and back for the truck which will be where the birds will ride in protective crates inside a camper shell, to their new home, and endowment funds to the Gabrial Foundation to take care of them as a donation. 
Lynnie can't do this all by herself anymore. Her husband works in North Dakota and comes home as he can, but he can only do so much too. He will have to leave eventually and we need to be able to give LynnIe a sense of peace.  She has around 17 birds we will be transporting. Relieving her of that many, she feels she can handle her personal birds easily..............
So I'm asking, please help us reach our goal. Remember, no funds will be kept if we go over our goal. That money will go into the endowment fund.

I know there are many needs in this world of ours, but this one is very close to all of us who know and love her. She needs help, and now she needs us to step up if we can and be there for her. 

I know she isn't taking any calls right now, but please send her a message here or on Facebook. Prayers and love are needed desperately!  

THANK YOU ALL!!  Please share, share and share.  Any amount will help............

Love and Hugs!!!

Kay and Dave 
+ Read More