Disabled Veteran Needs Help
$2,009
of $25,000 goal
Raised by
15
people in 43 months



This special fundraiser has been established to help 74-year-old veteran, Ken West, from Mackay, Idaho.


Ken is a proud Veteran and served in the Air Force and Army during the Vietnam War.

Ken has a serious heart and thyroid condition that needs immediate attention. He is currently still eligible for an allogeneic hematopoietic congestive heart stem cell therapy; however, such a treatment is not available in the United States. His treatment can be performed in Thailand, but the treatment is not covered by medical insurance and with travel and medical expenses cost about $25,000.

This is the main reason for this fundraiser, since Ken is destitute after losing everything due to the medical bills, as well as his age and condition preventing him from being able to work. Ken is currently 100% disabled and on welfare.

The proposed stem cell treatment shows great promise in restoring Ken's health and vitality back to a normal level of functioning, and he desires to once again be a productive member of his community. Ken was always an avid outdoor enthusiast, as well as being an active contributor to the well-being of society.

He is inventive, with a good business mind, and brought a lot of process improvements to the health & human services processes over the years. He also served as a probation/parole officer and federal grant writer.

He was working until 2009, when it was discovered he needed a heart valve replaced. When the Veterans Administration replaced his heart valve, Ken contacted a staph infection and his health plummeted. After that operation, Ken spent two more years in and out of the Veterans hospital, during which he had 3 open heart surgeries because of the staph. The VA will not offer any further treatment other than just a maintenance level of assistance.

Ken has done everything in his own power to help his health improve, but his welfare check doesn't provide anything extra for even basic nutritional supplementation. He does not drink, smoke, or take drugs. He can walk a limited amount each day to maintain a level of exercise. Without this special stem cell treatment, there is no prognosis of improvement in his condition, and his life expectancy is very limited.

This treatment could add more than 10 years to his life.

An interesting tidbit about Ken is his past ability to paint stunning portraits of the West – primarily famous Native American chiefs. He was previously the winner of several awards, including Red Lion Corporation's "Northwest Artist of the Month", and was also profiled in the 1983 edition of "Who's Who in the West".

Ken has offered his remaining paintings in exchange for donations, while they last, as follows: "Crazy Bear" and "Rain in the Face" are beautiful, large (20" x 24") graphite paintings, and you can receive your choice for any donation of $1000 or more.

These are "Signed Limited Editions". Also, there are smaller (8 ½ x 11) "Sitting Bull", "Navaho", "Shaman", and "Shot in the Eye". 

These are also "collectors editions" which are signed and dated. Ken's art can be seen at www.kenwestart.com  

Please note that most of these are no longer for sale, because they were donated to the Historical Society, due to Ken's illness and inability to continue painting. However, there are still a few available for sale to help toward Ken's cause.

Please also note that even a $1-$5 donation would be helpful to this fundraiser, and extremely appreciated. Ken will not be handling any of the monies donated.

This Fund Raising Project is being organized by people who care about him.  Any extra funds remaining after his treatment would go to the next person needing funds for the treatment, not to Ken.

                        Some of Kens Original Oil Paintings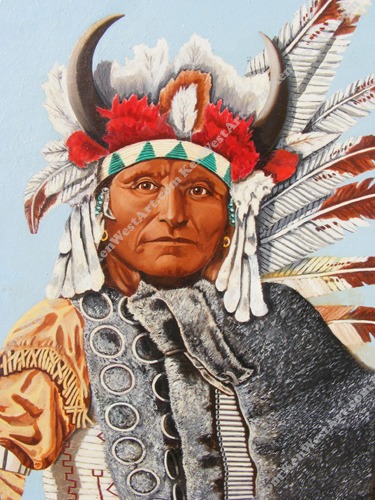 Rain In The Face (Itonagaju)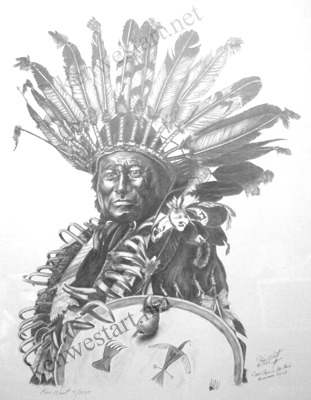 Original Graphite - Chief Sitting Bull (Tatanka Iyotake)



Watercolour - Pueblo Woman - Santa Clara Pueblo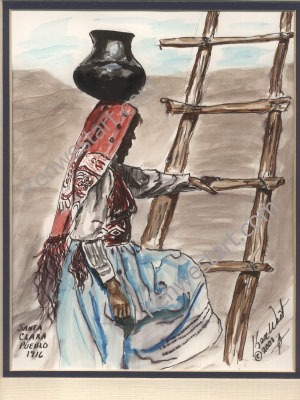 On behalf of Ken West, we thank you for your attention and generosity to this cause. God bless.
+ Read More