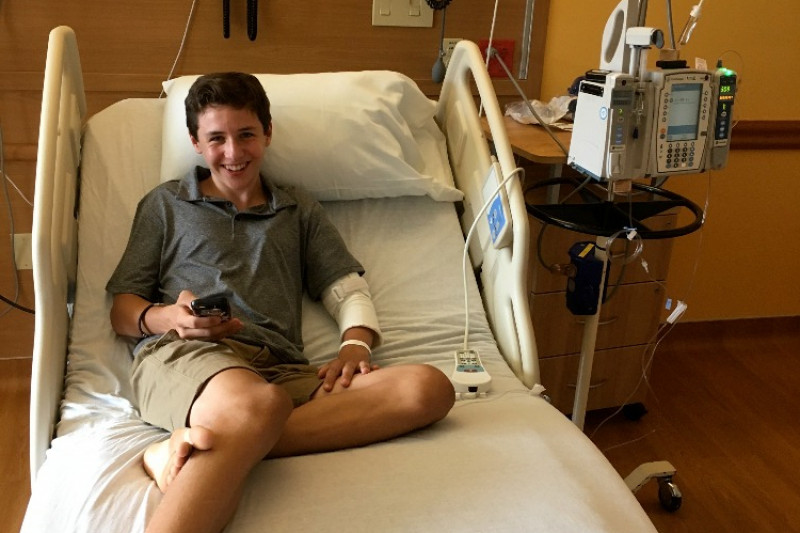 194
77
Keep Matthew Strong - Osteosarcoma
$36,763
of $40,000 goal
Raised by
228
people in 20 months
I'm Deb Lehman and I'm proud to call Matthew Ceelen my nephew.  Matthew was diagnosed with bone cancer just weeks shy of his 15th birthday.  In medical terms it is a high grade sclerosing subtype of osteosarcoma.  Approximately 450 children in North America are diagnosed with osteosarcoma each year.  He is 1 of approximately 4 children who will be diagnosed with his subtype of osteosarcoma in 2017.  This page has been set-up to support his fight to obliterate osteosarcoma and we, but especially Matthew, need your help.  
The new goal of $40,000 is only
1/6
of the out-of-pocket expenses that will not be covered by insurance for his aggressive treatment.
The Backstory
In August of 2017, Matthew was looking forward to attending his freshman year at his new high school and was eager to try new sports.  He had been a nationally competitive gymnast since age 8 and made the difficult decision to leave the sport and his teammates.  No one could imagine how monumental this decision would be. 
Football was the first new experience Matthew chose.  Practice started on August 1 and he was doing great.  On August 8, his football career ended as quickly as it started.  Matthew participated in an intra-squad scrimmage that evening.  I received a text from my sister, DeAnn, at 9:43 p.m.  It was a picture of an x-ray captioned "He didn't even make it to the first game." 
She is a Physician Assistant and quickly followed the initial text up by telling me she was concerned about the looks of the bone above the break.  I responded, "What are you thinking? Osteo…."  I foolishly thought if I didn't spell it all the way out he could never have cancer.  By 10:30 p.m. it was determined to be a pathological fracture.  This meant the break was caused by a disease that weakened the bone.  He underwent an MRI that night.  I slept with my glasses on and my phone nearby so I could read updates throughout the night.  By 3:30 a.m., the MRI was done and there were no specific results.  Needless to say this was the beginning of many sleepless nights.
The family met with an Orthopedic Oncologist on Aug 9.  This is when Matthew was told they suspected he had bone cancer.  He was devastated.  A biopsy was performed at 4 p.m.  The waiting game began.  The initial evaluation of his bone biopsy was conducted at Froedtert/Children's Hospital of Wisconsin in Milwaukee.  It revealed findings consistent with osteosarcoma.  Due to the rare nature of primary bone cancer and the unique findings on Matthew's bone biopsy, confirmatory opinions were obtained from the leading national pathology experts on osteosarcoma in New York, on August 18, and at the Mayo Clinic in Minnesota thereafter.
While waiting for a definitive diagnosis, they knew it was important to continue testing.  If it was in fact cancer, treatment needed to be started sooner rather than later for the best prognosis.
Seventeen days after Matthew broke his arm he was officially diagnosed with osteosarcoma. 
Prognosis and Treatment
The reality is that his cancer is ultra-rare, has a high recurrence rate 5-10 years down the road and has one of the lowest survival rates of pediatric cancers.   Thus, Matthew's journey to a cure requires a long and aggressive treatment plan.  Everything is being done to give Matthew the best possible outcome.  I've done my best not to look at the statistics and I will not post percentages I've read or heard regarding his prognosis here.  He wants to hear some things but not everything.  Matthew only allows himself to believe his cure rate is 100%.  In order to make that happen, his treatment plan includes chemotherapy and surgery.  The chemotherapy he receives each cycle is doxorubicin, cisplatin and methotrexate.   A cycle lasts 5 weeks.
On September 5, I joined Matthew and my sister at his clinic appointment prior to being admitted to the hospital.  The first day of chemotherapy had arrived.  Despite a sleepless night, Matthew still managed to flash a smile.
I was overwhelmed by the information being relayed during this appointment…when you can wear your contacts, what drugs you can take and the appropriate time to take them, the different types of chemotherapy – the red, clear, and yellow stuff, how quickly you have to get to the ER if you have a fever since it can now be life threatening…it went on and on.  Overwhelming!  I wrongly assumed that you have an appointment and chemotherapy would start/finish shortly after.  I had no idea it would take until the middle of the afternoon to start administering the first chemotherapy and that I'd have to leave prior to the start of the second chemotherapy which didn't start until after 10:00 p.m.     
His first chemotherapy…that's not the kind of "milestone" I ever wanted to be part of, but I will do whatever I can to support him through this.  I've hidden my tears on multiple occasions…the sight of him taking a tour of the inpatient unit for the first time while pushing his IV pole, seeing him at his clinic appointment prior to his second admission, and the hair loss that had occurred in a few short weeks. 
He definitely has his good and bad days and I take comfort in the fact that he is so spiritually strong and is tackling the cancer head on.  He is learning to expect the unexpected and is getting used to his new normal.  His recent schedule after methotrexate was to take leucovorin at 9 a.m./p.m. and 3 a.m./p.m., and take sodium bicarbonate at midnight/12 p.m. and 6 a.m./p.m.  Every 3 hours around the clock.  If Matthew is on fluids at home, the fluid bags and the pump battery need to be changed too.  So even when he is not in the hospital, he is not given a break from the demanding medication schedule and dealing with the side effects of it all.  He attends school whenever he can since it's the only thing he has control over but this is difficult when his "free time" is so regimented.  Despite everything he is going through, his goal of being a sophomore next year remains.
On November 16, after completing two long 5 week cycles of chemotherapy, Matthew had a major 7 hour surgery to remove his cancerous left humerus (upper arm bone) and insert a donor bone.  The initial pathology results look very promising!  The bone they removed had clear margins and the chemotherapy appears to be working.  The cancer cells are dying – over 90% of them!  The PET scans have not shown further spread of the cancer which is great news.  Unfortunately, there is always the possibility that cancer cells remain that cannot be seen on these tests, particularly in light of the fact he had a bone fracture which could have allowed the cancer cells to move throughout his body.  Because of this, chemotherapy will continue.  Matthew started his third cycle of chemotherapy on Nov 30.  The chemotherapy treatments will continue well into 2018 and once cancer free, he will have regular follow-up appointments and periodic testing for a minimum of 10 years.
How You Can Help
Matthew and his family have received so much support in the past four months.  We cannot Thank You enough!  It has been challenging for the entire family, making this support truly invaluable.  DeAnn is no longer working in order to spend all day and night with Matthew in the hospital, as well as care for him at home.  Unfortunately, they are also dealing with the reality that insurance will only pay a portion of the entire expense related to Matthew's care.  Therefore, I am reaching out, in hopes of securing monetary contributions that will help the family with a portion of the large uncovered balance.  All funds raised here will go solely to the care of Matthew and his fight to obliterate osteosarcoma.  Any extra donations will be donated to the MACC Fund. 
Additional information about Matthew's journey can be found at
https://www.caringbridge.org/public/matthewceelen
Thank you in advance for your continued support, donations, and helping us get the word out by sharing this page. 
Aunt Debbie
+ Read More