Kate Bopp for the Dail!
750 €
of 5 000 € goal
Raised by
12
people in 14 months
Kate is running as an independent candidate in the elections for the Irish parliament on February 26th.
She is running in the constituency of Offaly.
Kate is a Wexford born mother of 5 living Rathcabban Co. Tipperary together with her husband Evert. In the last 20 years Kate has worked and lived in half a dozen European countries giving her a wealth of first hand experience of different cultures, languages and types of government.
In recent years Kate has been a prominent campaigner for pro-life and family values. She campaigned during the run-up to the
Children's referendum
 to ensure the autonomy of the family as primary care structure for children. She was spokesperson for the organisation
"Mothers and Fathers Matter"
 calling for a vote against the redefinition of marriage and she is currently actively campaigning a as a speaker and lobbyist for the retention of the
8th Amendment of the Irish constitution
 safeguarding the equal right to life for the mother and the unborn child. She is also the co-founder of an internationally operating NGO specialising in disaster  & emergencyresponse.
Kate is the
only true pro-life candidate
in the
new Offaly constituency
 which also includes a part of North Tipperary. She strongly believes in the family being the cornerstone of society. She believes that the traditional values that our society has been built on should be respected and restored.
To be succesful in my campaign I will incur certain expenses. There are the costs of flyers, advertising and marketing, travel and not to forget endless cups of tea and coffee during campaign meetings.
I need your financial support to be successful. Please help me to make a pro-life & pro-family voice heard in Dail Eireann.


Please be aware that there are strict rules regulating political donations and if you intend to make a donation please ensure that you are fully informed:
Any donation- or combination of donations from one individual, exceeding €634.87 must be disclosed in full on our donation statement.
The maximum donation- or combination of donations from one individual, cannot exceed €2,500 in any calendar year.
The detailed regulations are available on the 
"Standards In Public Office" website.
+ Read More
The last week has gone by in a whirlwhind.
I have received a huge amount of support since I announced my nomination. My election issues are really hitting home with people and are clearly issues that matter.
On Wednesday I took part in the "Independents Day" live radio debate on Midlands 103 radio. This allowed me to voice my policies and expand on them.
On Friday I took part in a debate about disabilities and independent living in Tullamore. My replies to questions by the moderator and from the audience again hit home with people and resulted in lots of people coming up to me afterwards to voice their support as well as their desire to become actively involved in my campaign.

We also received the large order of election flyers and my teams are busy canvassing. In the coming two weeks we will work every part of the constituency and will try to knock on as many doors and talk to as many people as possible!

But don't forget; I need your support to make this happen. Even if you're not in my constituency you can support me as my issues and policies are of national importance!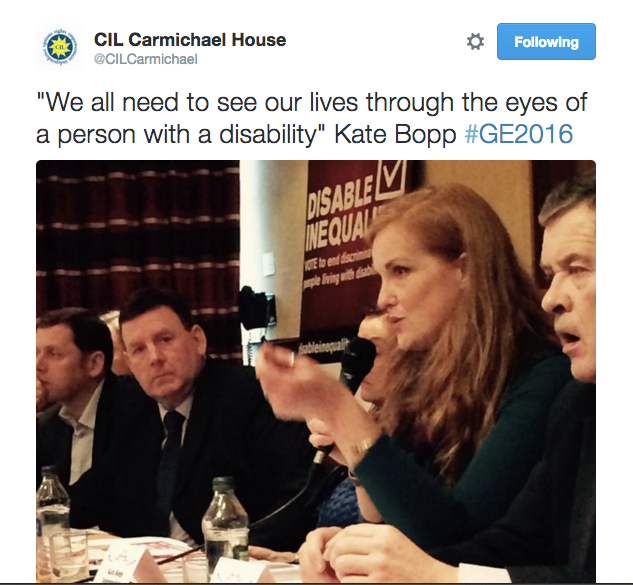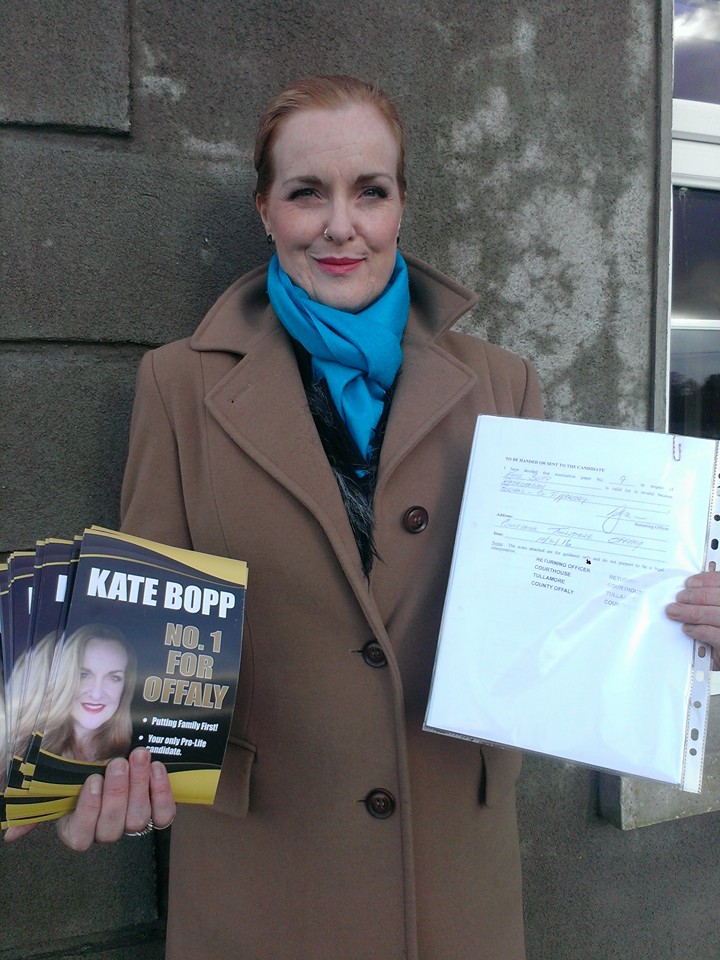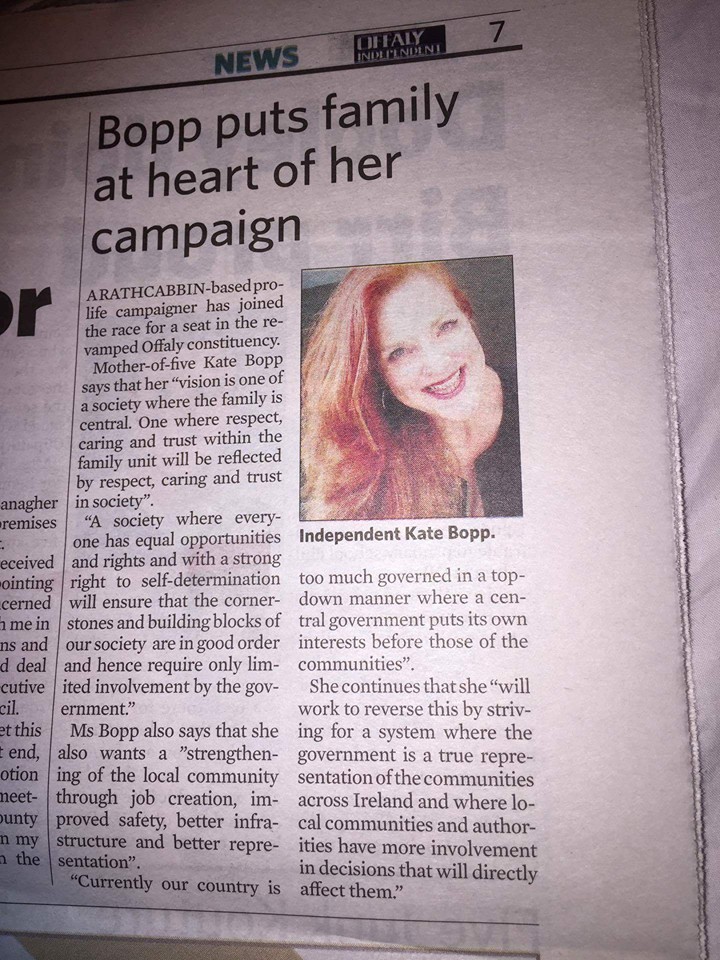 + Read More
Update 1
Posted by Kate Bopp
14 months ago
Share
Following are my main campaign policy points.
I will also be sharing my position on other matters through my daily updates.

Family first: The family is the cornerstone of society. No society can thrive without respecting the family and the right of people to start a family. I will propose & support measures encouraging and enabling couples to start and raise families. These measures will include, but are not limited to, financial support structures to allow a parent to stay in the home to care for the family. This does not have to be the mother but can also be the father or mothers and fathers can share these duties. I work to sustain and if needed extend the right to both maternity and paternity leave.

Pro-life: We must uphold and respect the 8th amendment of our constitution and resist any attempts to trivialise the right to life of the unborn child. I will stand fast on this issue and it is non negotiable.

Healthcare: I will call for a complete overhaul of the current healthcare system. More focus on the actual provision of healthcare instead of the current focus on middle & upper level management. Establishment of "urgent care" facilities across the country placing these services within acceptable distances for everyone. Spending on the provision of healthcare has to be based on numbers treated and actual quality of the service provided thereby holding the hospitals & clinics accountable for the quality of care delivered. We need to stop funding elective procedures and focus on using funding for medically necessary procedures and care.

Education: I support an overhaul of the substitute teaching regime which currently favours older, pensioned teachers. Over the past few years we have invested millions in training teachers, many of whom are now leaving to find work overseas. New, jobseeking but qualified, teachers should be brought in as substitution and as a means of gaining valuable experience and to bring a constant "fresh wind" into education. I favour the introduction of a 3rd level education grant system which is not only performance based but which will also have a shortened and more efficient application procedure. Now more than ever it's important to ensure we regain the high level of education which employers have come to expect from the Irish workforce. I also believe that we must pay more attention to PE in primary education, helping to show children the importance if a healthy lifestyle which will benefit them for years to come.

Infra-structure: We urgently need to improve and rethink our transport networks, utility services networks & broadband services. None of these are up for their task, future proof or even remotely reliable and provided on an equitable basis. Flooding is a major and recurrent issue; we need a comprehensive approach to address this problem with the establishment of a central authority in charge of flood prevention and remediation. I will insist on improvements in flood prevention as well as response. We should not be reluctant to bring in foreign expertise in this area. I have significant experience gained in this area through my involvement in flood response effort in the USA.

Alternative Energy: While oil prices have reduced drastically we should not neglect investing in reliable alternative energy sources. While wind energy has been the hobby horse of the recent governments it has been proven to be less reliable and economical than predicted. We need to explore viable alternatives such as solar- and wave-energy. Both have made significant technological advances and offer a low cost and high yield energy return without all the negative side-effects of wind energy.
Pro-business: With the economy slowly making a recovery we have to ensure that the effects are felt across the country and not only in the main cities. Local business and entrepreneurship have to be stimulated. I will work to implement a number of measures that will achieve this; reduce rates for businesses, stimulate the use of vacant properties, regional training & mentoring programmes for start-up businesses. I will also ensure that support programmes for business are developed and managed by people with real life private sector experience.
+ Read More
Read a Previous Update
Be the first to leave a comment on this campaign.