Joining Elijah: Autism Therapy Plan
$9,441
of $27,500 goal
Raised by
85
people in 36 months

Thank you for deciding to partner with our family in "Joining Elijah" on his journey through the autism spectrum!
 
OBJECTIVE:

The objective of this campaign is to raise money to support expenses related to autism treatment and therapy services. This includes parent training programs, individual and group therapy, biomedical treatment/supplements, learning supplies, and sensory equipment that will enable us to provide in home treatment for Elijah.


OUR STORY:

We are a family of 4 (soon five!), and like most young families, our lives are full of the joys and challenges of raising little ones. We know the unending laundry, potty training, disciplining, and sleep deprivation all too well. In the same breath, we relish the tender moments of sweet cuddles, stories at bedtime, and cheering on every accomplishment of our kids. On the outside, our lives may seem "picture perfect", but there is so much behind our family photo and cute Facebook posts that people don't see.


At 3-1/2 years old our oldest child, Elijah, was diagnosed "severely autistic."


The reality of that news turned our whole world upside down. We felt as if we were slowly drifting away from the norm, and Elijah seemed unreachable. Our research on the symptoms of autism, and the life-long journey of raising a child on the spectrum was extremely overwhelming. All of the adjustments we would have to make in order to connect with him aroused many frustrations.  

Everyday since the startling diagnosis, we've 
quietly struggled
with the difficulties of parenting a child with Autism. Our heart breaks constantly with a deep longing for our son that can't be described adequately with words. 

One look into each other's eyes can drive us both to tears.  

I see a loving dad that longs for the day he can play catch with his son.
 
He sees a devoted mom who wonders how her little boy is feeling inside, what his favorite color is, and what happened at school that day.
 
We have seen each other in our darkest moments. In the silent confines of our prayer closet, we've served as each other's punching bag and shoulder to cry on as we deal with our frustration, fatigue, resentment, and grief. All the while hoping for and believing the best for Elijah's future and recovery from autism.


OUR MISSION:

It's very tempting to run and hide. To just give up, and leave our son to the conventional public resources available. To let someone else do the work. But we're committed to the mission of joining our son right where he is, advocating on his behalf, and walking with him
THROUGH
the challenges of the autism spectrum.  


Together we stand up in faith, place one foot in front of the other and we fight for our son.


Since Elijah's autism diagnosis nearly two years ago, we have exhausted every resource (time, emotion, and finances) as we've explored several therapies and early intervention programs. These include traditional methods (such as ABA) as well as unconventional methods (like therapeutic horse-back riding). 

We have seen some progress, but these programs are simply
not enough
. 

They don't provide enough supporting hours, or the type of intervention strategies that we feel would be best suited for Elijah.  


We want to help Elijah make more meaningful progress by implementing parent-led therapy program in our home.


This will give Elijah 20 -30 weekly hours of individualized 1:1 therapy, but will require significant financial commitment as well as a restructuring of our family schedule and priorities.

We can't do it without your help! We know. We've tried.


OUR FUNDING NEEDS / GOALS:

We're humbly asking that you join us, as we join him. In short, we're raising money for the following: 


$4,400
–
Son-Rise Parent Training
 (registration)

$1,100
– Son-Rise Parent Training (airfare/travel expenses)

$2,350
–
DIR® Floortime Summer Camp
 (registration / 1:1 aide)

$15,000
– Part-time Nanny for Home Therapy and office visits (for other 2 kids while we join Elijah in therapy)

$3,000
–
Sensory Equipment
 for Home Therapy Room

$1,500
– Learning Supplies for Home Therapy

Each of these programs and conferences places a special emphasis in
"joining"
your child through play, and following their lead in order to help them develop social skills, emotional awareness, and individual problem solving ability. These are huge challenges for all kids on the spectrum, and Elijah has struggled greatly in these areas.


A complete breakdown of our journey and funding needs is included in our
PowerPoint
presentation.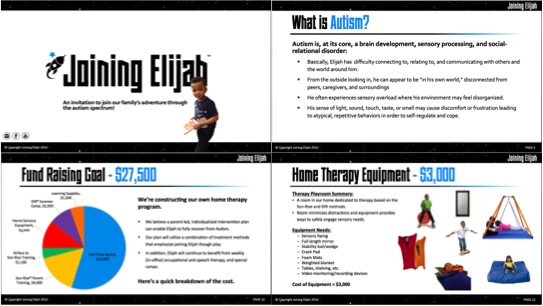 Through faith, prayer, and generosity we know
Elijah will overcome
every challenge set before him! 


Thanks for your support and any gift towards this cause. 


Love, 
The Woods Family
+ Read More