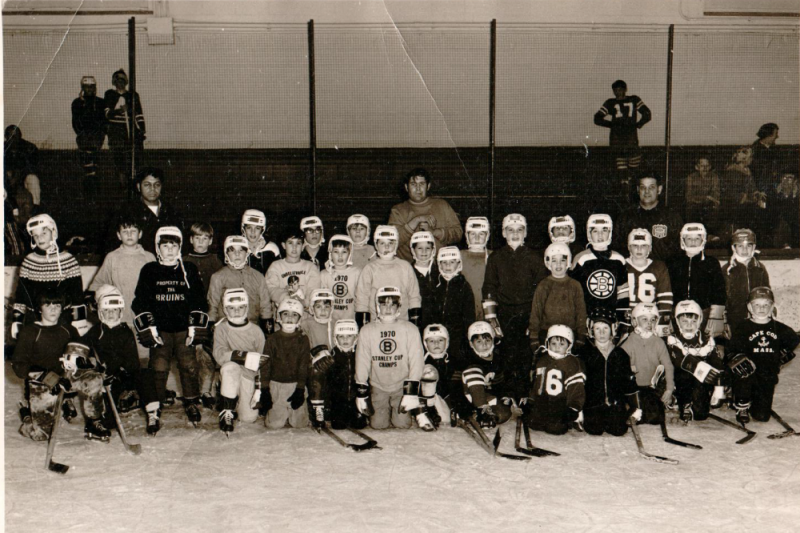 3
7
John Ariagno Hockey Scholarship
$200
of $2,000 goal
Raised by
3
people in 20 months
                               John Ariagno Memorial 
                                    Bourne High School
                                    Hockey Scholarship 

The John Ariagno Memorial Hockey Scholarship is presented to a member of the Bourne High School boys' varsity hockey team. The scholarship recognizes an individual who embodies outstanding leadership, sportsmanship, spirit and persistent courage.

  The scholarship celebrates our youth and future leaders by nominating a deserving student who has demonstrated overall steadfast determination thru athletic competition.  

                                   John ("Mr. A") Ariagno 

Known by all as "Mr. A.", John Ariagno and his family lived in Bourne for  over fifty-five years.   All his sons played hockey and graduated from Bourne High School.  

Around 1968, the time when Bobby Orr and the big bad Bruins were just beginning their historic run, John shared a newspaper picture one Sunday morning with his two oldest sons. The newspaper picture showed kids playing hockey in Falmouth. Soon thereafter, a friend stopped by John's Exxon gas station at the rotary in Buzzards Bay and told John he should bring the kids to the Falmouth Rink.  John took his sons to Falmouth and they all fell in love with hockey.  John's sons also started playing hockey in the street every day, so John welded together hockey nets and local street hockey was born.  

 Mr. A. was very active in forming Bourne Youth Hockey. He taught hundreds of kids in Bourne to skate, hit, shoot and play the game.  During the winter Mr. A. would occasionally pump water at Queen Swell pond so players could have fresh ice.  He also helped add lights so people could skate at night.  Mr. A. also had the first sports consignment shop at his gas station.  

 For away games, parents and players would often meet at Mr. A's gas station and travel together in a big caravan. The kids had a great time playing all over New England and won several championships.  The original Bourne hockey gang was a close-knit group and marked the beginnings of a wonderful local heritage.  Mr. A. assisted the Bourne High School hockey team whenever possible and received an award in recognition of his efforts.  Today, Mr. A's award statue of a Bourne hockey player with the purple/white "Canalmen" uniform is displayed in the trophy case at Gallo Ice Arena.  Mr. A. also purchased the first flag to hang at Gallo for Bourne High School's first ever league championship.  

 Mr. A. loved all the kids in Bourne and had a very special admiration for the crew with the bright purple hockey jackets.   What started in Falmouth when Bourne didn't have a rink has grown to a special bond in Bourne among players and families.  Today, the Gallo Arena is one of the best ice hockey facilities in New England. 

 Mr. A. liked hockey because it was always intense and fast-paced.  He enjoyed the hard-hitting action, skilled skaters and aggressive determination. He liked players that possessed leadership, being accountable, having good habits and solid on-ice toughness.  Mr. A. believed that being a hockey player means you're part of a unique brotherhood and special, life-long fraternity.
+ Read More