#NanaNeedsASchool
£29,135
of £250k goal
Raised by
55
people in 4 months
                                     #NanaNeedsASchool

Most people know me as
Fuse ODG
the musician. But for my team and I, music has always been a powerful tool for addressing many of the problems that we see in our community.
Back in 2007, way before we saw any commercial success we teamed up with an amazing charity called
Wood World Mission
and fundraised to build a primary school, in a small town named Akosombo in Ghana. Over the years, the school has made an incredible impact on not just the students that attend but the broader community.
The first cohort of students should be starting secondary school in September. But the nearest secondary school is miles away and most families are not able to afford the school fees. We wanted to do something about this. We have teamed up with Wood World Mission again to build an affordable, sustainable and local secondary school in the area.
The name of the project is #NanaNeedsASchool. Nana is a unisex name in Ghana and means King or Queen. These children are our future Leaders. Let's help them reach their full potential, through having access to education, a basic human right. This is a sustainable community project. We are using local resources, local builders, and local teachers.
Our aim is to raise £250,000 to build a school for the start of the new academic year in September 2017. Over the next 5 years, we will educate thousands of children and employ hundreds of people from the local community. In addition to a traditional education, the students will be equipped with a number of vocational skills such a carpentry, hairdressing and sewing to name a few so that they will be equipped as soon as they leave with the skills to go out and earn a living.
As the African proverb says, it takes a village to raise a child. We need your help.  Let's come together as a global village, using our capital, our resources, and our influence to give all these students a brighter future. We are looking for 10,000 hands. We need 10,000 people to donate 
£25
, in order to reach our target of
£250,000
.
                           Where will the money go?
Phase 1
Land, Building Materials, Basic School Equipment, Labour, transport & Legal fees.  
£170,000.00
Phase 2
Extra Equipment & Transport
£40,000.00
Phase 3
Sustainability Projects
£40,000.00
Total
£250,000.00
What makes this project different?

We are building a community school. Everyone is involved. We are using local builders and local teachers as well as providing employment to families in the community. The school is also a sustainable school. All resources, including the wood used, will be sourced from the local area. We have no big overheads, we have no big marketing campaign. Every penny will go into funding this project! Keep an eye on our socials for updates, we're building as we go along!                            
This Is New Africa
(TINA) is all about reprogramming the world's mental image of Africa from one that creates disdain and ignorance to one that inspires Love, provides Knowledge & Power. The TINA Movement is based on the belief that creating a new MENTALITY is the only way to bring about a new REALITY.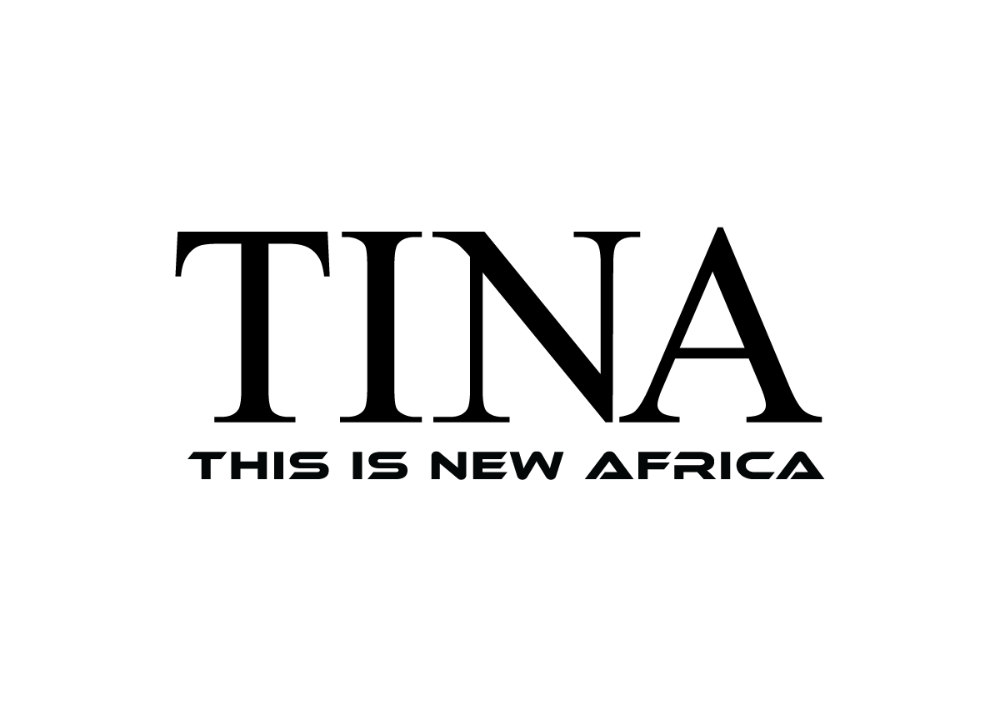 New Africa Nation (NANA) is all about taking action to create the new reality that comes from having a TINA mentality. A Nation based on love, It is the next step in the movement aimed at making the tangible change on the continent.
"Education is the most powerful weapon which you can use to change the world" - Nelson Mandela 
Helping to provide children in Africa with an education is key to long term change, and we cannot afford to leave it in the hands of big charities, aid agencies, and ineffective governments. 
The reality is the responsibility lies with us the New Africa Nation to step up and fill the void. Every child is deserving of an education. Join the movement. New Africa Nation

                            #NanaNeedsASchool

Follow the journey and keep updated here:

Facebook: https://www.facebook.com/Nananeedsaschool 
 
Twitter: https://twitter.com/NanaNeedsSchool 

Instagram: https://www.instagram.com/nananeedaschool

Please see below a list of pledge rewards upon making a donation.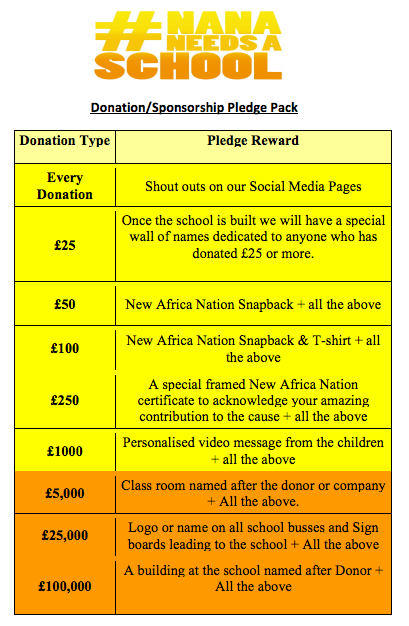 + Read More
Update 1
Posted by New Africa Nation
10 days ago
Share
*Updates* #NanaNeedsASchool

"The manner of giving is worth more than the gift"

We have received a very generous donation of chairs, tables, and other classroom equipment for our Secondary school in Ghana.

Anne Frank said no one has ever become poor by giving.

Let's continue to support and donate to our future Kings and Queens of Africa. #NANA

Please donate today 10,000 Hands = 1 Dream

+ Read More
Be the first to leave a comment on this campaign.