Help us get on the same Hemisphere!
$745
of $3,000 goal
Raised by
21
people in 55 months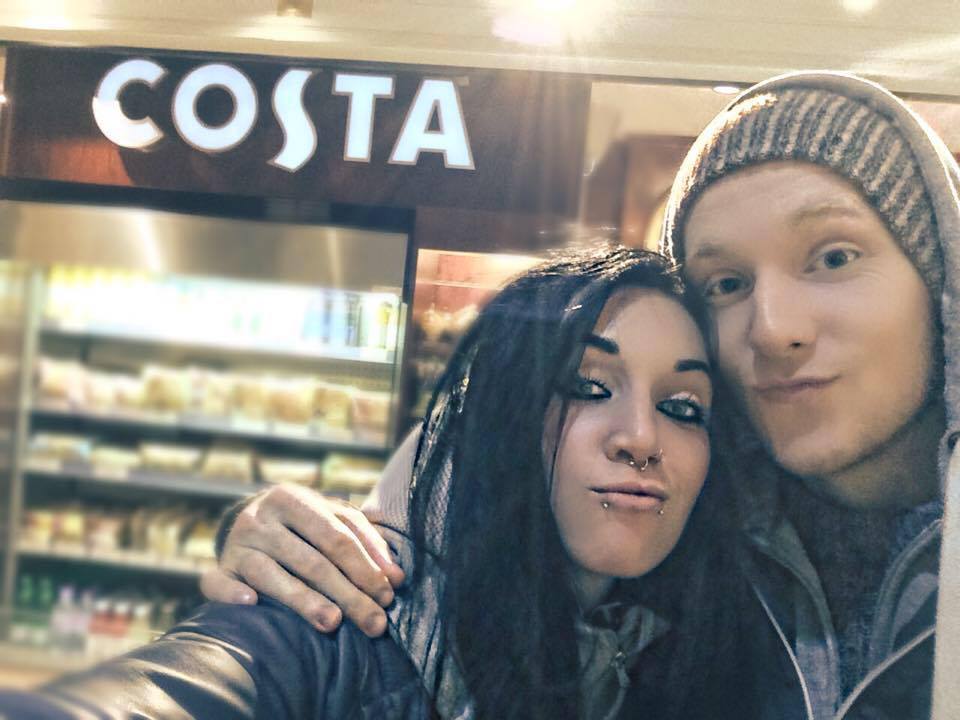 Originally two crazy kids making videos and making art found eachother on YouTube 8 years ago. HI! We're Jesse and Kane. We both had dreadlocks, and had an immediate bond finding one another, hilarious right? But how crazy is it, that a jeweler from Scotland, and a sfx makeup artist from America have been together for 3+1/2 and engaged for 2+ already?
Kane and I were friends for years on YT, and big fans of one another. I remember I was his 3rd subscriber... EVER! We both are artists, but through the years knowing one another, we fluctuated... I had a BF, he a GF... but more or less we became what you'd call virtual penpals... and now we're happily engaged, but still living 3,099 miles away from eachother.
We sent art to one another, and the recordings of it all and dedicating/showing our work off, we would post! Still to this day we have them posted to our channels. (I really hope YT never goes away cuz I want my grandkids to see this stuff!) www.youtube.com/elkano, www.youtube.com/jhermbaby -
5 years  flew by and in 2010 Kane lost his dad to cancer. I noticed he wasn't posting and I asked him to come back. He did :) and painted a portrait of and for me, completely tongue tied and nervous talking to "me" filming himself. Truly something to see. A grown man tongue tied and in love with the girl he painted it for. It was the best gift I'd received in a while, and we still can share those moments because of the internet, and YouTube... our fans that have helped make it possible bc you support us and our story..................  aaaaand let's not forget ... our dreadlocks.
Our memories, our love story.... our current living situation.. is virtual. :/ All documented through our video stories. Many of you have supported us for years now. You know the story, for those of you who are reading now... we have an ACTUAL timeline that one's welcome to watch again and again, you may have, or maybe you haven't, but if so you'd see a beautifully tragic love story/movie unfold. And the kind that you always wish to see end with two people who care so much about one another, finally getting their wish.
I just wish I had enough to be in the same hemisphere as the man I love. - Thanks for reading, and any help by donating, is so kind and we thank you in advance. All donated is money well spent as Kane and I are a couple for a lifetime. An investment in a neverending love story is what you'll be doing. Be it $5, $10 or go cray with $50!!! NO MATTER what.. it's showing us you believe in us and are investing in us as a couple. I want to thank all who have donated. Share with your friends and make our story be known.
When it's true love, everyone knows it because it brings you to life. He makes me want to be a better person!
If you don't know it.. watch how Kane proposed after 8 months of dating on our 8 month anniversary, 5 months of which we spent online. No physical. Eliminating the physical made it more taunting to hear and see and imagine and explore using sight and sound only.
This was and is still a relationship relying on modern technology to provide us with the visual and audio, but mainly with honesty, trust and the most important: communication. That's the secret... don't keep anything from the person making up the other half of your heart. It'll all come out anyways if you both really do share one. Some valve acting like a jerk will leak it into your partners, causing a coronary that won't end well. If it does, it takes time to reestablish a trustworthy connection... or some good surgery

Wow, that was not wrapping it up.. I get carried away. If you read the whole thing, I applaud you for falling down that rabbit hole. Here it goes... I wish that we make this goal, and soon!
Thanks guys! - JHERMBABY (Jesse) & ELKANO (Kane)


+ Read More