Help Nepal with Dr. Car
$6,320
of $125,000 goal
Raised by
9
people in 33 months
The earthquake in Nepal that occurred on the 25th of April, 2015; measured 7.9 on the Richter Scale, rocked the nation and spread chaos throughout. At the time of writing, the number of lives this earthquake has taken has exceeded 3,700,(increasing everyday) with a lot more injured.
In wake of this calamity,  the students of ISAK (International School of Asia, Karuizawa ) decided to undertake a project to help the victims and families whose lives have been put into turmoil because of the earthquake.
"When I heard the news from my friend, I couldn't help worrying; for a day or two, that was all I did. Then, I thought of how we could help; when I talked with the other Nepali students (Sangita and Himanshu), they were of the same mindset and we started our project." - Karma (founding Nepali student).
We have created "ISAK's ProjectNEPAL", and undertook multiple projects such as building 13 temporary schools, building a health post, and Dr. Car. Please visit our website for more information.
ISAK's ProjectNEPAL Website
About Dr. Car Project
ISAK's ProjectNEPAL is working to implement a mobile clinic made by Toy Factory International in a local hospital in Nepal because we learned that similar vehicles have already been implemented in countries such as Kenya, and created positive impacts in delivering medical services in hard-to-reach areas. The mobile clinic will reach places that health-posts and hospitals cannot. Instead of people going to the hospital, Dr.Car will bring it to them. TFI is an industry expert on designing vehicles to meet local needs.
(Click here to see the Toy Factory website)
*Dr. Car interior prototype
Implementation in Nepal
We hope to provide the locals in rural areas of Nepal with free medical services, so that they don't have to make expensive and dangerous journey to the city for medical care. To accomplish this, we are working closely with the local government and the local ministry, Phul Kumari Mahato Memorial Hospital in Siraha District will run the Dr. Car program.
Phul Kumari Mahato Memorial Hospital (PKMMH) is a private hospital run by trust funded in Siraha District of Nepal, and they will be providing running costs and the medical supplies for the operation of Dr. Car. 
Funds Required: 10,000,000 JPY (Around 122,315 CAD)
ISAK's Project Nepal is actively fundraising for the vehicle costs. Additiontal maintenance costs will also be taken care. More details will follow.  
We hope that together we can raise the funds to make this project into a reality. 
For more information, contact: isakpronepal@gmail.com
Website: 
www.isakpronepal.org
About ISAK
-To develop transformational leaders who explore new frontiers in service of the greater good for Asia and beyond.-
ISAK is a fully residential, 3-year international high school located in Karuizawa, Japan. We are committed to providing youth from diverse cultures and socio-economic backgrounds a rigorous academic education with an emphasis on leadership, design-thinking, and the skills necessary to succeed in an increasingly complex and interconnected world.
At ISAK, motivated students from around the globe come together under one roof for a world-class education that teaches so much more than just how to pass an exam. Our students are curious, bright, and passionate about taking action in the service of others.
ISAK Website:
http://isak.jp
ISAK Facebook:
https://www.facebook.com/ISAK.jp
+ Read More
Update 2
30 months ago
Share
Dear Donors and Surpporters,

We are pleased to announce that ISAK's ProjectNEPAL has graciously been conferred an accolade by the Karuizawa Rotary Club, entitled 'Young Future Potential Leaders for Effective Community Support' during an awarding ceremony at the Karuizawa Prince Hotel.

The team was present to receive the award and to give a presentation regarding two topics: firstly, our mission and vision as a project, and secondly, our most recent efforts, such as our recent trip to Nepal and the completion of the healthpost in Sindupalchok District.

The members of Karuizawa Rotary Club has agreed to our idea of implementing a Dr. Car will be one of the best ways to improve the health care in Nepal, and have strongly encouraged us to go forward with the project.

The team is thrilled and is very much honored to receive this award. We would like to extend our deepest gratitude to the Karuizawa Rotary Club for their support and the warm welcome.

Support us: isakpronepal.org
Please Donate: gofund.me/isakpronepal-drcar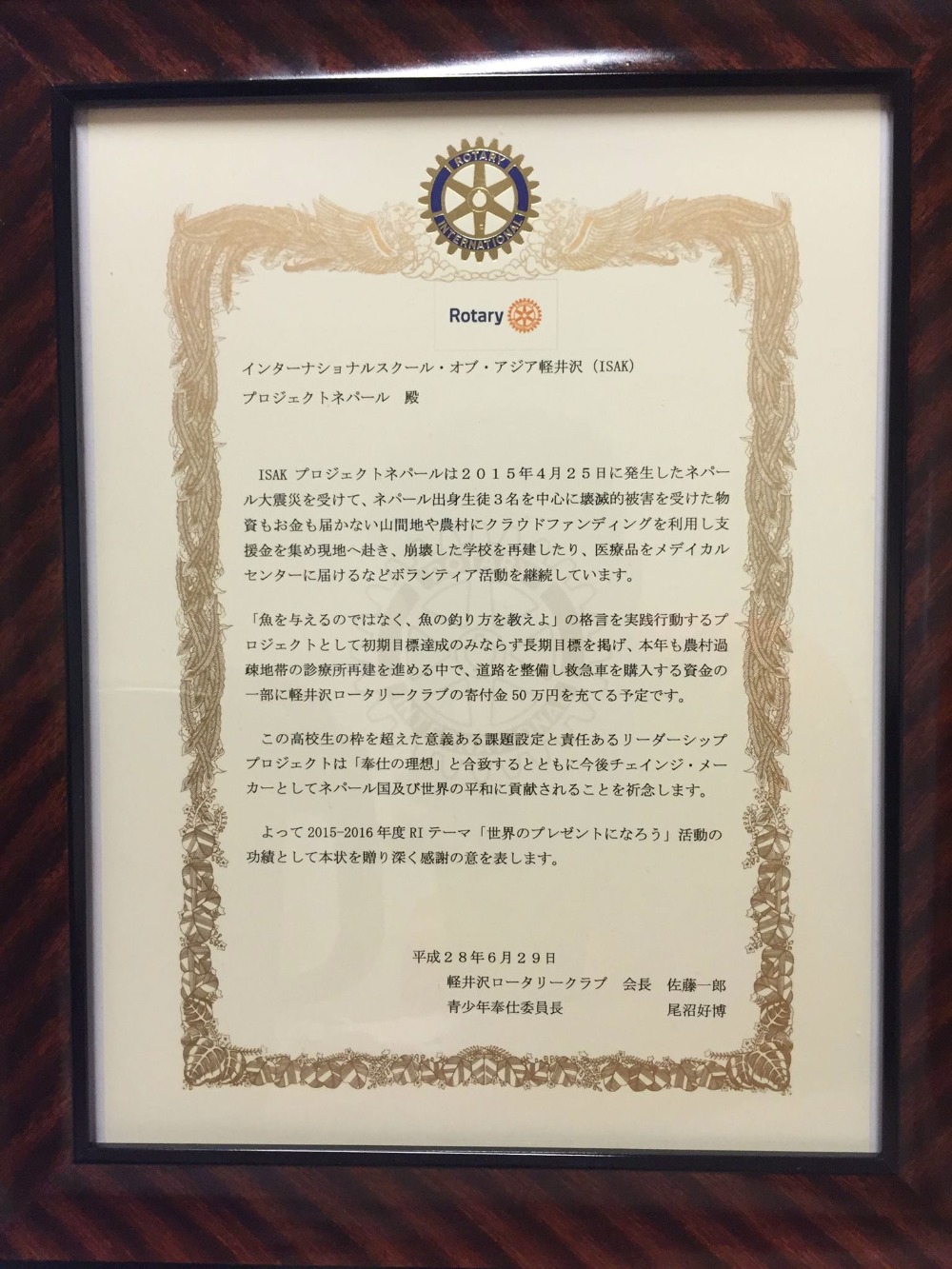 + Read More
Update 1
30 months ago
Share
Dear donors and supporters,
Our contact person from Toy Factory has visited Nepal to decide the beneficiaries. We have decided to work hard to implement Dr. Car in Phul Kumari Hospital in Southern Nepal, Terai. They have the capacity to maintain the Dr. Car effectively.
Know more about the Hospital below.
http://www.pkmmt.org/projects/phul-kumari-mahato-memorial-hospital-pkmmh/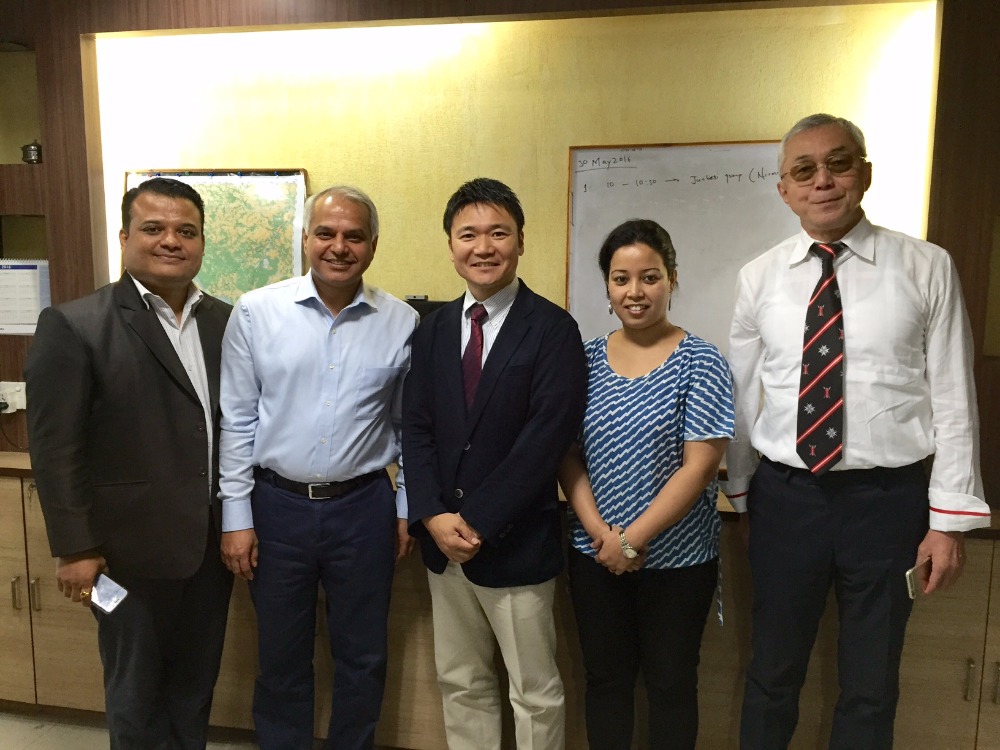 + Read More
Read a Previous Update
Be the first to leave a comment on this campaign.