53
7
IRMA Rescue from Tortola, BVI
$4,800
of $15,000 goal
Raised by
48
people in 13 months
UPDATE 9/11/17 4:44 PM PDT

Good News! Chuck Cummins, Teresa Cummins, Pedro Cuesta, Jenn Munro all have left Tortola. 

Joe and Elena Conger have asked this page be closed down.

All people interested in helping people in the aftermath of Irma should send their donations to the Caribe Bliss page: https://www.gofundme.com/caribe-bliss-rescue-efforts. 

This organization is rescuing people off Tortola and doing a phenominal job. Please support them!
UPDATE 9/10/17 - 4:55 PM PDT

After getting Joe, Bryan, Elena, and Christina back we have spent the day trying to figure out what's next.

The Caribe Bliss went back this morning to Tortola to rescue more people. There are still many people pleading for help on BVI. They need rescue.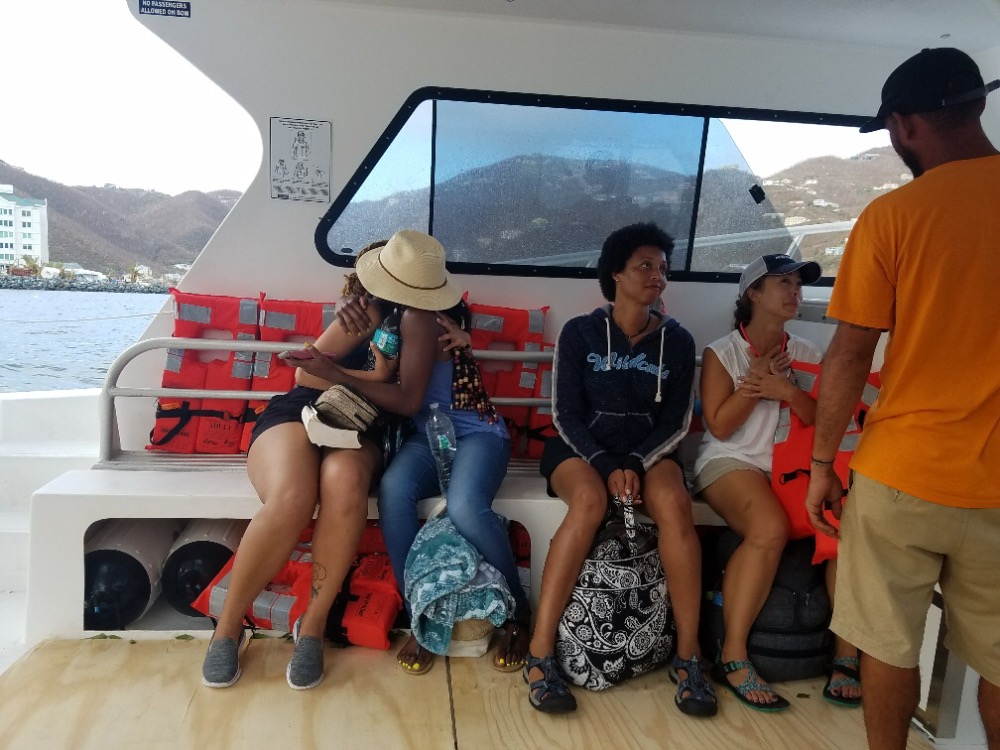 All of the funds collected here will go towards rescuing these people. They include: Chuck Cummins, Teresa Cummins, Pedro Cuesta, Jenn Munro, and others including a doctor, her husband, and two children.

Irma devasted the Virgin Islands and Hurricane Jose is closing in.

People are suffering and now Irma is closing in on Florida.

We are committed to helping as many people as we can.



UPDATE 9/9/17 - 4:26 PM PDT

Bryan and Christina Eckert also caught the boat.

UPDATE 9/9/17 - 4:02 PM PDT

I have just heard from Joe Conger who is with his wife Elena Barrios Conger and they are 1.5 hours from Farjardo, Puerto Rico on a boat. That is why I haven't been able to reach them!

Anyway, they expect to land soon in PR, grab a ride to San Juan, and then a flight to San Antonio.

The boat they are on came to rescue others on Tortola. The captain agreed to help them for no charge!

The money raised by the GoFundMe campaign will be used to help more people in the Caribbean. I have turned the money over to the Congers so they can make the right decision about the money.

This is very incredible news and I'm about to cry. I'm so happy they have been able to get into US waters so they can be rescued by the US Coast Guard. I don't expect them to need another rescue, but they are so much closer to home that I am overjoyed.

Soon they will be home.

UPDATE 9/9/17 - 2:11 PM PDT

We have found a one-way helicopter ride from Tortola to San Juan PR for 8 passengers. It will cost $11,000.00 USD for the one way.

I know you have all given generously. Please pass this on so we can get them off the island.

UPDATE 9/9/17 - 9:25 AM PDT

Just like the storm, give it ten minutes and things will change for the worse.

Today's flight to PR has been cancelled. All four have been booked on a flight for tomorrow. However, Hurricane Jose is set to make landfall tomorrow.

We are still working on a charter from Atlanta. We thank everyone for their generosity; the account is growing and really offering hope.

The problem is the runway as you can tell from this picture:




UPDATE 9/9/17 - 8:12 AM PDT 

Good News! I just heard from Joe and he says the airport in Tortola has reopened. They are attempting to secure a plane ride out of Beef Island asap with the money raised here. The plan is for the four of them to get to San Juan, PR before the CAT3  Hurricane Jose hits the island.

See my other update below.

My friends Joe Conger, Elena Barrios Conger, Christina Anne Huey-Eckert, and Bryan Eckert are stranded on Tortola Island, British Virgin Islands after Hurricane Irma destroyed the island.

We have contacted charter companies in Atlanta. They say they can fly to BVI for roughly $15,000. Everyone is focused on Florida and we can't even get to BVI until Sunday at the earliest. 
We also found a boat. Obviously, everything is in flux as the island is a complete wreck.



Hurricane Jose is working its way to Tortola, so we are on pins and needles.

My friends are from San Antonio, Texas.

The island is without power and has limited water. Currently, there are no plans to airlift anyone off the island and the residents are trying to pick themselves up from the devastation of the storm.

My friends are stuck at the mercy of a government or the help of friends to return to the United States. This storm caught them off-guard and now they have no way home.

We need to raise funds as soon as possible to secure the plane and pilot. Anything you can do right now to help would be appreciated.

All funds will go toward this rescue and anything donated beyond the costs of the plane and pilot  will be donated to the residents of Tortola to assist in their efforts to recover from the hurricane.

Thank you for your help and prayers.

UPDATE:

Joe Conger and I worked together in Lubbock at KCBD as anchors and reporters.

I live in Las Vegas, Nevada where I work as a public relations communicator.

The funds will be used for any transportation option to get Joe and his family/friends home from BVI. As it stands now, any transportation option is on the table. We just want to help them get home.

The money will be sent to Joe as soon as we know the transportation option. I am setting up Elena Conger as a beneficiary of the funds.
+ Read More