Inside Bougainville
$1,145
of $10,000 goal
Raised by
11
people in 28 months
'Inside Bougainville' is a new film by local filmmaker Clive Porabou founder of Eel films. It follows on from his previous films bringing voices and culture from Bougainville to the world intertwined with the ongoing issues of mining and independence with reconciliation and custom. The objective of this funding campaign is to support Eel films toward finishing and touring the film. 
During the 1990's a terrible conflict ensued on the magnificent Island of Bougainville sparked by environmental damage caused by Rio Tinto's massive gold and copper mine. Up to 20,000 people where killed because Rio Tinto with support from the Australian and Papua New Guinea governments attempted to force the reopening of Panguna mine after it was shut down by Bougainvillean's. Today the mine remains closed but Rio Tinto has tried to wipe the blood off its hands by giving away its majority shares in Bougainville Copper to the PNG government and the Autonomous Bougainville Government (ABG). Bougainville is striving for Independence from PNG, seeking ways to support its economy and government that doesn't rely on neo-colonial large -scale foreign-profit driven mining that caused so much bloodshed.
This project is raising much needed funds for Eel films - founded and directed by well known Bougainvillean fimaker; Clive Porabou. Clive fought for his Island, now he shoots with a camera and microphone, recording his people's issues and bringing their messages to the world. Running on little funding and raw passion for self-taught filmmaking, Clive gets support from his Wontoks (extended family) who regularly buy his DVD's and music video's, combined with the generosity of friends and supporters from around the world. He wishes to finish, produce and tour his 4th documentary; Inside Bougainville. This production brings unique people and culture to the screen reiterating history from archives combined with a truly Bougainvillean narrative revealing current affairs in Bougainville only possible from the inside.
Eel Films has produced the following films made available for you to get an idea of what's involved;
 1)
The Panguna Mine Dilemma -2008
2)
Saving Our Land – 2011 [Trailer]
3)
Bougainville After the War -2012 - Pt 1
&
2
 4)
Inside Bougainville-2016 [Trailer]
 Full film forthcoming with your contribution…
You can also keep up to date and scroll through the news achives with Clives Blog;
Mekamui News
.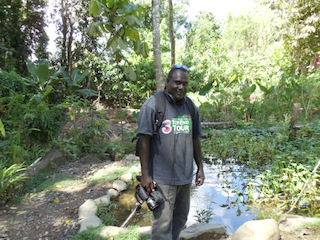 For further interest take a look at some of Clive's other work,  behind and in front of the camera, including music videos and the Bougainville chapter of a joint project with Solomon Islanders called;
Mining the Future?
 -2013
and
Panguna Voices
- 2014. 
Myself; Daniel Jones from Sydney is managing this funding project due to internet access being limited and expensive on Bougainville where Clive works from his village studio in the hills of Arawa.  A long time friend of Clive's, I (together with amazingly generous contributions from people like you!) successfully delivered a project providing Eel films with
solar power for the studio in 2012
.  
The estimated budget breakdown of the project is as follows;
$3000 - Upgrades and repairs to tired equipment including to a Mac Book Pro with licensed software updates needed, hard drives and digital video storage and recording capacity.
$2000 - DVD production of the completed film to be made available for marketing and sales.
$5000 - Travel expenses during the making of the film and for the launch of the film tour to Australia and New Zealand in early 2017.
Contributors of $500 or more to the project will be posted a book (and a Eel Films DVD set, see bellow). 'Running with Rebels': behind the lies in Bougainville's hidden war was written from the experiences of the late Waratah Rosemarie Gillespie. Waratah bought medicines to Bougainville and got information out the world media during the height of the war. Her bravery and dedication to Bougainville will forever be remembered and honoured by the people she helped.
Contributors of $300 or more will be posted a Eel Films DVD set (including the competed current film) along with extra films only available through this project.
Contributors of $100 or more will be posted the completed film-Inside Bougainville.
Thankyou for taking the time to look at this project and hopefully watch some of the films. Even small contributions make a big difference to getting the film competed. 
 If you have any questions please don't hesitate to contact
Clive
or
myself
through Facebook.   
+ Read More
Be the first to leave a comment on this campaign.