IMMIGRACIOUS
$6,756
of $8,660 goal
Raised by
93
people in 12 months
IMMIGRACIOUS
 is a vision,
an adventurous art-experience for immigrants to share stories and food, with sailboats, storytelling, aquatic art-installations, performance sea rendezvous, narrative tour guides, an island, and excellent culinary creations of the immigrants' favorite foods. The event will run  on Sept 22 in the San Francisco Bay Area. 4  artists will team with immigrants of their native language to design and lead an experience about the immigrants' favorite food. The experience will include "Freda" the oldest sailing yacht on the west coast, and "Horizons," a 50 ft. historic wooden sailboat. The immigrants' story of how they got to this country will be told on the boats, and an interactive feast will be created and served on Angel island. All guests will be immigrants chosen by the artists. All artists and participating immigrants will be paid equally for their participation and time. Visually beautiful artistic passports will be created that glorify the immigrants' lives. And an open-conversation about immigrant futures will be gently facilitated during the meal. The stories told will be personal and expressive. The feast will be delicious and connecting. Immigracious will help bring us new ways of understanding our global culture and create new narratives that our future can live by.   
WILD KIND
$50 and up DONATIONS  gets you an Immigracious book, including the immigrant stories, recipes, photographs, table-discussions, illustrations, and a pressed island-wildflower bouquet  from the event !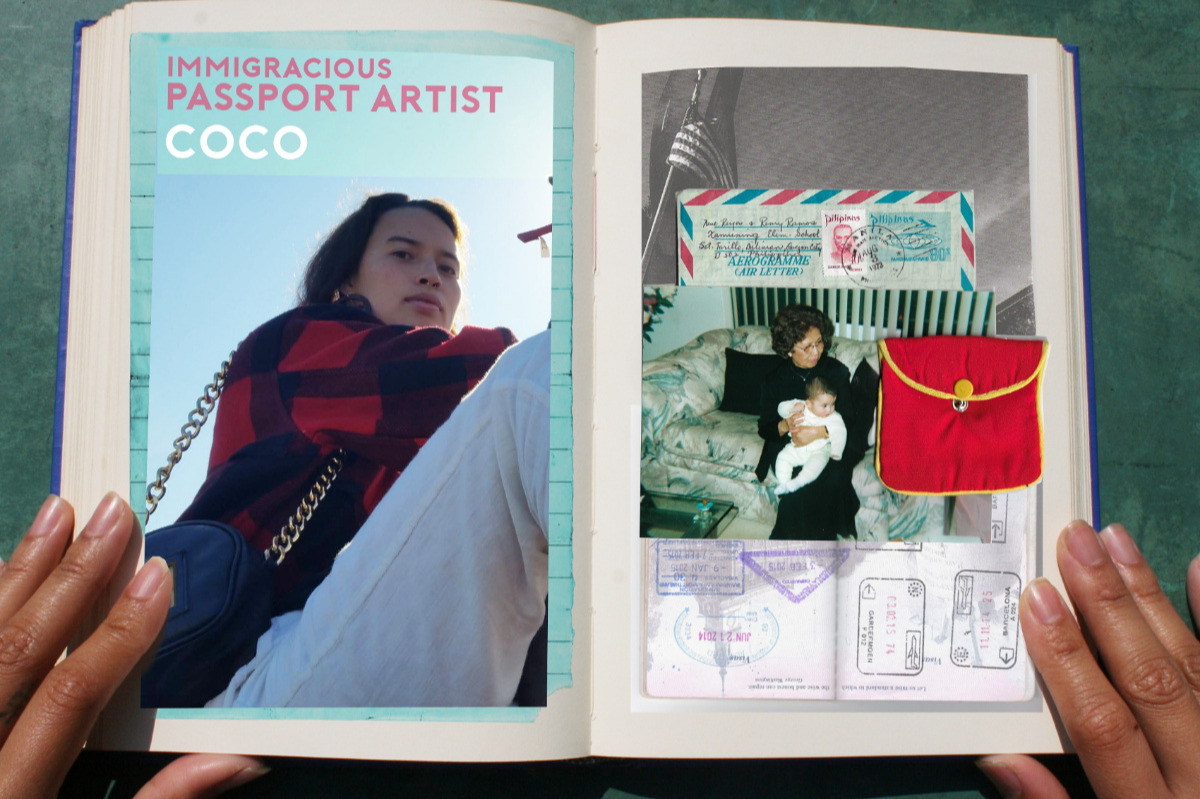 THE ARTISTS:
For IMMIGRACIOUS, Artists will initiate the immigrant's experience
Sanaz Gangei (Persian food experience) (Storytelling experience-design)
Iranian Immigrant storyteller: (tba)
Tehetena Tina Yonas (Ethiopian food experience) (Storytelling experience-design)
Ethiopian Immigrant storyteller: (Tehetena's mother)
Coco Spencer (Philippines) (Passport Artist)
Martyn Bonaventura (Argentina) (Photographer)
Lish Dawn (Boat Choreography) (Nautical Atlas Design)
& more


RICHIE RHOMBUS BIO:

Hello, I'm Richie Rhombus; an artist and experience creator living in Oakland, California. I've co-created adventurous social events for hundreds of people, as well as deeply intimate rituals for individuals. I connect people's bodies to greater ideas in new ways, building unique relationships with the sensual, social, and conceptual world. Food and stories are social-mediums I work with, and I work collectively. Together we've created more than 40 interactive food events and experiences in the Bay area.
My collaborative work has been featured in Ps1 MOMA, IVAM  Institut Valencià d'Art Modern, and several dozen theatres, galleries, venues and renegade spaces throughout the country.   
Richie Rhombus
BUDGET:
$ 8,660
Artists fees: ($500 stipend, $500 pay)
$4000 (4 main artists)
$2000 (2 additional artists, aquatic installation, boat choreography/maps
$1000 (Immigrant storytellers & performers)
Professional fees (producer pay): $500
Boats: ( rental with crew) $1000
Marketing/promotion costs: $600
Travel: $160
Permits, Angel Island site reservations $160
Other expenses: $270 (GoFundme 3% fee) *
*so no need to tip Gofundme
+ Read More