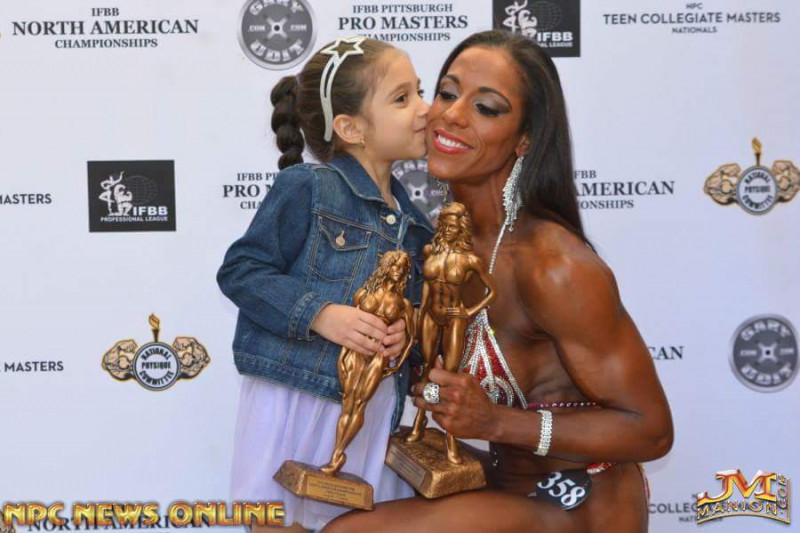 31
5
Raising awareness for Fit Moms
$2,335
of $10,000 goal
Raised by
31
people in 14 months
Hi everyone, my name is Odalys Ferreira and I am an IFBB Figure competitor. I am a full time mom, a full time athlete and a personal trainer. I am very passionate in what I do. I am certified in fitness, nutrition and youth fitness. I won my pro card and became an IFBB pro last year (2016). I competed at two pro shows this year and finished 10th and 2nd respectively. I love competing and I want to inspire other women, especially moms, to lead a fit and healthy lifestyle. A lot of times, once a woman becomes a mom, they are resigned to believing that they cannot be fit or have a great body anymore. They think that all they can do is look after the kids and stay as they are. If they happen to be working, forget it – there is no chance or time for them to be fit and to have the body they crave, right? Wrong. I am a mom and work full time and I also happen to be single. Needless to say, everything that I need to do as a mom and to take care of my family is up to me. I have to work full time and look after my child and still find the time to lead a healthy lifestyle and to be a professional athlete that competes at the highest level of the sport. A lot of times, all a mom needs is a real life example to see that it can be done. I want to therefore raise awareness and inspire moms, and other women (and men as well), that no matter what phase of your life you are in, you can still be healthy and fit and have the body you crave and feel good about yourself and have confidence in yourself. This is what I am seeking to do through this effort whereby I will be competing at shows and hope to make it to the Olympia stage (the biggest and brightest stage of them all). The bigger the stage, the more the awareness will be and that is why I am shooting for the Olympia stage (go big or go home, right). As you may or may not know, competing is a very expensive thing. I spend about $7,000 on average prepping for each show. As a single mom, this is really hard for me to get on my own. As I said, I have already competed twice this year and if I am to make it to the Olympia stage this year, I need to compete at more shows. I am therefore asking that each of you who is inspired by me in some fashion make a contribution to this effort of mine. The contribution you make is going to make a big difference. Just like I inspire you, I am sure this effort will inspire a lot of other people. The more exposure I can bring to this undertaking, the more people I can inspire and that is very important to me. I want to be a role model for people and also for my daughter. In many ways, she inspires me quite a bit. I wanted to love myself even more and to show her that beauty comes from being healthy. This drove me into becoming a certified personal trainer and a nutritionist because I wanted to learn so much more. I love being a trainer to not only motivate myself but to motivate those who feel lost or feel like they are stuck or maybe just need some type of change. As a mentor, I build relationships with my clients so they can always count on me to guide them and help them not give up on their goals. This is why I took it to the next level and got into competing in figure competitions. The more shows that people see me at and to finally be on the Olympia stage to show moms and women that it can be done would be a dream come true. Therefore, please show your support by contributing to my journey to inspire and motivate people.
When you make a contribution, you can leave a question in the comments. Once we get to every $500 milestone, I will choose the best questions that are relevant to the health and fitness lifestyle, being a fit mom, etc and answer those questions through my youtube channel. As we get to each milestone of $1,000, the highest contributor will get an autographed picture (8" X 10") of mine (your choice). Also, once we reach the target amount, the highest contributor will get the chance to win a free workout with me and also nutrition guidance from me for a month. I look forward to your contributions and questions and inspiring people and reaching more people. Let's get this show on the road and build the road to the Olympia right now.
I want to not just lead by example, but to be able to teach other parents how to become leaders. I love competing and teaching!  I love to learn and love to inspire.  But overall, I LOVE being fit and being able to have a positive influence on peoples' lives. My daughter inspires me everyday to stay focused and succeed and to motivate my clients to achieve their goals - I want to show my clients and my daughter that if you put your heart into something you can succeed.  So, if you see me at a contest, at work, or on the street, do not hesitate to say hello and share your journey with me - that inspires me even more.
I wish you the very best on your journey to fitness!
+ Read More
Update 1
14 months ago
Share
When you see Family supporting it warms your heart <3 My clients amaze me and surprise me! All who support me Thank you I truely mean it!
+ Read More