Indonesian Community Center
$1,565
of $60,000 goal
Raised by
25
people in 39 months
Indonesian Community of New England, Inc. (ICONE, Inc.) , is a 501(c)(3) non-profit and volunteer-based organization based in Massachusetts and founded in July 2015. ICONE, Inc. serves as the umbrella entity for various coordinated initiatives by and for all Indonesians-Americans in New England, USA.

Our mission is to bring the best out of the Indonesian community in New England regardless of ethnicities, social-economic background & religions. We aim to empower Indonesian community and help promote Indonesian arts & culture in New England.

In order for us to centralize our efforts, we're asking for your donation to fund us in finding and renting a suitable site in the Massachusetts area to use as the Indonesian Community Center where people across New England can come to share, learn & utilize anything Indonesian-related. This community center will focus on providing opportunities for individuals and/or groups of people among the Indonesian-American community in New England to expand his/her educational, intellectual, and vocational abilities to their full potential. It will also serve as the information hub for Indonesian language, arts and culture in New England.

We believe that actions speak louder than words. We are in the continuous quest of achieving these goals, all for the common good of our community here in New England.  However, to do these actions, as a non-profit organization, we rely heavily on voluntary participation and donations from you and anyone else out there who are willing to help. Every effort and dollar counts.

Please support our fundraiser, so that we can continue delivering what we have towards the betterment of our people and community.

For more info, please visit our website at:
www.icone-inc.org 
 
Your generosity and donations are greatly appreciated.

THANK YOU!

-----------------------------------------------------------------------

[Versi Bahasa Indonesia]

ICONE, Inc. (Indonesian Community of New England, Inc.) adalah suatu organisasi nirlaba 501(c)(3) yang berpusat di negara bagian Massachusetts, Amerika Serikat.  ICONE, Inc. resmi terbentuk pada bulan Juli 2015 dan berfungsi sebagai wadah komunitas berbasiskan sukarelawan yang menaungi beragam kegiatan kemasyarakatan yang dikelola oleh dan diperuntukkan bagi masyarakat Indonesia yang berdomisili di kawasan New England, Amerika Serikat.

Adapun misi dari ICONE, Inc. adalah untuk lebih mengasah dan mengoptimalkan potensi komunitas Indonesia di New England, Amerika Serikat  dari segala bidang melalui partisipasi aktif yang bersifat positif dan inspiratif demi terwujudnya komunitas Indonesia yang lebih baik, bersatu, dan produktif tanpa memandang etnis, latar belakang, sosio-ekonomi, maupun agama.  

Agar dapat melakukan beragam kegiatan komunitas yang fokus, terarah, dan tepat sasaran, kami mengharapkan bantuan donasi dari Anda untuk mendapatkan bangunan serba guna yang bisa kita sewa dan manfaatkan sebagai Indonesian Community Center, pusat kegiatan masyarakat Indonesia di New England dan pusat informasi dan pembelajaran mengenai segala hal yang menyangkut Indonesia, termasuk kekayaan budaya dan kultur Indonesia.

Indonesian Community Center ini juga akan berfungsi sebagai pusat pemberdayaan dan pengembangan potensi intelektualitas dan keahlian  dari perorangan maupun kelompok masyarakat yang tersebar di dalam komunitas Indonesia di New England.

Kami percaya bahwa "actions speak louder than words". Banyak perencanaan dan kegiatan positif yang siap dilaksanakan demi terwujudnya misi diatas dan demi kebaikan komunitas kita bersama.  Tetapi oleh karena  organisasi ini adalah berbasiskan nirlaba dan sukarelawan, kami sangat mengharapkan partisipasi dan donasi Anda serta semua pihak lainnya yang berkeinginan dan mampu untuk mendukung kami. Setiap bantuan dan dollar yang terkumpul sangat berguna.

Karena itu, kami mohon dukungan Anda dalam penggalangan dana melalui GoFundMe ini atau Paypal dan check (melalui link http://icone-inc.org/donate-2/) agar kami dan Anda dapat tetap melakukan apa yang kita bisa untuk kebaikan dan kemajuan komunitas kita.

Untuk informasi lebih lanjut, silahkan mengunjungi website kami di  http://www.icone-inc.org 
 
 TERIMA KASIH!

-----------------------------------------------------------------------

WHAT WE'VE BEEN UP TO

For the 5th year in a row, the New England Indonesian Festival (NEIF) was once again rocked Boston on Saturday, September 30th, 2017 as the largest & the most sought-after Indonesian festival in the New England area. Undeterred by the damp weather on the day of the event, thousands of people came to celebrate our community, culture and culinary.

Indonesians in New England celebrated the 72nd Indonesian Independence Day at Arsenal Park, Watertown MA on August 19, 2017. Hundreds of fellow Indonesians from across New England came together in unity for a day full of fun and laughter.



A community gathering featuring the Deputy Governor-elect of Jakarta, Sandiaga Uno, was held on August 17, 2017 at Vanderbilt Hall, Harvard Medical School in Boston. The event was part of ICONE's Indonesian Independence Day community celebration series in New England. Mr. Uno shared his views on some of Jakarta and Indonesia's current issues and motivated the local Indonesian diasporas to stay united and productive as a community. The event was attended by Indonesian graduate students and professionals currently residing in Massachusetts and New Hampshire.



For the second time around, ICONE has completed one of its charity initiatives Ramadhan Berbagi (Ramadhan to Share) that focuses on supporting education among children and youth in need in Indonesia on July 9, 2017. Charity donations from this year's program went to Yayasan Daarunnas, an orphanage center located at the Bojong Desa village in Tangerang, Indonesia.



The region's Indonesian community celebrated its rich heritage of culture through food and music at Hilton Park, Dover in New Hampshire on Saturday, May 13th 2017. The chilly weather that day did not deter hundreds of Indonesians and the locals to come together and enjoyed huge variety of foods available from 12 vendors who came from Maryland, Massachusetts, Connecticut, New Hampshire and New York.


Audiences of all ages from across New England were mesmerized by the uniqueness and beautiful sights and sounds of Javanese shadow puppets and gamelan performance in Boston on April 30th 2017. The show, titled Wayang Magic Flute, was organized by the Harvard University's Peabody Museum of Archeology and Ethnology and was supported by the Indonesian Community of New England, Inc. (ICONE, Inc.). It was part of The Magic of Java exhibition in honor of Peabody Museum's 150th Anniversary.



Kantor Konsulat Jenderal Republik Indonesia (KJRI) New York, didukung oleh New England Indonesian Community Inc. (ICONE, Inc.), Boston City Blessing Church, dan Permias Massachusetts, menggelar acara pertemuan masyarakat Indonesia di Boston untuk membahas isu-isu keimigrasian dan kekonsuleran yang menyangkut WNI di Boston tanggal 18 Maret 2017.



Hundreds of Indonesians and locals from many parts of New England came together to enjoy the company of friends and families while enjoying lots of mouthwatering foods and drinks at ICONE's 3rd Indonesian Food Bazaar at the Tri-City Academy, Somersworth on December 3rd, 2016. More than 70 different types of Indonesian traditional and street foods, as well as desserts and drinks were sold at the bazaar by 12 food vendors from New Hampshire, Massachusetts, and New York.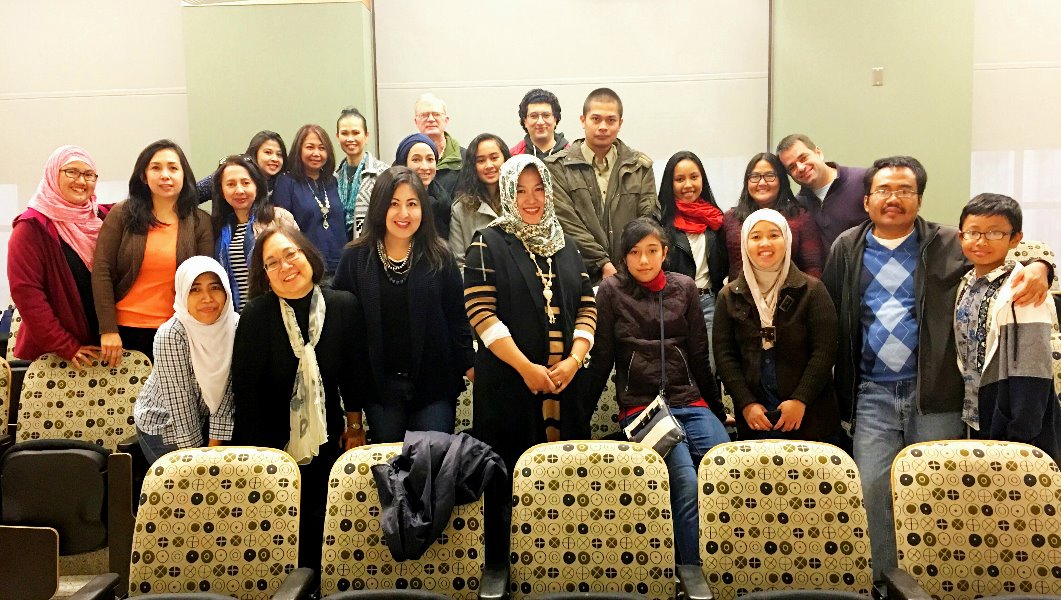 2nd Indonesian movie screening was held on October 29, 2016 at MIT. Great movie, delicious food spread and good friends were the highlights of the day.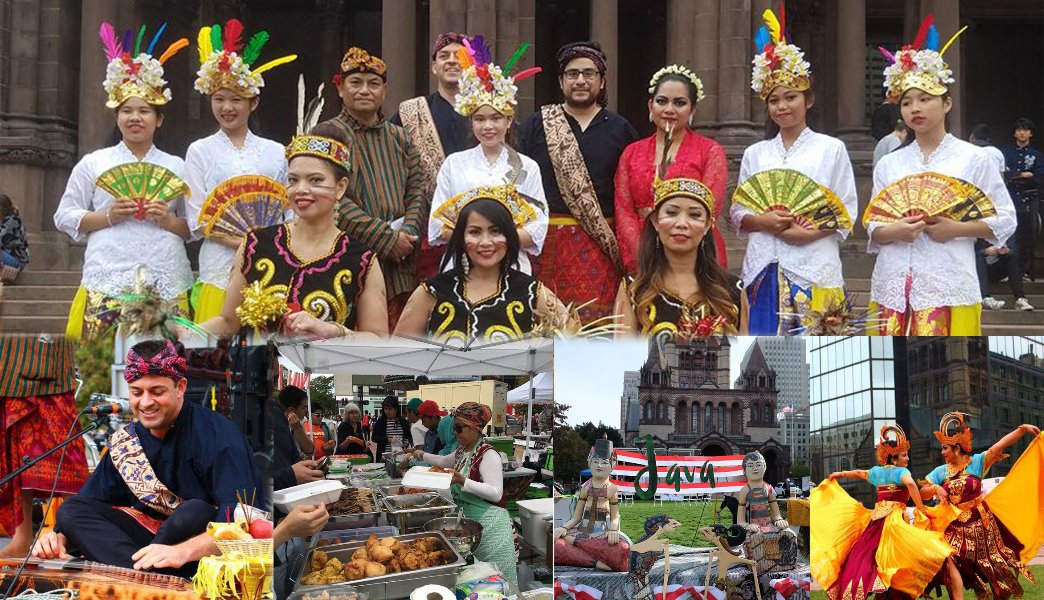 Thousands of people came and celebrated Indonesia at the 4th New England Indonesian Festival on Oct 8, 2016 at the heart of Boston, Copley Square. Permias MA, ICONE, and Project Push Pin collaborated to bring forward this much anticipated event and the biggest Indonesian fair ever held in New England to the people of Indonesia and general public in Boston.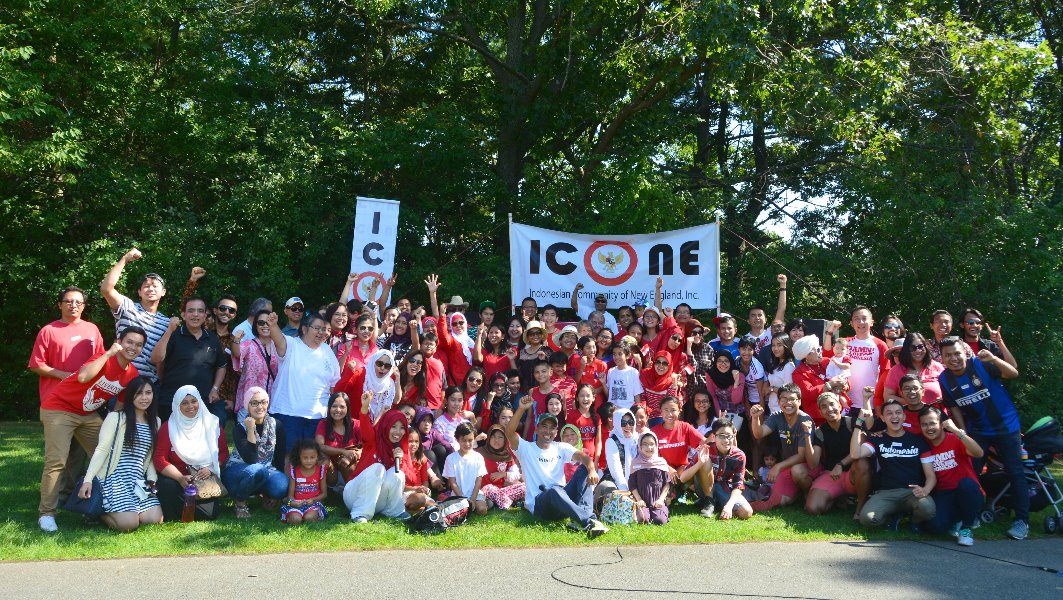 Around 350 Indonesians from across New England congregated and celebrated the 71st Indonesian Independence Day at Arsenal Park, Watertown, MA. Held with the theme of "Unity in Diversity", the celebration brought forward the spirit of community and patriotism amongst those who participated.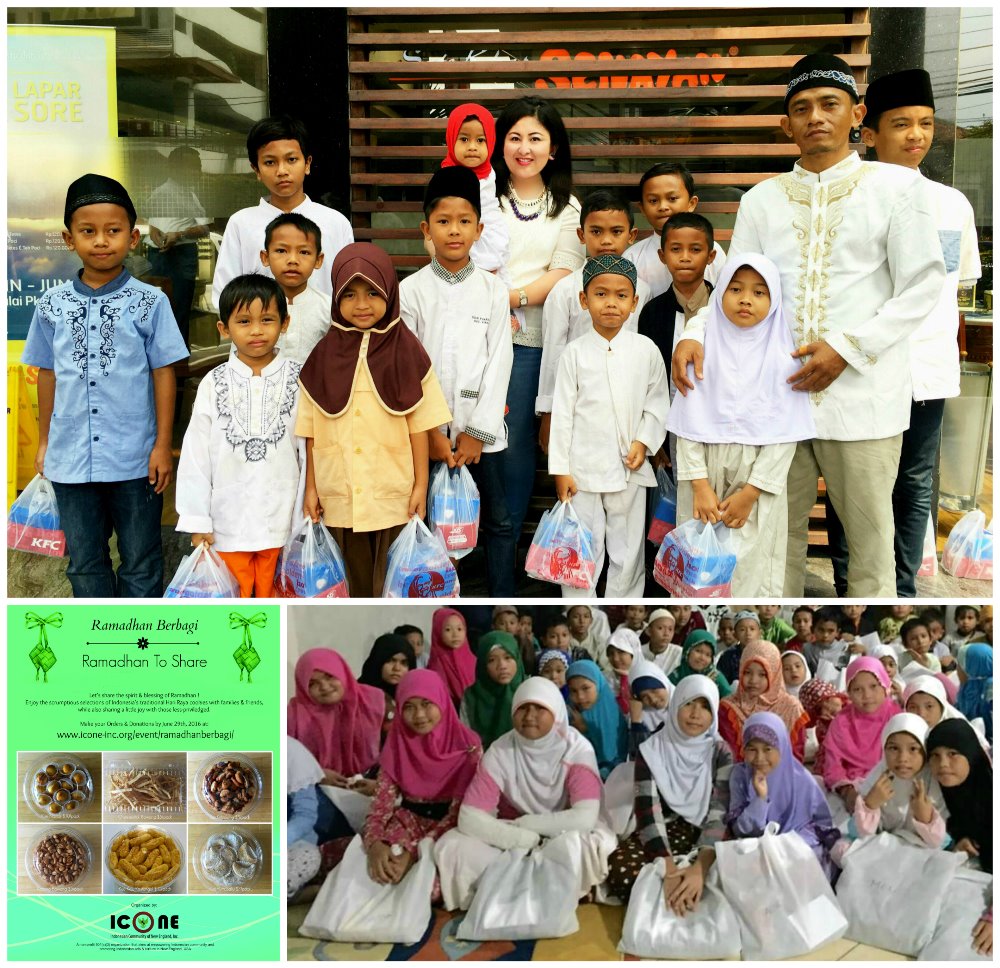 ICONE has carried out its first charity initiative, Ramadhan Berbagi (Ramadhan to Share) that focuses on supporting education among children and youth in need in Indonesia on July 30, 2016. Charity donations from this year's program went to Millah Khalilulloh, an orphanage center in Tangerang, Indonesia. Thanks to those who purchased the scrumptious selections of Indonesian cookies (kue kering) made by our local chef, Uum Humaerah, that also donated some funds to the children of this orphanage center.


More than 600 bazaar goers gathered at the ICONE's Indonesian Food Spring Bazaar at Hilton Park, Dover, New Hampshire on May 14, 2016. The locals, as well as many people from neighboring states such as Massachusetts, Maine, Connecticut and Rhode Island, came to enjoy the beautiful Saturday with friends, food and fun. Supported by the Consulate General of the Republic of Indonesia in New York, the bazaar aimed at supporting the local Indonesian home-based chefs, promoting Indonesian culture through culinary arts and Batik, as well as to fundraise for the future establishment of the Indonesian Community Center and the ongoing running of collaborative community empowerment programs in New England.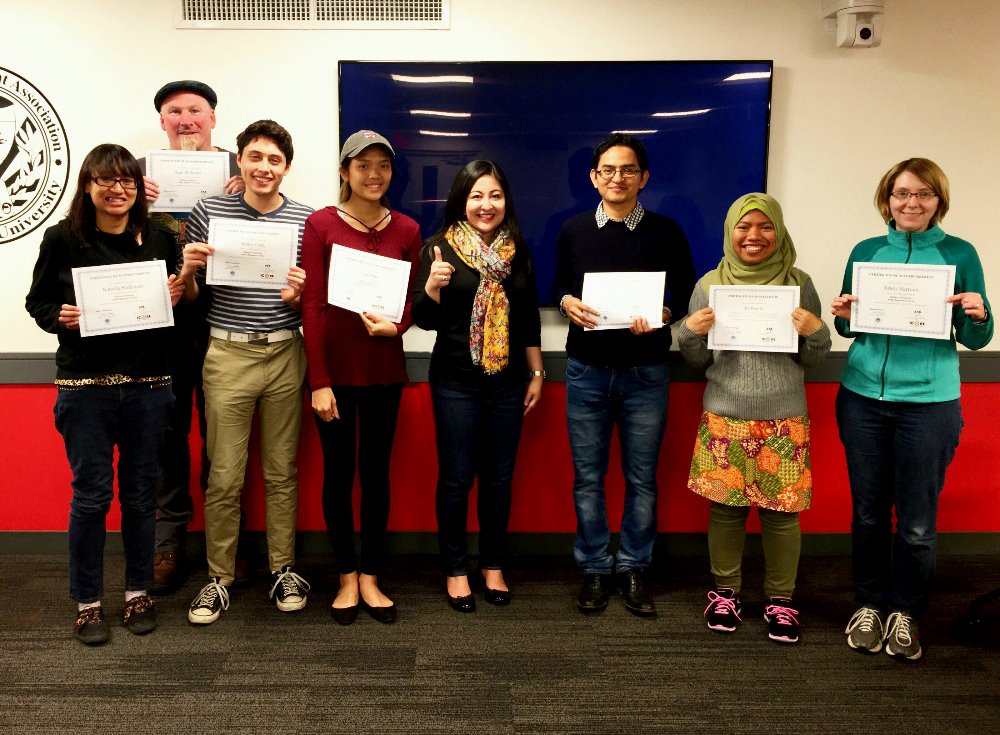 The six-week program of ICONE's Bahasa Indonesia beginners course, the first community-based Indonesian course ever held in Boston, has concluded and proudly brought forward its first ever graduates. Both the children and adult graduates are ready to use their new language skills to better communicate with their immediate Indonesian families and friends, confidently travel to Indonesia and conduct simple conversation with Indonesians in various daily situations.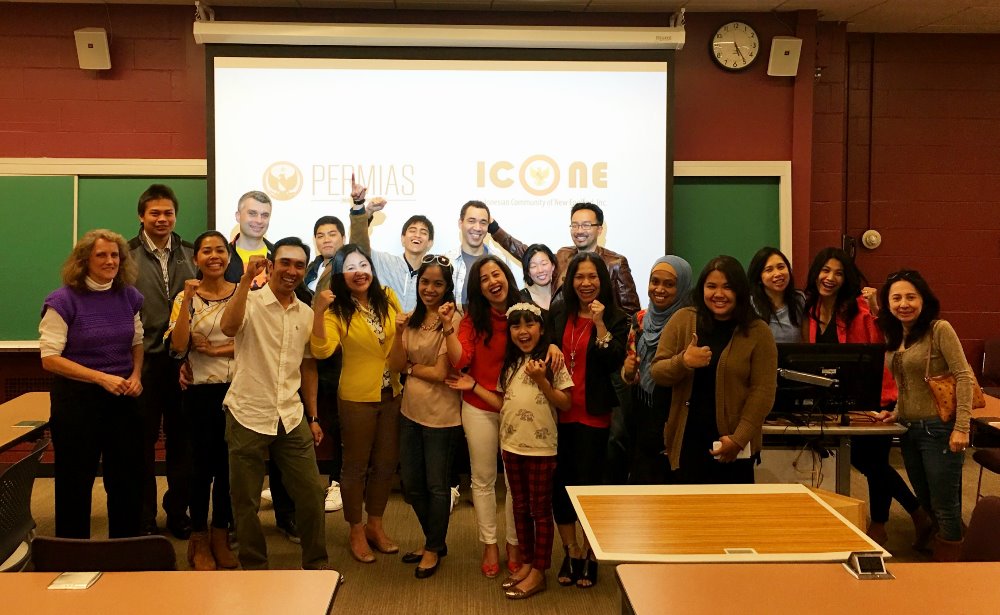 In partnership with Permias Massachusetts, Indonesian Community of New England, Inc. held its first Indonesian movie screening event at Northeastern University, Boston on April 24, 2016.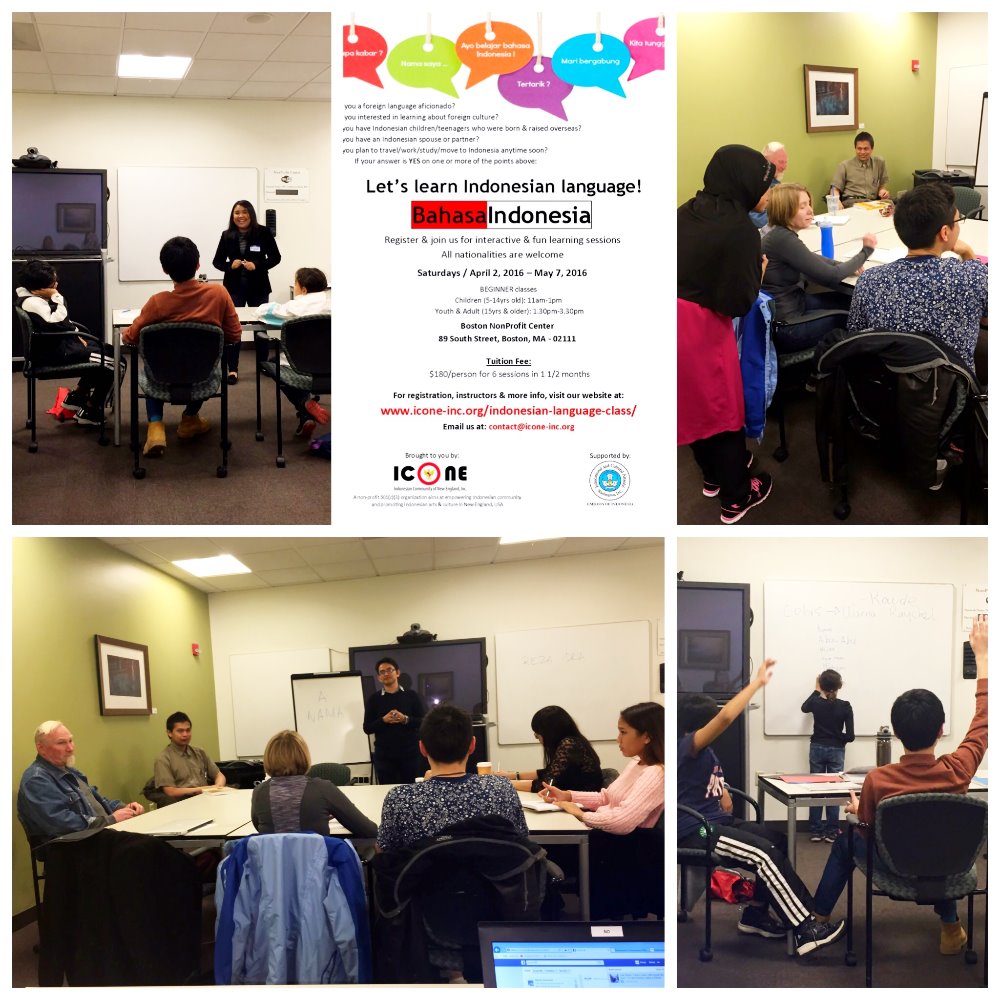 Indonesian language classes by ICONE is currently in sessions between April 2 - May 7, 2016. These classes marked the first community-based Indonesian course ever held in Boston. Students, range from age of 7 years old to adult, are enjoying the lessons led by the experienced Indonesian-native speaker instructors and custom-made learning materials that are suitable to the needs of beginner students enrolled.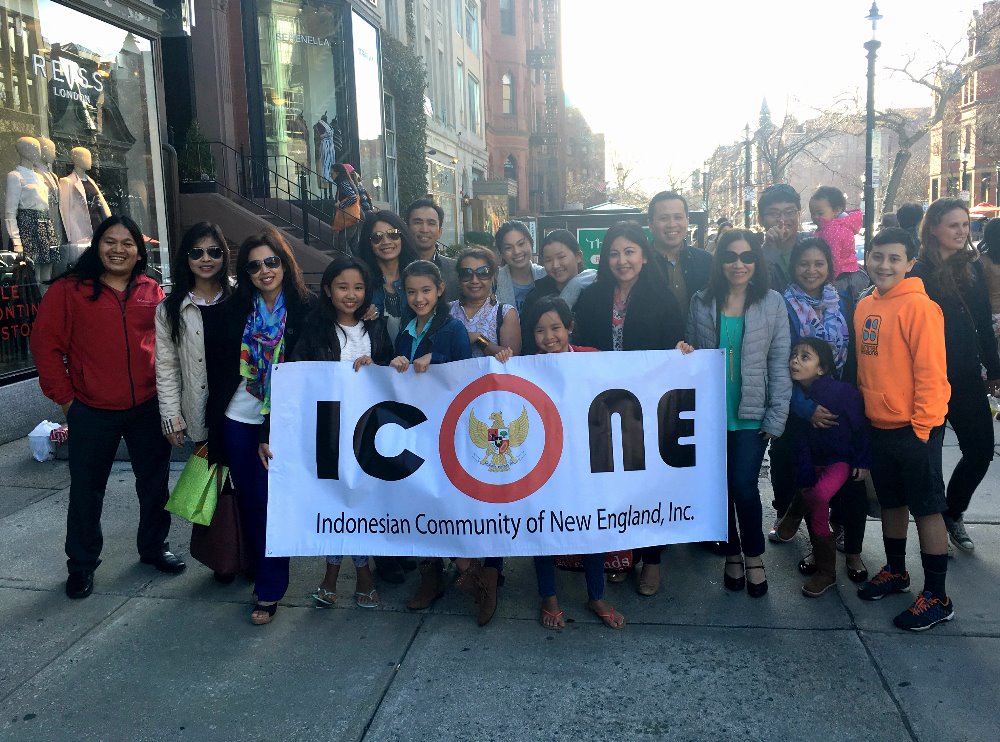 ICONEan friends and families got together at ICONE's 2nd 'Dining Out for Charity' event on March 12, 2016 in the spirit of community and fundraising. Held at Thai Basil restaurant in Boston, the event raised almost $200 and all the money will go to the ongoing community empowerment programs run by Indonesian Community of New England, Inc. – ICONE, Inc. Great food, friendly crowds and lots of catching up between friends were the highlights of the day.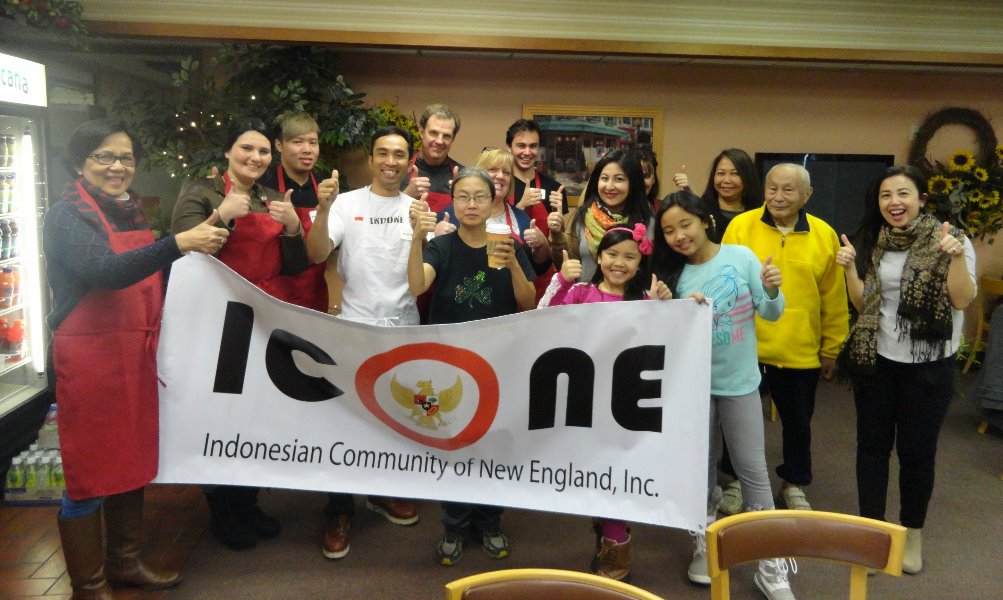 On February 6, 2016, ICONE has successfully conducted its first cooking class to promote Indonesian culture to the general public of New England through culinary. ICONE's very own chef instructor, together with the class participants cooked up two of the most famous Indonesian meals, Ayam Woku and Siomay. Couple of faculty members and several students from Bunker Hill Community College's culinary arts program were amongst the class participants. They also learned about variety of must-have spices in Indonesian cooking and how to best use them.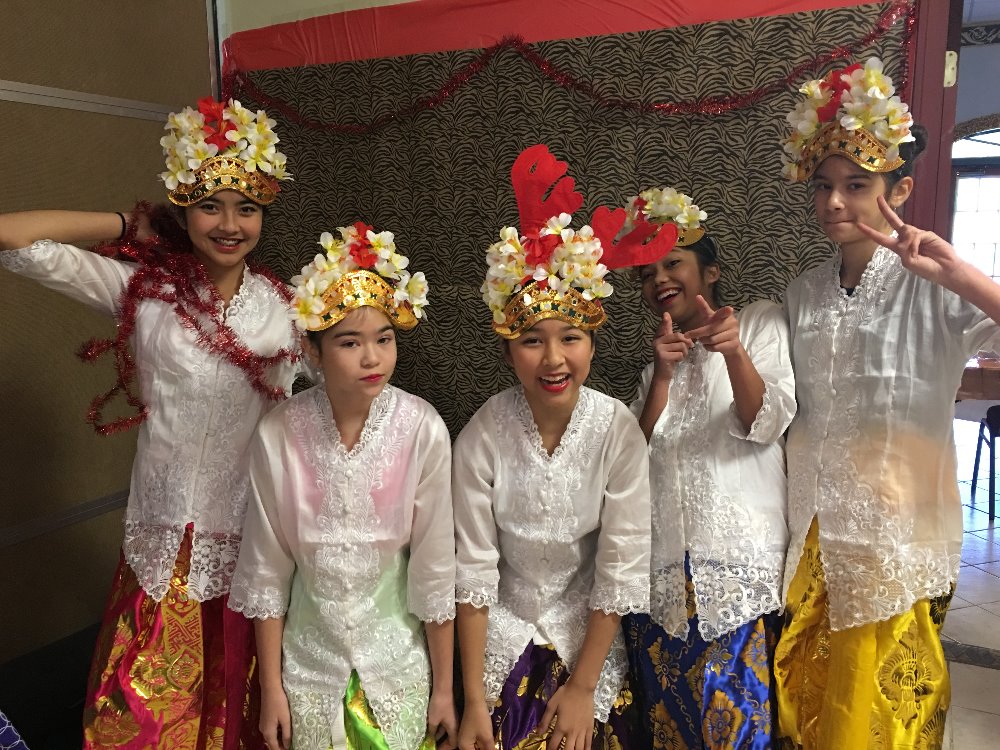 ICONE Inc.'s first community event in New Hampshire on December 5, 2015 was a hit with hundreds of people came together and celebrated the coming holiday seasons with lots of food and fun time with friends and family. Indonesian community from New Hampshire, Massachusetts, and some who drove all the way from Connecticut and Rhode Island were seen having a good time at the event. There were more than 40 varieties of food and desserts offered by Indonesian and Malaysian vendors that were quickly sold out due to the high demands from the bazaar goers. The clothing and accessories sections of the bazaar by Vanyo Fashion (NY) and Datzo Fabulous Boutique (NH) were also a hit with many visited to complete their holiday shopping.  Supported by several amazing talented group and individuals, the bazaar was not only the place to go for food & shop, but also the place for shows of talents we have among us in the community. Big THANK YOU to Nusantara Kreasindo for the beautiful and colorful dances, Sri Rejeki for bringing the touch of Javanese through couple of enchanting traditional dances, trio Batak (Andi Sipayung, bang Juntak, Susi Sihombing) with their touching "Na Sonang Do Hita Na Dua' ballade song, and duo Raude Raychel & friend on a couple of acoustic renditions.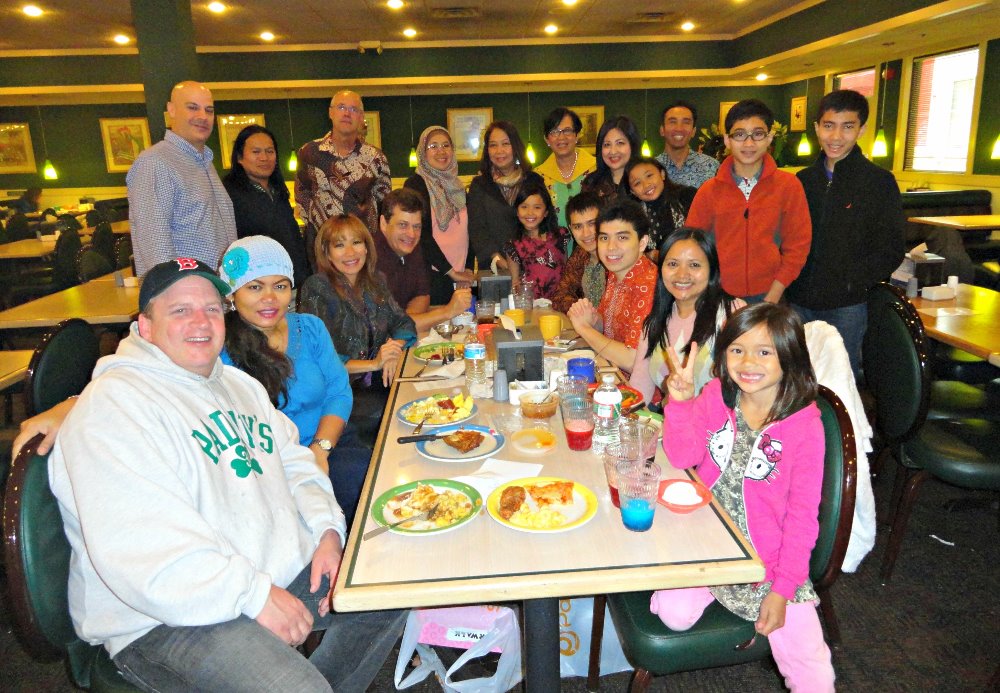 Around 40 members of our community came together to enjoy a fun and friendly fundraising luncheon at Old Country Buffet, in Watertown, Massachusetts on Saturday, October 17th, 2015. Not only that the participants can indulge themselves in varieties of tasty and fresh-made all-American favorite food, some interesting ideas were also thrown around for future ICONE's activities that will involve many Indonesian-American talents here in New England in all sorts of areas of expertise.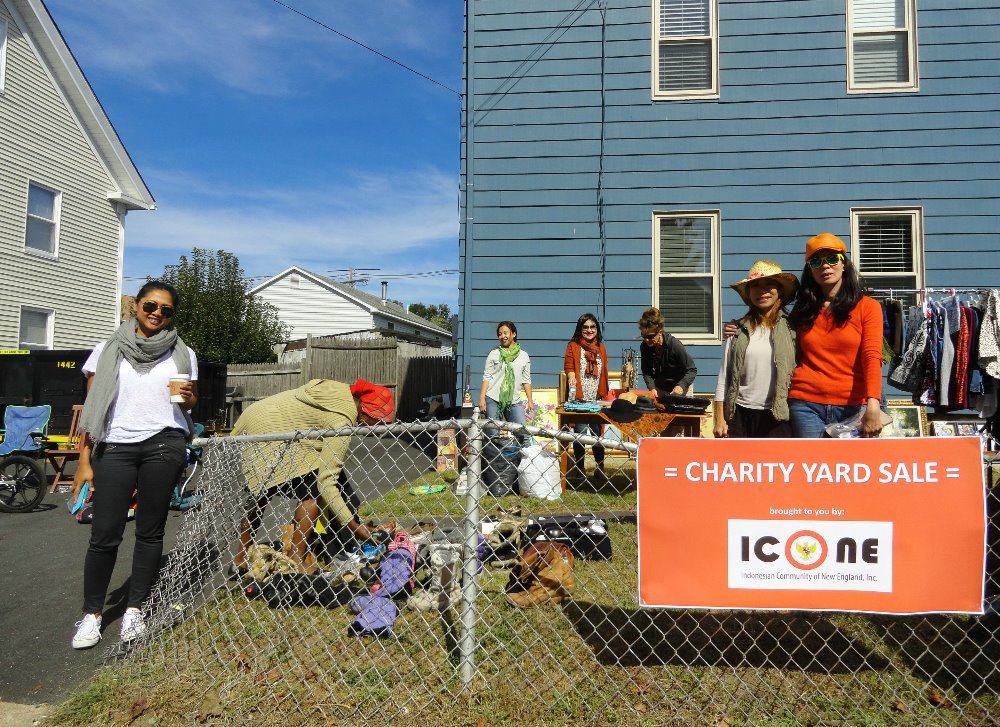 Beautiful autumn day and great group of people participated were the highlights of another worthwhile fundraising charity yard sale conducted by ICONE on September 26, 2015. Took place at one of ICONE's teams' residence in Peabody, MA, the yard sale was a hit attracting buyers from the neighborhood areas. Thank you for the host and those who have come and took part in helping the event to be a successful one.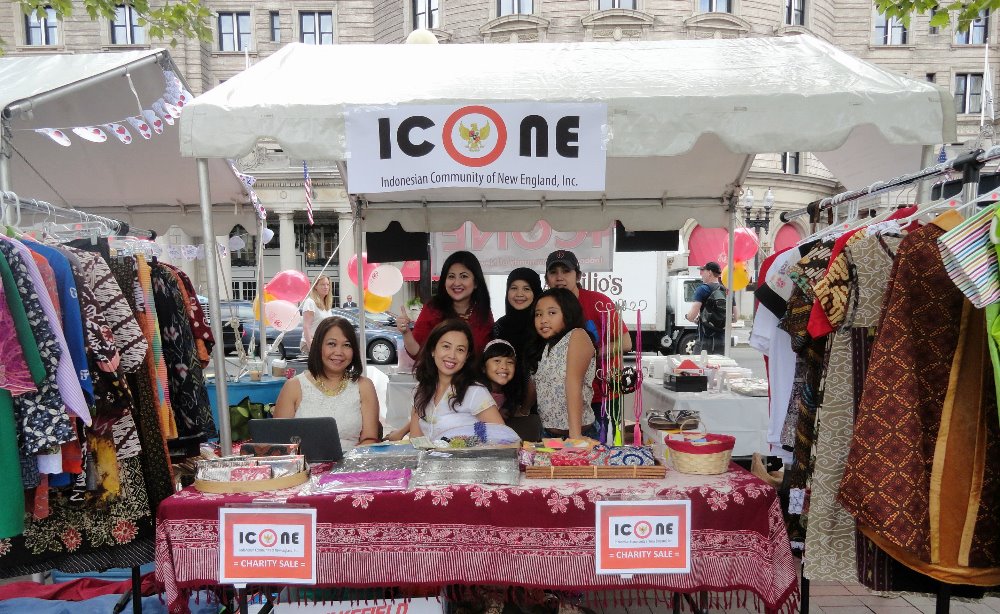 For the third year in a row, on September 12th, 2015, PERMIAS MA (Indonesian student association) has successfully held the New England Indonesian Festival (NEIF) at Copley Square, Boston. The event was dedicated to celebrate Indonesia, its culture, arts, and food. Among dozen of Indonesian vendors participated, ICONE, for the first time, also took part in this celebration. Collaborated with several talented Indonesian contributors in food and fashion, ICONE opened a charity booth selling Indonesian traditional food, clothing, and other Indonesian ethnic accessories. Big thank you to all the collaborators, customers, and donators for supports and participations given.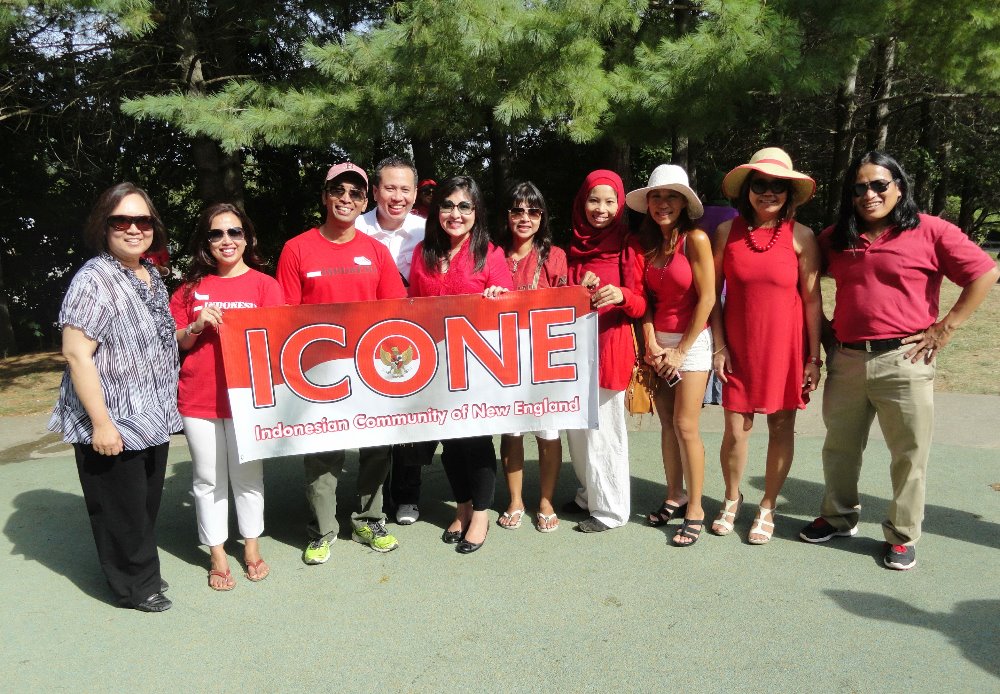 On August 29th, 2015, ICONE coordinated and celebrated the 70th Indonesian Independence Day at Filippo Park, Watertown, MA. Indonesians from all over New England came to celebrate this much anticipated event with friends and family. As a tradition, attendees participated in various fun games that are long-time associated with Indonesian Independence Day celebration and treated their taste buds with the scrumptious options of Indonesian food and beverages. In addition to the main event, as part of fundraising efforts, ICONE also opened a charity sales booth for people to buy all sorts of ethnic accessories and fashions from Indonesia.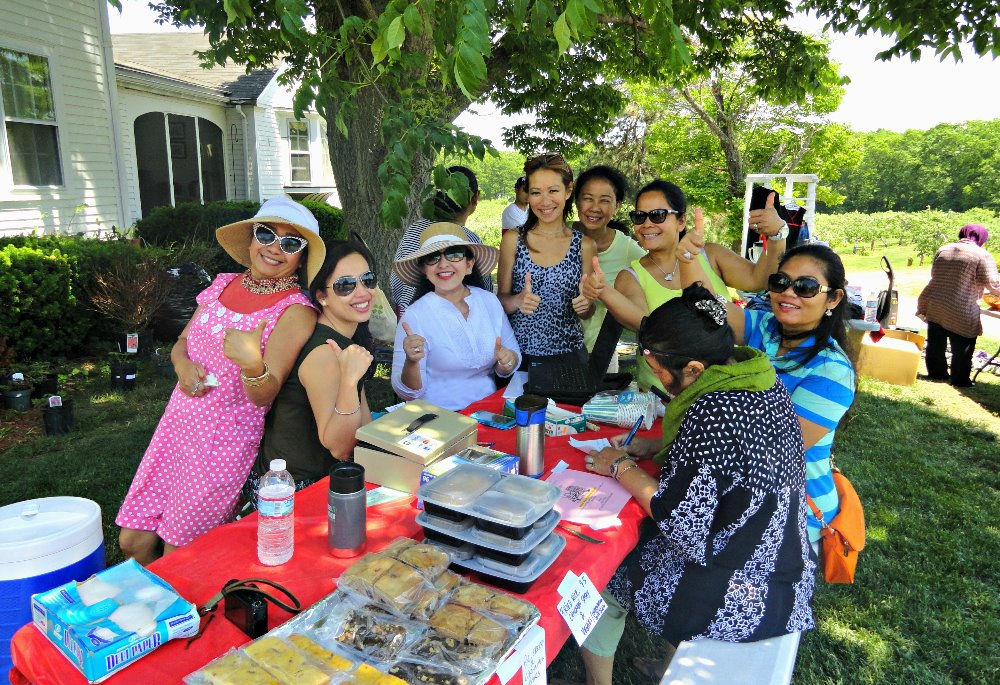 ICONE had gone about its very first charity yard sale on May 30, 2015 at Littleton, Massachusetts. The sale was backed by many people in the community through items donated to be sold and in person support on the D-Day. Included in the various sales items were housewares, clothing, shoes, women accessories, kid toys, and electronics.












+ Read More
Be the first to leave a comment on this campaign.