429
22
Holy Fire First Responder Fund
$21,705
of $1,000 goal
Raised by
393
people in 11 months
As many of you know Hells kitchen closed their doors to the public and donated their facility to the First Responders, both firefighters and law enforcement, to use as a place to cleanup, eat & rest. We will continue this 24/7 until they tell us the fire is in control and contained. We are providing the First Responders breakfast, lunch, snacks & dinner for as long as it takes.

We are getting an overwhelming response from so many offering food & donations, thank you so much, but in order to control the quantities of each item received we thought it would be easier for us to order what we need and have our vendors deliverer it directly to us. I hope you understand and please know we really appreciate everyone's generosity and loving thoughts.
+ Read More
There are so many photo's; Please go to our Facebook page to see all the great photo's of these heroes Hell's Kitchen Motorsports Bar & Grill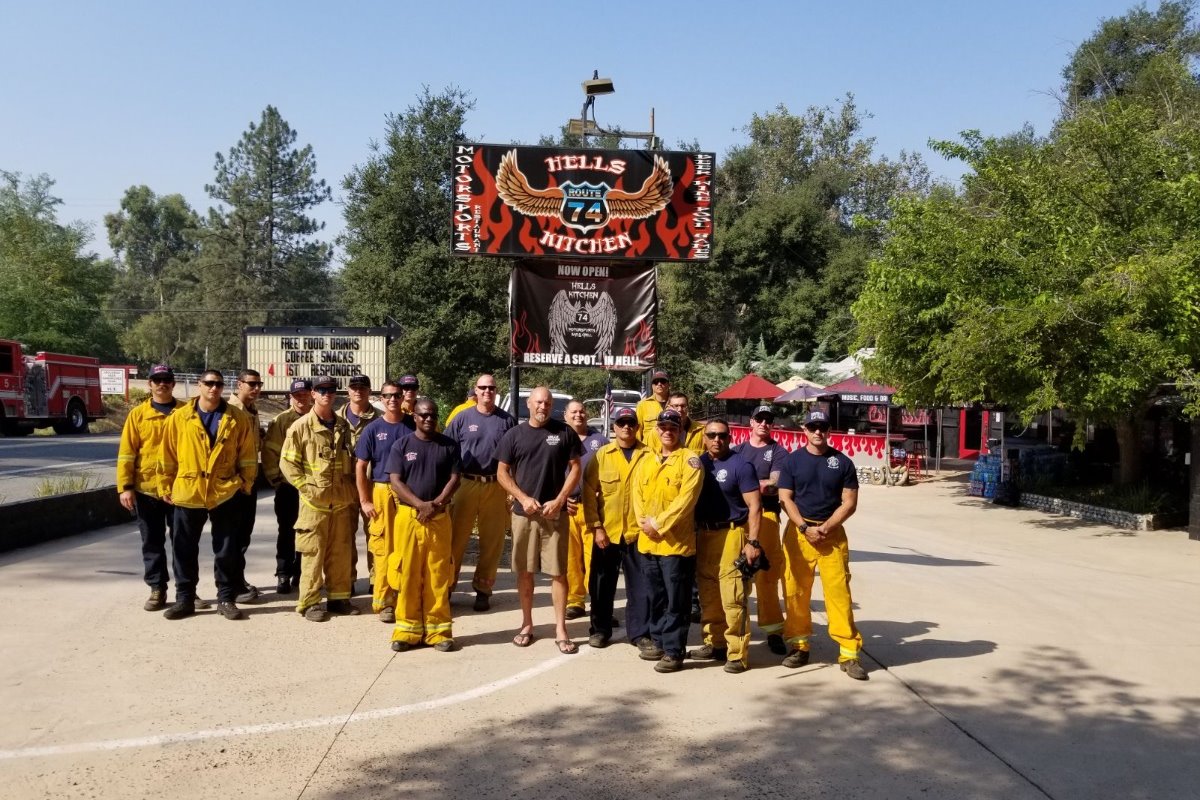 + Read More
Update: Aug 22
First we at Hell's Kitchen would like to thank each and every one of you for your generosity and donations, but most of all for showing us there is still good humanity in each and everyone of us. Trevor and I are blown away at how many people joined in to help us support these first responders, it truly touched our hearts... Thank you.

When Trevor and I took over HK we had many talks about our vision by owning this company. It wasn't to own a restaurant/bar as much as it was to be able to use this as a platform to continue the charity work we have already been doing and give back to the community; Of course we didn't expect it to be this soon, we really thought we might have been in a better position but you handle what is dealt to you at the time and worry about the rest later; Humanity First and Business Later. Many have been saying we are the "Heroes to the Heroes"; Trevor and I do not feel that way, in our eyes ALL of you are the heroes of the heroes and should be recognized as so. We only had the means to provide a place for them to utilize and the means to keep them going, but we couldn't have done it without you and your support. Once again, Thank You.

As far as the generous donations we wanted to let you know what this will be used for; Of course, cost of doing business (without this place and the utilities they would not of had a place to utilize as their staging area), equipment, outside services, food and supplies needed to accommodate approx. 1,800 fire fighters and law enforcement personnel 24/7 during the imminent danger time and we will continue servicing them at no charge for as long as it takes for them to finish up and assure our safety. We will be hosting an all inclusive Appreciation Day (Date TBA) honoring all the First Responders both Fire and Law Enforcement, the community, donators and volunteers so the local residence can have the opportunity to meet & thank them personally; This will be a free event for anyone that would like to attend with food, drinks & live music. Like we mentioned before Trevor and I have a true passion to give back to both the community and worthy charitable foundations. This is what we want Hell's Kitchen Motorsports Bar & Grill to be known for, so, any remaining money will be used towards that type of contribution and to jump start our vision to raise more money for good causes. Follow us on our website and social media to see how your donations will continue to be used for all the right reasons and for what it was intended for.

Thank you again for giving us the opportunity to give back and volunteer our services to all these brave men and women that put there lives in danger everyday for our safety.
+ Read More
Read a Previous Update