The Hibs are ADOPTING!
$9,195
of $35,000 goal
Raised by
55
people in 44 months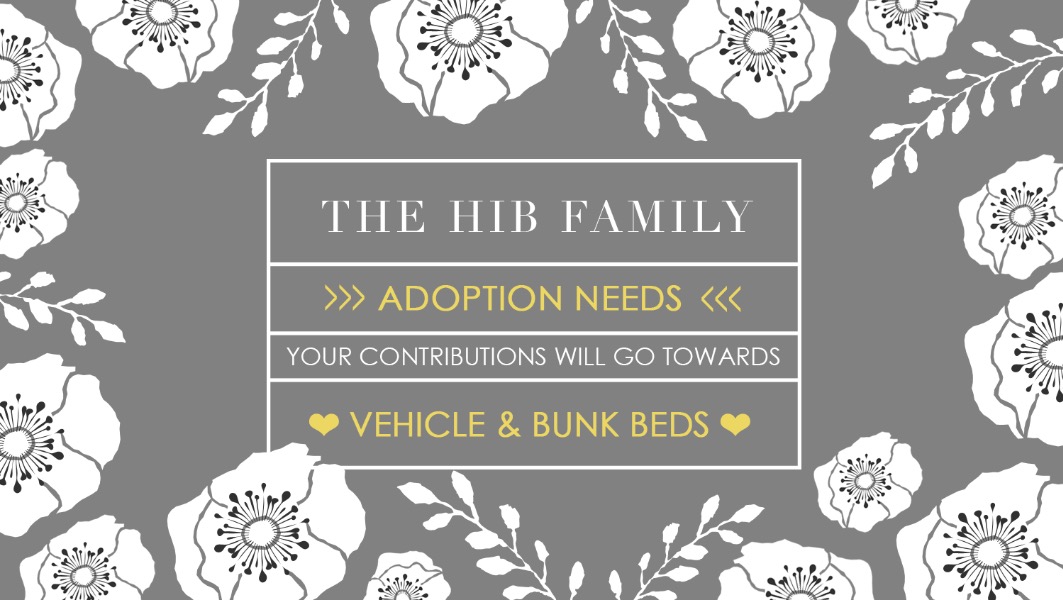 Last August, probably 2 weeks after school started, Houn came home and told me there was a little girl at his school who, along with her sister, was in foster care. His words were, "We need to adopt them." Samantha turned 7 in January. Elisa will be 4 in July. They were taken out of the home 2 years ago. They were with an uncle for 5 months. He returned them. They have been with an amazing foster family since then. They have an older biological brother who lives in another foster home. They see their biological mom during supervised visits weekly.
In March, we were given unsupervised visits. We've had them every Sunday since. We are now starting over night visits! We are finishing up our home study and waiting on our house inspection. We are pretty confident we will have them full time the end of May or beginning of June.
This process is an emotional roller coaster. We are at the will of the judge, the lawyers, the supervisors, the social workers…but, really, we know that God is in control. So we are just waiting and loving our Sunday visits.
Please pray for them and for this process. I see people saying that they are blessed to have us…but I think it's WE who are blessed to have them. They are causing us to step out of our comfort zone and put our faith into action. What a gift!
I'm sure people will feel strongly about this…you should see the looks we get in Target with all 6!! But these babies are alone, and who will love them forever if we don't? We can sit by and say "ohhhh, that's so sad…." Or, because we have the ability to do something we can do it. 
At this time, our biggest need is a vehicle big enough for a family of 8.  Currently we have to drive two cars when we do things as a family! We also need several beds to accomdate the girls and the shifting around of all the kids.  Everything you contribute will go towards the purchase of a safe, reliable van that our family will use on a daily basis for many years to come.  
We are trusting that God will provide us with full funding for a new vehicle, but know that ANYTHING you are willing to provide will be a blessing! We are so humbled and thankful!!
I can't wait till they are ours and they get to meet the amazing group of aunts, uncles, aunties, cousins and friends they have. They will be loved more than they could ever hope for or imagine!
+ Read More
Update 2
43 months ago
Share
Wow!!! In less than one week we have raised over $3,000 for the Hibs. They were able to move forward with buying new beds, bedding and mattresses for the girls. Which is so important for children that are being adopted. The girls were able to pick out brand new beds to call their own!! You ALL made that possible and I cannot thank you enough. Let's keep sharing their story. It will only get better from here.
+ Read More
Update 1
44 months ago
Share
Over $1,200 raised on our very first day! Huge thanks to everyone who contributed and shared the link. It is appreciated. We are well on our way. Thank you, thank you, thank you!!!
+ Read More
Read a Previous Update
Be the first to leave a comment on this campaign.