47
96
Hereford Inlet Lighthouse Defense
$4,310
of $5,000 goal
Raised by
67
people in 2 months
Created November 28, 2017

Hereford Inlet Lighthouse is in peril.

The mission of the Friends of Hereford Inlet Lighthouse has been to protect and promote the preservation of Hereford Inlet Lighthouse & Gardens for the education, grounding, inspiration and wonder of those that visit from around the world.

BUT - Hereford Inlet Lighthouse is in peril. Successfully saved, operated and renovated by the Friends for over 30 years, the North Wildwood Mayor without reasonable provocation initiated a hostile takeover and his plans for the lighthouse and grounds include:

-the beautiful gardens purged,
-the majestic mature trees leveled,
-artifacts removed, and
-the dedicated lighthouse staff replaced by "city recreational employees" taking valuable space and knowledge away from the story of Hereford.
 
Some historical perspective:
Hereford Inlet Lighthouse was built in 1874, and through the years its beacon protected untold numbers of lives. Decommissioned in the 1960's and replaced by an auto-beacon, Hereford was left to demolition by neglect – sadly a fate of too many of our historic sites. In 1986, then Mayor of North Wildwood, the late Anthony Catanoso, and his wife Phyllis stepped in with a small group of like-minded volunteers, and with the full approval of the USCG and State of New Jersey, began the arduous task of breathing life back into the lighthouse.


[In 1982 through the long and painstaking efforts of Mayor Anthony Catanoso and his wife Phyllis a lease was signed and preservation began]

It's truly amazing that many of the original volunteers – chief among them Friends of Hereford Chairman Steve Murray – have labored continuously and doggedly for the 30 years since to create this treasure – a world-class landmark, sanctuary, award-winning gardens and first rate maritime museum. Hereford Inlet Lighthouse is once again the official beacon – the light in the tower that shines for all each night.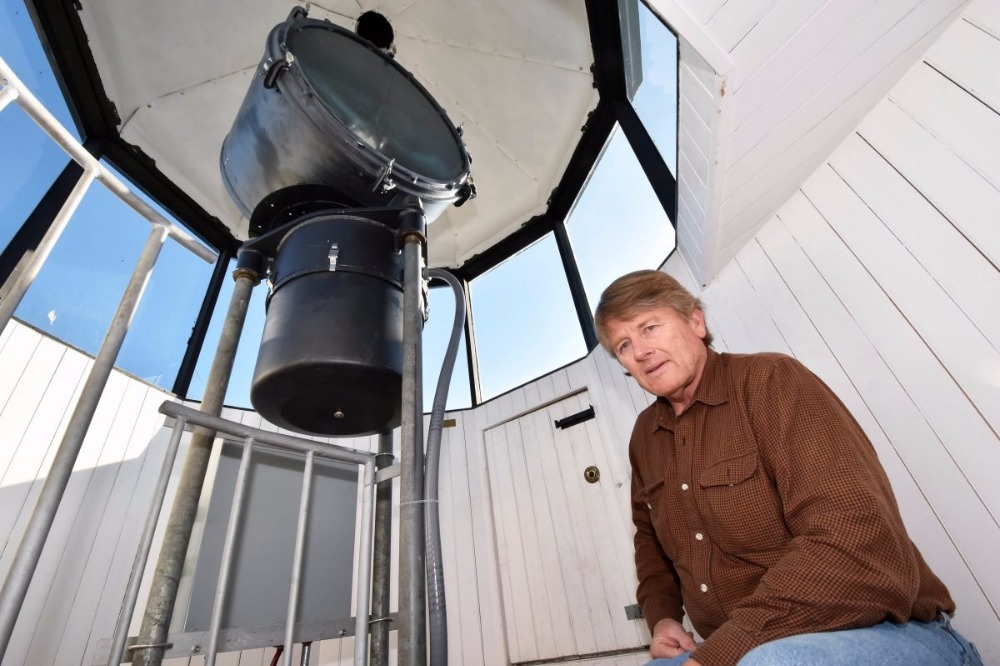 [Steve Murray, Hereford Inlet Light House Keeper Sits At the Top of the Hereford Inlet Lighthouse in North Wildwood, NJ on November 20, 2017-Photo By Gregg Kohl, nj.com]

As you can well imagine, the task was not an easy one – but labors of love seldom are. The volunteers were first organized as the Lighthouse Commission, and charged with writing grants, collecting donations, researching design history then arranging contactors, etc. etc. and providing much of the grunt work themselves.

The City served only as the lease holder from the State of New Jersey. The work of the volunteers provided a gem not only for North Wildwood but for the region and state as well. In 2011, the Lighthouse Commission formally organized into the Friends of Hereford Lighthouse, continuing their work, unabated, maintaining, preserving and manning this wonderful place.

Until now.

In October, Mayor Patrick Rosenello had already moved to take over the lighthouse and terminate the agreement between the Friends and the City effective December 31, 2017. He cited management issues – a difficult claim to reconcile considering the evidence of a well-run facility for all to see and enjoy. [For more details about Mr. Murray's response to the Mayor, http://www.herefordlighthouse.org/]

At the very least, one would have to question the motives and competence of a Mayor and Council who would risk the loss of the skills and dedication of such a well tuned body of volunteers. But there is more: not waiting until the end of the year, this Mayor changed the locks, making the preposterous claim that the Friends were about to loot the museum. Many of the members' personal and donated possessions remain under lock and key, inaccessible to their owners.

In the Mayor's plans for the lighthouse, the beautiful gardens would be removed, the majestic mature trees leveled, the dedicated lighthouse staff replaced by "recreational employees." The mission of this landmark would be redirected from preservation to City Tourist Center, with much of the space now dedicated to the history of the lighthouse – which was both beacon and home – removed to make way for office space. I find this personally most egregious since it is very likely that my great grandfather lived out his last days and died in these very rooms. While the history of a City is important, this is not the place for it: despite the Mayor's overreach, Hereford Inlet Lighthouse belongs to the people of the State of New Jersey not the City of North Wildwood.

What you might consider: 

1) Send a letter to:
Commissioner Catherine McCabe
Department of Environmental Protection
PO Box 402
Trenton, NJ 08625-0402.

Voice your request for consideration in a change of the lease terms for Hereford Inlet Lighthouse properties directly to those that have restored, furnished, cared for, and maintained the Lighthouse and gardens for decades; the non-profit organization "Friends of the Hereford Inlet Lighthouse"

2) Please SHARE this story with as many folks as you can.

Update as of 1/20/2018:
The Chaos in Cape May County Continues - What You Need to Know.

From the Chairman of the Friends of Hereford Inlet Lighthouse, Steve Murray:

"A moving van was seen at the Hereford Inlet Lighthouse Wednesday [1/17/2018]. It turned out that the city packed up everything they believed was ours and carted it all off to a storage facility. We then got an e-mail giving us 30 days to pick it all up or it would be discarded. We were not notified this was going to happen and were given no opportunity to assist or supervise this move. They simply grabbed our cash, checks, business records, store inventory, office supplies and personal items and carted them off. We hope it's all there and not damaged, we haven't inspected yet.

This is another outrageous move by the mayor of North Wildwood, Patrick Rosenello. His unwarranted takeover of the lighthouse was bad enough but then his subsequent actions, baring us from entry, slandering us in the media (suggested we would "loot" the property) and now this.

We have appealed to the State of New Jersey to regain management of the Lighthouse and hundreds of organizations, historians, authors, museums and members of the general public have backed us.

We've been forced to bring suit against the City of North Wildwood. We cannot go into details at this time, but as it's been discussed in the media, we believe that the city is in breach of contract with us, that we were wrongly bared from entry to the building, that we've been slandered in the media and are being kept from claiming property that is legally ours (such as many of the artifacts and decorations in the building). If this action costs the taxpayers of North Wildwood, you can thank the Mayor for that, we are simply defending ourselves and an important and beautiful historic site."

The East Point Lighthouse President Nancy Patterson Tidy recorded her view:

"This morning my heart breaks for the folks who worked so hard to restore, maintain & share Hereford Inlet Lighthouse for decades. The mayor/City of North Wildwood has once again done the unthinkable. Betty ... a sweet lady & a long time member of the Friends of Hereford Inlet Lighthouse Board watched as movers carried boxes out of the Lighthouse that she and the other Friends have been locked out of since before Christmas. I can't even imagine how much that must have hurt her as she watched. She has spent countless hours ... years of dedication to the Lighthouse ... now things were being taken out by strangers to who knows where. My heart aches at the thought & I so wish I was there to at least give her a hug as she watched in horror. The City of NW has since notified the Friends that what they "think" belongs to them has been put in storage for them to retrieve. Can you imagine??? The City not only locked them out unexpectedly ... but now after decades of service won't even let them in the Lighthouse to get the things that belong to them. This is unthinkable ... so heartless ..."

For further information:
As reported in the Press of Atlantic City: Article

As reported in the Star Ledger Second Article in Series



See the gardens: 
  Video:  Award winning gardens
  Photos: Pictures of the gardens of Hereford 

The state and federal grants, memberships and donations over the years surely were not earmarked to bolster a mayor's political aspirations.

Ed Denne



My first visit to Hereford Inlet Lighthouse - I was blown away:

+ Read More