953
8
Henry Aulenbach
$68,176
of $75,000 goal
Raised by
933
people in 2 months
Chrissie and Dave Aulenbach recently brought their young elementary school age son Henry to the hospital as he was suffering from terrible headaches. Henry was found to have a brain tumor as well as some spots along his spine. He already has had surgery to remove his brain tumor. Chrissie and her husband and working with the doctors on getting a formal diagnosis, but based on the tests they have run over the last few days the oncologist is quite certain that Henry is dealing with Medulloblastoma, a form of brain cancer. 
You may know the Aulenbach family from around town. You may recognize Chrissie from her time on the Randolph Board of Education, or maybe your kids graduated high school with her twin boys in 2018 (both are currently freshman in college). She may even have tutored your child in trumpet. Or maybe you recognize Dave Aulenbach from his time as Vice Principal at Randolph high school or as a music teacher in our school system. Needless to say, they have been an integral part of our community for many years. They recently downsized to a townhouse about 30 minutes away, but Randolph will always be their home. 
Chrissie describes her son in this way "Henry is a wonderful boy with a lot of inner strength. He loves to be a good friend and helper and loves making others happy. He likes bossing around his older brothers and buttering up his dad! He's as sweet in real life as he is in pictures."  
Needless to say, the road to a cure for Henry with be a difficult one. The oncologist is preparing the family for a long treatment regimen with a lot of hospital stays. This GoFundMe account will help offset the cost of medical care for Henry and help with their bills. Of course prayers and good thoughts for Henry are also greatly appreciated! 
Please note that this is THE ONLY GoFundMe account for the Aulenbach family.
+ Read More
Update 2
2 months ago
Share
Good afternoon and thank you all again for continuing to contribute to the Aulenbach GoFundMe page. We've raised over $55,000 and counting! Please continue to share this page on your social media sites and with friends and family.
As of right now, Henry is home and resting with his family. Chrissie and Dave are working closely with Henry's oncologist to come up with a game plan. There are a lot of decisions to be made but also some really encouraging therapies available. As you know, Henry's cancer has metastasized to his spine. There are talks right now of getting Henry something called proton radiation therapy which is state of the art (only a few places actually administer this therapy, one of which is here in NJ). As a result of extreme precision, proton therapy is the most advance treatment for tumors near critical organs. The therapy radiates the whole tumor and nothing but the tumor, which means there is potential for less organ damage, fewer side effects and a better quality of life.
It is their hope that medical insurance will cover proton therapy, or any of the other types of treatment Henry needs. Your donation will be used for his medical costs and towards any treatments that may not be covered by their insurance. Again, thank you so much for helping them out in this way.
Lastly, there is another website that is raising money for the Aulenbachs. You can find that fundraiser at
https://www.givinggrid.com/hopeforhenry/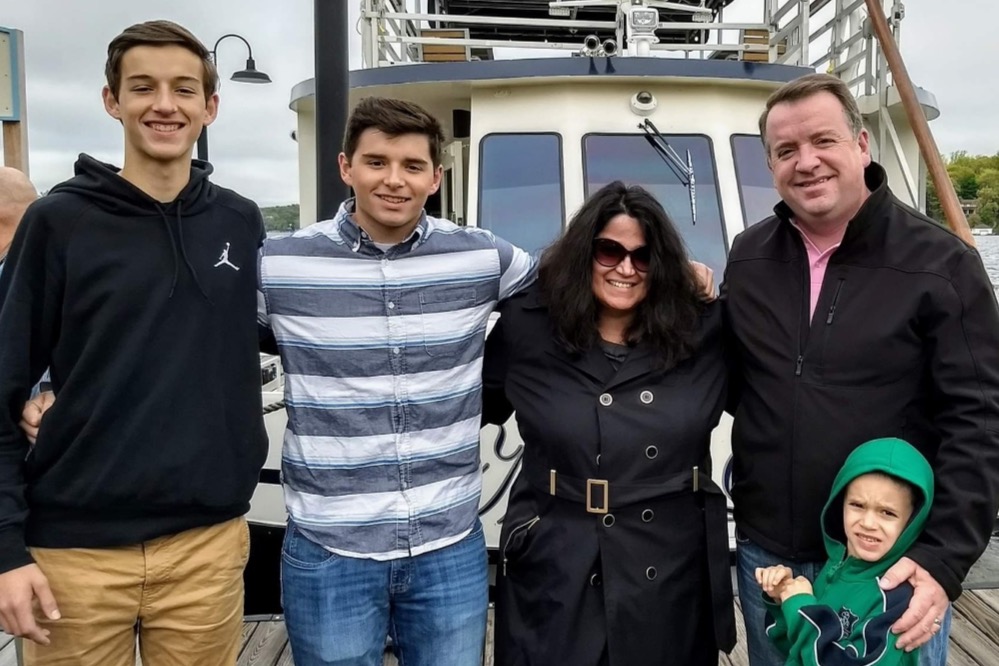 + Read More
Update 1
2 months ago
Share
Thank you all so very much for your donations over the last three days. $44,000 and counting has been raised for Henry Aulenbach!
The Aulenbach's have received an official diagnosis from the pediatric oncologist and it has been confirmed that Henry has Medullablastoma. They have sent the results to St. Judes for molecular testing, which will help categorize the cancer into a subtype.
As you can imagine, it will be a long road for this little seven year old guy to beat his disease. Chrissie has taken a leave of absence from her job and her two older sons are headed back to college soon. Any and all donations will directly help the Aulenbach family over the next year in the care of their son Henry. They deeply appreciate each and every well wish, prayer and donation.
Speaking for myself, the organizer of the GoFundMe page, I am a firm believer in the concept of "paying it forward" and know that every share, donation and prayer will come back to each and every one of you in some positive way. Again, continue to help spread the world and THANK YOU for contributing to little Henry's care.
+ Read More
Read a Previous Update