Amelia's Surgeries Fund
$6,710
of $20,000 goal
Raised by
101
people in 46 months
Hello, I am Amelia.  
I live in a very small town in Milladore, WI with my family.  I love my family, school, animals, video games, painting and drawing.  I love to run and play outside most of all.  I also have a condition called
Multiple Hereditary Exostoses
(MHE).  This means that I have bone tumors near almost all of the joints in my little body. I have them in my hands and on my wrists, shoulders, hips, knees, ribs, fingers and spine.  These little extra bones will have to be removed if they become problems as I grow.   Some will be easy to surgically remove, but some will require major surgery to correct.  I know that my radius in my left forearm will need to be surgically lengthened.  It is already shorter than the ulna.  The surgeons hopes to hold off as long as possible.  He says we'll get better results if we can wait until I'm older.  I also know both of my knees will need to have multiple surgeries done too.  I had my first surgery April 29th 2015 to remove the large growth on my shoulder...I called him my bump since everyone can see this one and they ask me what it is and why I had it.  I had this one removed because it was hard for me to wear my backpack and every time it got bumped I cried.  My surgeons are also keeping a close eye on my right hip since I've lost a great deal of mobility in that hip.  I also had a tumor in my C3 vertebrae that was starting to press into my spinal cord that was removed March 11th 2016.  I missed about two and a half weeks of school to recover.  I had three bumps from inside of my left wrist removed November 15th 2016. This has allowed me to rotate my wrist, something I had not been able to to for a long time.  My Mom works a full time job and my Dad works full time at keeping his small business growing, as well as working odd jobs to try to provide for us and pay off bills and debts.  My parents just added onto our home to provide me with a first floor bedroom,  bathroom and shower I will be able to use when I have these surgeries.   My parents applied to get grants to help with the costs, but they were told my condition was not bad enough yet for any assistance.  
In November 2017 my Mom was diagnosed with Cancer and began treatments in early 2018.  Mom's Radiation and Chemotherapy treatments were completed at the end of April.  She does not have the energy she used to, but is getting stronger every day.  My Dad has missed a lot of work to care for her and to get my brother and I to our appointments.  Dad has also taken on a lot of additional responsibilities at work this spring so he is almost always exhausted.
This is an X-Ray of my left shoulder.  That extra part on my arm bone that was removed in April 2015. 
Here is my left arm.  I had another large tumor here too.  And the tumors in my elbow are causing the bones in my arm to grow at different rates.  I can bend my arm fine but when I rotate my hand my elbow dislocates. The shorter bone will have to be lengthened by making a z cut through the bone.  This can only be done once and right now my arm is just too small to have it done.  So we will have to wait until I'm older.  My parents and the doctors are planning the operations to remove the bumps in my fingers and finger tips.  This is probably going to happen around December or January.
This is my left upper knee, It was starting to hurt more and made it hard to ride my bike.   It was removed July 11th 2018.  Extra plates and screws were also installed to straighten my knees and ankles so that I can walk better.  These will have to be removed in about a year and a half to keep my legs growing straight.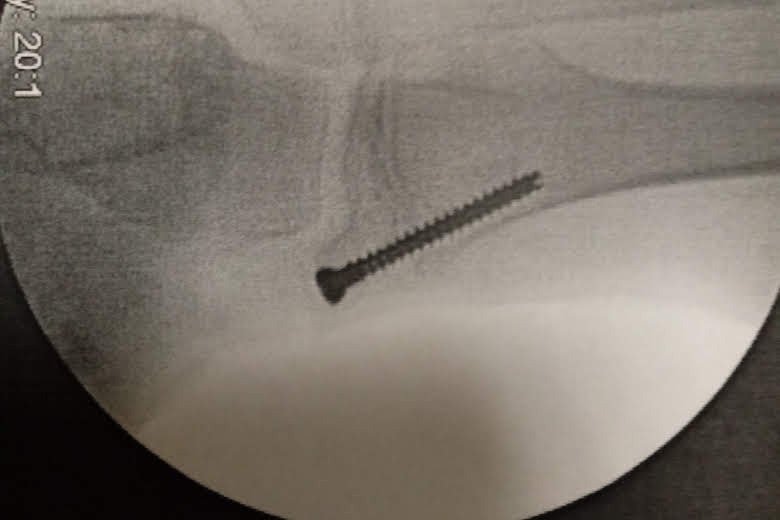 My brother Isaac even helped after my leg surgery by pushing me around to my appointments at the hospital in Minnesota.
And now I will sing Twinkle Twinkle Little Star for you just for looking.
Thank you for reading my story.  
To those who contribute, Thank you...you are my family's twinkling stars.
+ Read More