Help SJ Hit Squad Youth Football
$5,620
of $15,000 goal
Raised by
65
people in 45 months
Hello My name is Shannon Roberts President of the San Jose Hit Squad Spring Football program.  Here is my story and our situation.
If you were to tell me in 2007 i would still be here in 2015 Ii wouldn't have believed you. In 2007 I was diagnosed with stage 4 congestive heart Failure, Severe Cardiomyopathy, and atrial fibrillation. I had an ejection fraction of 13% and doctors told me I had 5 yrs to live. One Day in 2008 I thought it was over I suffered Respiratory Failure , Kidney Failure, and Liver Failure at the same time. I was on life support for 2 weeks and the Doctor told my Family to make funeral arrangements. Let me tell you this, God had other plans for me. Here I am 8 yrs later since my first diagnosis still kicking.
3 years ago I decided to shift my focus to how I was going to make a difference in the community I wanted to do something special. It started as a dream I mean I still feel like I am dreaming I shouldn't even be here, in 2013 i was blessed to start the youth spring football program, The San Jose Hit Squad. (sjhitsquad.net) These past 2 years have been nothing short of amazing. I take no credit for any of Hit Squad's success.I have found being a coach is one of the most rewarding experiences in my life (next to being married and a Father).  I find great joy in making a difference in a child's life.  I firmly believe the success we have accomplished is nothing but god's will in action.
When we started San Jose Hit squad in January 2013 we had no equipment, no money, just a dream. After 2 yrs we were able to fit out over 140 kids to play the game of football ages 5-15.
Just recently we had our equipment shed broken into and all the helmets, shoulder pad, facemasks, jerseys, and other equipments used for games and practice were taken. We have insurance but it doesn't cover everything and the process will take a while.
We are just 3 weeks away from the Start of the season. I Dont know what else to do but to humbly ask for Help, any kind of help is greatly appreciated , I have truly put my heart into this league. With so much going on in the world San Jose Hit Squad strives to provide a outlet for the youth in our community, we truly believe the game of football Saves Lives. A kid on the field is a kid off the Street. We have 3 weeks till the season Starts please help keep the dream Alive.
San Jose Hit Squad appreciates your support. Your donation will help us get back our losses and allow us to continue our dream and grow our league. We encourage every donor to come out to our games and get involved.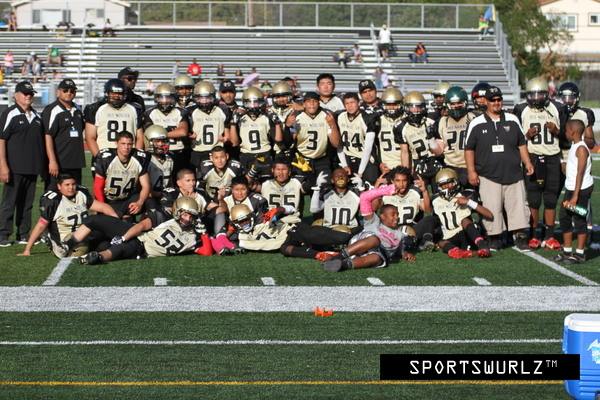 Hit Squads website


+ Read More